Thu, 16 Dec 2010, 10:34 AM



A Rookie and A Champion



By Bob Frey


Photo copyright 2010 Auto Imagery, Inc.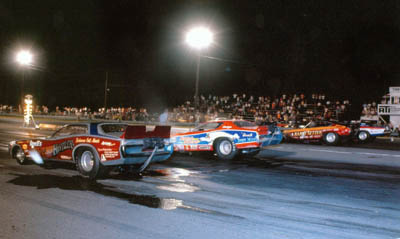 Austin Coil, Gene Snow, Pat Foster and Russell Long
Photo by Steve Reyes
The first thing that I want to do this week is answer a question that I received from several people after my article about
John Force
and
Austin Coil
two weeks ago. In that column I mentioned that
Austin
drove the famous
Chi-Town Hustler
car on a couple of occasions and that he was one of ten different people who took a spin in that legendary machine. Well, the question that I got, and expected to get, was who were the other drivers? So here, to the best of my knowledge, are the men who drove one of the most famous cars in the history of the sport.
Pat Minnick, Clare Sanders, Ron Colson, Denny Savage, Russell Long, "Jungle" Jim Liberman, Pete Williams, Frank Hawley, Wayne Minnick
and Austin Coil. If there are any others I don't know of them, or simply forgot them, but that, I believe, is the list of drivers for the Chi-Town Hustler. That list, by the way, pales in comparison to the twenty drivers who drove for
Roland Leong
.
Did you know
that two men, Ron Colson and Denny Savage, drove for both the Chi-Town team and Roland? And one other small connection, Russell Long was driving another car when the "Hustler" and others ran their 4-wide race in
Maryland
that I spoke of in that same column. Small world, isn't it?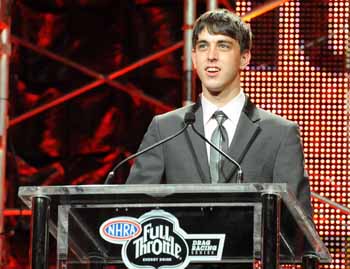 LE Tonglet at the Awards ceremony.
I also mentioned in that same column that I thought John Force's championship run was one of the big stories of the year, maybe the biggest. I also added that
LE Tonglet's
win has to rank right up there with it. Several folks wrote and said that they believe LE's title was more impressive since he came from nowhere, almost didn't even show up at Indy and then won the title and the Rookie of the Year award. I have to admit, they made a good case, and I really can't argue it, so why don't we just say that both John and
Lewis Earl Tonglet IV
had very good years.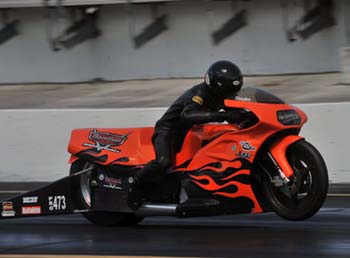 Tonglet at Gainesville debut.
For LE, the year didn't really begin with a bang. At the first race of the year he qualified in the ever-popular, lucky number thirteen spot and then he lost in round one to the reigning champ,
Hector Arana
.
Did you know
that LE and Hector raced five times during the season and that loss in
Gainesville
was the only time that Hector beat him all year? After that race LE continued to struggle at the Charlotte and Houston races and didn't even make the top ten until the fourth race of the season. That race, the one in
St. Louis
, may have been the official start of LE's title drive even if he did lose in the final round to
Michael Phillips
. And even if it wasn't the start of his championship run it at least let people know that this kid had a good bike and he was improving every race as a rider. No longer could you take a win for granted when you lined up against the third member of the Tonglet family to race in the Pro Stock Motorcycle class. From there he looked like he had a good bike, not a great bike, but a good one and he certainly looked like he could ride it, but even so, since the class was loaded with talent this year, LE knew it would be a struggle to stay in the top ten. A first round loss at the next race in Atlanta and three consecutive round-one losses later in the season kept LE from making a big move in the points, and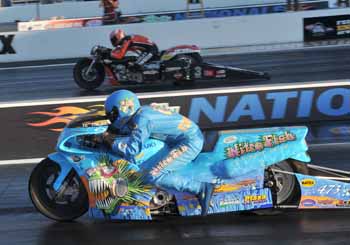 Tonglet vs. Andrew Hines
in Charlotte 2 final.
after Brainerd he was seventh in the standings and prepared to go home and park the bike. That's because the team hurt an engine in Brainerd and they didn't know if they had the resources to continue. Ok, so they did know and they also knew that they needed help to go on. That's when
Ken Koretsky
stepped in and decided to back the team for the stretch drive. Kenny told me at the time that, "there's something about this kid that I really like and I honestly think he can win." Whatever he saw, Kenny was right. LE not only won but he won in style by beating Andrew Hines in the final round of the next three races. He outran Andrew in the final rounds at Indy and Charlotte and he won when Andrew fouled out in
Dallas
. Along the way he was making few, if any mistakes on the track, and his bike was running flawlessly. Among the mistakes he did make was that foul start at
Pomona
in the semi-finals, but by then he had already clinched the championship and the pressure was off.
Did you know
that during the year LE won three races on holeshots, lost two that way and fouled three times? With all the red lights we saw this year in the bike class to only have three is really very good, especially when you're under all the pressure that comes from competing for a championship, your first championship.
Did you know
that everyone of the top ten riders in the class fouled out at least once this year, but that two of them only did it one time? Both
Eddie Krawiec
(who finished third) and
Matt Smith
(who finished fourth)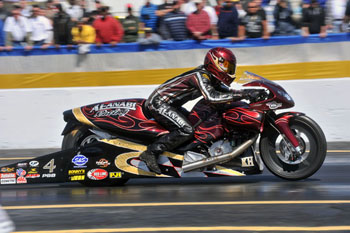 Matt Smith
only had one red light in the entire 2010 season, and for a bike rider, that's very good....Since there were a lot of foul starts in 2010, just getting off the line with a green light was an accomplishment in the bike class.
Did you know
that in 2010 nobody got of the line first more times than the champ, LE Tonglet? LE was "first off the line" sixty-two percent of the time and that's slightly better than Andrew who did it sixty-one percent of the time. I know it may seem like an over simplification, but the guys who finished one and two in the points did the best job on the line. Coincidence? I think not.
A look at the bike class and at what LE did this year brings me to one conclusion, and that is that the Vance & Hines folks run a pretty good operation. Not only do they field their own two bikes, the Screamin' Eagle Harley-Davidsons, which combined for seven wins this year, but they provided
Hines vs. Eddie Krawiec
power to the bulk of the riders in the class including LE Tonglet.
Terry Vance
, one of the great riders of all time, and
Byron Hines
, have put together a great business that has made them the gold standard in the motorcycle industry. For his part, Terry has to be ranked among the best riders ever in the sport regardless of class.
Did you know
that Terry went to his first NHRA final round at
Baton Rouge
in 1979? He lost that race to
Wayne Buckler
, lost again in Englishtown to
Bob Carpenter
that year and then won his first race at Indy when he beat Bob. The rest of his career and his resume are as good as any driver in any class. With his partner, Byron Hines, they have been involved in the sport for over thirty years and drag racing is much better because of what they have done. Just thought I'd mention that. Now, back to LE.
While a lot of attention was given to the fact that John Force won the championship on the last day, and came from behind to do it, LE did the same thing. In fact, did you know that LE only led the points for one day this year and that was the last day of the season? When he assumed the lead, LE became just the twenty-first rider in Pro Stock Motorcycle history to hold the top spot. Did you know that over half of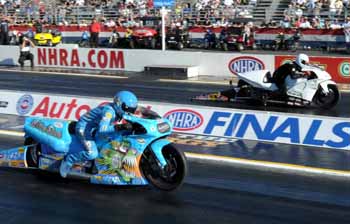 Tonglet defeated Johnson in round two
to win the Championship.
that total, eleven to be exact, raced in 2010? Ok, so
Antron Brown
didn't race in the bike class and LE's brother,
GT Tonglet,
only raced one time, but still, to have more than half of the points leaders in the history of the class all competing in 2010 is very impressive. If nothing else it shows how good the class was this year....LE managed to pick up five wins this year, and believe it or not, that ties him for thirteenth place on the all-time bike list.
Did you know
that the top eight riders in the class, based on number of wins, account for seventy percent of the wins in the history of the class? That's a bunch, isn't it? Names like
Dave Schultz, Angelle Sampey, John Myers
and
Matt Hines
dominate the top of the list and they account for almost half the wins in Pro Stock Motorcycle. When you look at all the riders who have raced in the class over the years, for LE to put up five wins in a single season, his rookie season, is very impressive.
Did you know
that, as hard as it may be to believe, only six active motorcycle riders have won more races than LE?
When we talk about families in drag racing, and we often do, the Tonglet name doesn't usually come up in the conversation. That is, until now. LE's dad, Gary, competed in almost one hundred NHRA national events, and his brother, GT, was just shy of that number. And with the expected announcement that GT will be racing in 2011, all of a sudden the Tonglet family
GT, LE and Gary Tonglet
becomes one of the foremost teams in the Pro Stock Motorcycle class. During his tenure GT went to nine final rounds and won three of them. In 2010 LE went to seven final rounds and won five of them. For the record, dad made it to one final round, the 1995 race in
Topeka
, where he lost to John Myers. Even though he didn't win,
Gary
did provide us with one of the greatest or wildest moments in class history when he flipped his bike over at Rockingham several years ago. Anyway you look at it 2011 looks like it could be a great year for the bike class in general and the Tonglet family in particular..LE's ride to the championship becomes even more impressive when you consider the fact that he did it without having the best bike in the class.
Did you know
that for the entire year LE only was the top qualifier just once? He did that at the second
Charlotte
race, and that number one time also held up for low elapsed time. But other than that, he didn't set low e/t or record top speed the entire season. So to win the championship with a good bike, but not a great bike, means that he and his team really did there jobs on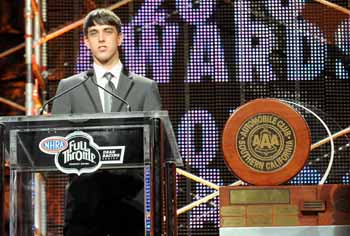 Tonglet with Rookie of the Year Award
race day.
Did you know
that Dave Schultz won the Pro Stock Motorcycle title in 1989 and he only qualified number one once in that year? That's the only other time in the bike class where the champ only qualified at the top of the pack one time in the entire, championship season. As a bike guy, having your name mentioned in the same sentence as Dave has to make you feel very good, don't you think?
You have to think that the future looks very bright for LE Tonglet. At just twenty years old he could compete for a long while in the bike class, the question is, can he repeat what he did this year? A Full Throttle championship, a Rookie of the Year title and the Full Throttle Hard Working Crew award mean two things. First, he and his team have a lot of cash on hand, and they'll need it if they are going to run two bikes next year. And second, they have a tough act to follow. Now that you think about it, how do you follow up one of the most successful and surprising years in Pro Stock Motorcycle history?




NHRA: 10 Most Recent Entries [ top ]

Apr 24- CHARLOTTE 1 - Steve Torrence Enjoying Four-Wide Success Heading to NGK Spark Plugs NHRA Four-Wide Nationals
Apr 24- CHARLOTTE 1 - Fact Sheet
Apr 24- Kalitta Motorsports Welcomes NASCAR Stars to the SealMaster Track Walk in Charlotte
Apr 24- zMAX Dragway Celebrates 10th Anniversary
Apr 24- CHARLOTTE 1 - NGK Spark Plugs NHRA Four-Wide Nationals Brings 40,000 Horsepower Thrill Show to zMAX Dragway
Apr 23- HOUSTON - Lucas Oil Drag Racing Series Wrap Up The NHRA Lucas Oil Drag Racing Series Wrap Up
Apr 23- CHARLOTTE 1 - J.R. Todd Aiming for Two Four-Wide Racing Wins in 2018
Apr 23- Mid America Dragway Joins NHRA Member Track Network
Apr 23- HOUSTON - Special Awards
Apr 23- HOUSTON - Sunday Video