Thu, 9 Dec 2010, 05:16 PM



John Force 4th Quarter 'Driver of the Year' Award



Courtesy of John Force Racing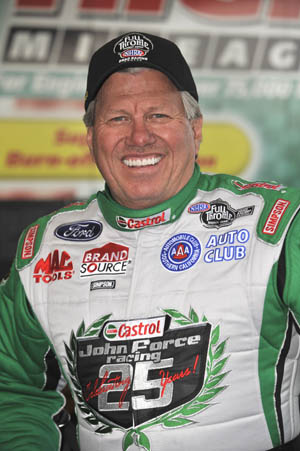 John Force
John Force was voted DRIVER OF THE YEAR 4th quarter.
The 61-year-old driver came back from a near-fatal accident, in 2007, to take his 15th NHRA Funny Car title at the final event of the year.
In storybook fashion, like the boxer in the movie "Cinderella Man," Force came from behind on last day of the season to win the Full Throttle Funny Car championship by winning the Auto Club NHRA Finals at Pomona, Calif.
Much like the 3rd Quarter DRIVER OF THE YEAR, Will Power, Force (also the 1996 DRIVER OF THE YEAR) had to endure months of physical rehabilitation.
At his age Force's comeback was incredible.
"[A]fter my accident in '07 the doctors weren't even sure if I would walk right again. I am glad I was able to deliver in 2010 for them and winning the 4th quarter award is a big deal. I have always been focused on winning races and growing the sport of NHRA drag racing. Anytime that I can accept an award like the 4th quarter DRIVER OF THE YEAR award and be judged alongside racers like Jimmie Johnson, Dario Franchitti, and Jeff Gordon that is awesome. This is a true honor to have a shot at the 2010 DRIVER OF THE YEAR award and I am proud to be in the running," said Force.
Barry Schmoyer, President of the DRIVER OF THE YEAR Foundation, said "John Force just keeps adding to his legendary status and I'm proud of the panel for honoring his achievement."
In the voting Force took five first-place ballots and totaled 94- points according to the DRIVER OF YEAR points system.
Jimmie Johnson, a three-time DRIVER OF THE YEAR, put together an impressive record of finishing no lower than ninth in NASCAR's Chase, tallied three-first place votes and totaled 79-points. He also came from behind in the season finale to win his fifth-straight NASCAR Sprint Cup Championship.
One again Kyle Busch's versatility in NASCAR's top three divisions earned him three first-place votes and 59- points.
Carl Edwards' two season ending wins in NASCAR Sprint Cup division and performance in the Nationwide series earned him 53 points.
Denny Hamlin, runner-up in the sprint Cup and Nationwide Series Champion, Brad Keselowski also received first-place votes.
A total of 13 drivers scored points in the third quarter voting.
In its' 44th year, the DRIVER OF THE YEAR title is unique. A panel of 20 leading journalists from across the U.S. determines the winner. In quarterly voting, points are awarded on a declining 9, 6, 4,3,2,1 basis. Force will receive a trophy and a Tissot wristwatch to be presented at a later date.
"My sponsors like Castrol, Ford Motor Company and Auto Club invested millions into me and my teams and they probably should have dropped me after the accident but they stood by me. I am glad I was able to deliver in 2010 for them," Force added.
President of the DRIVER OF THE YEAR Foundation is Barry Schmoyer, businessman and sportsman of Sarasota, Florida.




NHRA: 10 Most Recent Entries [ top ]

Jun 23- NORWALK - Total Qualifying Bonus Points
Jun 23- NORWALK - Pro Stock Motorcycle Qualifying, Session #1 Bonus Points
Jun 23- NORWALK - Funny Car Qualifying, Session #2 Bonus Points
Jun 23- NORWALK - Top Fuel Qualifying, Session #2 Bonus Points
Jun 23- NORWALK - Pro Stock Motorcycle Qualifying, Session #2 Bonus Points
Jun 23- NORWALK - Pro Stock Qualifying, Session #1 Bonus Points
Jun 23- NORWALK - Pro Modified Eliminations Ladder
Jun 23- NORWALK - Pro Modified Final Qualifying, Session #2 Order
Jun 23- NORWALK - Funny Car Eliminations Ladder
Jun 23- NORWALK - Funny Car Final Qualifying, Session #2 Order