Wed, 8 Dec 2010, 02:46 PM



Four for Greg



By Bob Frey


Photo copyright 2010 Auto Imagery, Inc.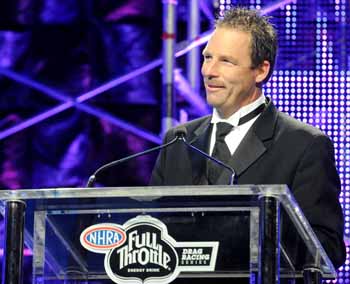 Greg Anderson at Awards ceremony.
Of all the
2010 Full Throttle World Champions
none have probably had a more interesting and active off-season than
Greg Anderson
. Actually Greg's activities began even before the euphoria of the awards ceremony wore off, that's because of the truck fire that destroyed Greg's championship winning car. The fire, which happened on "the 10" in
California
, destroyed a lot of the team's personal items as well as a support vehicle along with Greg's car. As you probably know that is the second fire that Greg has been involved with in the last year. The first happened earlier this year when his home burned down. No matter how you look at it that's quite a "bookend" for the four-time champion. That means that in addition to the normal off-season chores Greg and his
Summit Racing
team will have to focus on building a new car before they can even think about going testing. Greg's teammate,
Jason Line
, was part of the Summit Racing team that went to
Germany
and visited our troops and
Warren Johnson, Jason Line, Rickie Jones and Dan Runte
that kept him busy. I know how much the drivers and their families look forward to some rest after the season, and for that reason I congratulate Jason,
Warren Johnson, Rickie Jones
and Monster Truck driver,
Dan Runte,
for finding time to visit our men and women in uniform. Summit Racing has done this for several years now and the racers really do look forward to it. It's a great program and
Jim Greenleaf
(who also went on the trip) and all the folks at Summit Racing are to be congratulated for their efforts. You can read all about their journey right here on
DragRaceCentral.com.
If nothing else you should read Warren Johnson's account (Day #3) just to see how he feels about the visit (I'll give you a hint, he says "it's an honor"). It's also worth it to see
Warren
wearing rubber gloves and talking about using a grenade launcher. I can guess a few people that WJ would like to use it on, but that's another story altogether. Anyway, thanks to Summit Racing and all the drivers and folks who participated in the visit..Back to the
U.S.
, Greg and Jason continued their busy off-season with their participation in the
Stocks for Tots
program in
North Carolina
. This is a program where drivers from all forms of motorsports get together to raise money and gather toys for the needy children in the area. "It's a no-brainer for Jason and me," Greg said. "We do this every year. It's a great cause and it helps some kids have a better holiday season."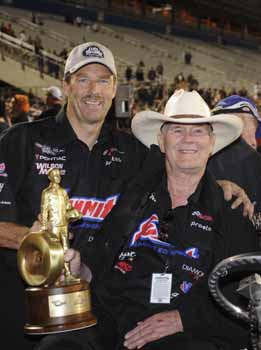 Anderson and Ken Black after Vegas win.
With all of that activity
Ken Black's
drivers, Greg and Jason, and the rest of the Summit Racing team, haven't had a lot of time to work on their cars or to visit with their families, but I'm sure they'll settle down, get to work and be ready to go by the time we get to Pomona to start the 2011 season. For now, when he has some spare moments, Greg can reflect on one of the more unusual years of his career, a year where he wasn't in first place until the twenty-first race of the season.
Did you know
that Greg ranged between second and fourth place during most of the regular season? And
did you know
that he dropped to fifth after his second round loss to
Mike Edwards
at Indy? It was those next four races, the four where he went to the final round, that propelled him to the championship. Greg's championship, his fourth, puts him in a very select group of drivers.
Did you know
that in the entire history of the sport only twenty-three people have won four or more championships?
Greg also becomes just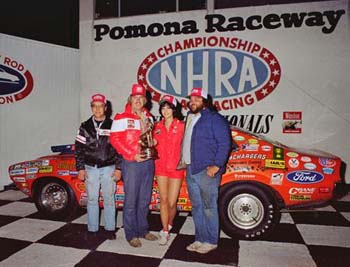 Edwards celebrates
Modified win in 1981.
the fifth driver to win four titles in Pro Stock, joining
Bob Glidden
(10), Warren Johnson (6),
Jeg Coughlin
(4) and
Lee Shepherd
(4) in that group. If you're a Pro Stock racer that's pretty good company, isn't it? Greg's last championship came in 2005 and that five year gap ties for the most in Pro Stock history. Bob won in 1980 and then again in 1985 and Jeg won in 2002 and then again in 2007.
Did you know
that the longest span between championships in drag racing was twenty-eight years? Mike Edwards won the Modified Eliminator championship in 1981 and then won Pro Stock in 2009. The next longest gap is twenty-two years and belongs Larry Kopp who won the Modified Eliminator title in 1976 and then added the Pro Stock Truck title in 1998. Looking at that reminds me that a lot of people have been racing for a long time and it reminds me of something someone said to my wife before we were married. She was told that if you love someone in this sport, "you better get used to it because they don't grow out of it."
How true!!
Greg won the Pro Stock championship this year even though he didn't win the most rounds or the most races. Mike Edwards took top honors in both of those categories but, just like the playoffs in any sport, once the "post season" begins everyone starts from scratch. Greg won a total of forty-two rounds this year compared to Mike's forty-eight and he won five races compared to Mike's eight. Not only that but did you know that in their eight head-to-head meetings this year Mike won six times? Still, when they re-set the points before Indy Greg and several other drivers all had a shot at winning the championship, even Mike. A lot of that has to do with Mike's performance in the "Countdown." Did you know that Mike lost seven times in the first round this year but that four of those losses came in the "Countdown?" As a Philadelphia Phillies' fan I know how Mike feels. It's tough when you have the best record in the regular season and then struggle in the playoffs. Hey, it happens in every sport and the Phillies and Mike will both rebound next year..Greg's forty-two round wins were enough to win the championship but they weren't as many as he won last year. In 2009, a year in which he finished second, he won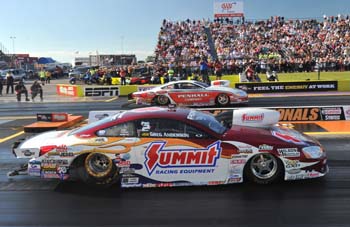 Anderson vs. Edwards at Dallas
forty-three rounds and in the years that he won his previous championships he had dominating seasons winning fifty-three, sixty-seven and an amazing seventy-six rounds..One of the reasons Greg gets an opportunity to win so many rounds is because he qualifies for every race, well, almost every race.
Did you know
that, among active drivers, he is riding the longest consecutive qualifying streak in the sport? Greg's last DNQ came at the second
Las Vegas
race in 2002 and that is 187 races ago.
Tony Schumacher
leads the way in Top Fuel and he is not far behind Greg. Tony's last DNQ was in Englishtown in 2003 and that means that his streak is 178 races. Ron Capps and Tony Pedregon lead the way in the Funny Car class with 86 in a row and Andrew Hines, with 123 straight, leads the motorcycle class. Still, as good as Greg has been he has a long way to go before he breaks the sport's record of 395 consecutive starts.
Did you know
that
John Force
holds that record, and if Greg wants to break it he will have to qualify for all twenty-two races (the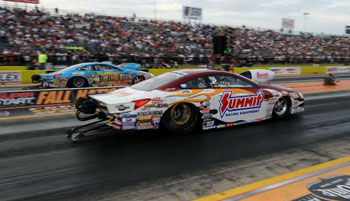 Anderson vs. Stanfield
current number on the schedule) for the next nine years? Actually, he would have to make every starting field from now until the middle of the 2020 season to tie John. I have two words for you Greg, good luck!!
One of the other keys to Greg's year was the fact that he was able to beat most of the top ten drivers on a rather regular basis. I already mentioned his losing record against Mike in 2010, but did you know that he had a winning record against six of the other eight drivers in the top ten? That may be a bit of a trick question, since he only had a losing mark against one other top ten driver and that was Jeg Coughlin. So why the winning record against only six? Well, as hard as it may be to believe, did you know that Greg never faced Ron Krisher all year? What are the odds that two top drivers would not race head-to-head all year? In fact, it has been thirty-six races since Greg and Ron lined up against each other and that's just amazing. At least to me it is..Greg also did very well against the other top ten drivers in his round one matches. Did you know that he was 7-1 against them in the first round? That's like extra good, since you win a round and one of your chief competitors is done for the day. At the other end of the spectrum Greg was 5-1 against those drives in final round encounters, with his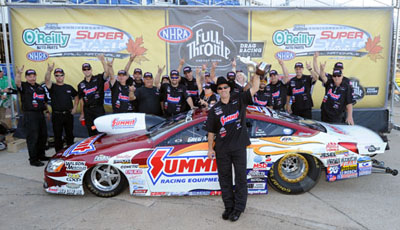 Anderson and crew celebrate Dallas win.
only loss coming to Mike at the season-opening Winternationals..One of the things that Greg didn't do this year is qualify number one. Only four drivers, Mike,
Allen Johnson
, Jason and Jeg qualified number one in Pro Stock this year and only two of them, Mike and Allen, won from the top spot.
Did you know
that since 1974 only seven drivers in all four of the Full Throttle (professional) classes ever won the championship without having qualified number one at least once in their championship year? Only seven!! It has happened three times in Top Fuel, twice in Funny Car, twice in Pro Stock and never in Pro Stock Motorcycle. So for Greg to go through the year not having the quickest car going into eliminations and still win the championship is very impressive. It just goes to show you how good his team was on race day. Speaking of his crew they include
Rob Downing, Tommy Utt, Pat Topolinski, Nate Van Wassenhove, Doug McGill, Andy Cooper, Keith Smith, Sonny McGurdy, Daniel Tillman, Lynn Muller, Eric Maj, Dan Blabolil, Jim Fox, Derek Jones
and
"Uncle" Les Williams.
"We win as a team and we lose as a team," Greg said more than once during the season and he acknowledged all of his team and crew at the awards ceremony. This year they won their fourth championship and that makes them a very good team, don't you think?
Pro Stock is so competitive and to win a round, a race and then a championship is not an easy task (not that it is in any class), but when fields are within a few hundredths of a second it seems like it puts a lot of pressure on the drivers to perform on Sunday. In 2010 Greg won five races on holeshots, he lost five on holeshots and he didn't have any red light starts.
Of those five holeshot loses probably the only one that Greg would really like to have back is the one against Jeg in
Sonoma
. That's where Greg had a .077 reaction time, one of his worst of the year, and it cost him.
Did you know
that for the entire 2010 season Greg averaged a .035 on the line and that's not bad? At least I don't think it is. Greg just didn't make many mistakes this year and that's the key to winning races and winning championships. Of course he has been that way throughout most of his career, steady and solid and that's why he is a four-time champion....I'll have more on the Pro Stock class in general a little later in the off season. There has already been a lot of movement with crew chiefs, engine builders, drivers and the like and I'll also have more on that in the coming weeks.
Last week I mentioned the John Force car show, and from what I hear it was a rousing success. It just gets better and better every year, kind of like John, and this year was no exception. A lot of folks, and I mean a lot of folks, showed up along with almost 1,000 show cars. But the big winners are the needy children in the area who will get some of the 12,000 toys that were collected at the show. A big tip of the cap to John and everyone in his organization for all they do for their community, both racing and otherwise. It's just another reason why the fans love the fifteen-time World Champion.




NHRA: 10 Most Recent Entries [ top ]

Jun 23- NORWALK - Saturday Wrap Up
Jun 23- NORWALK - Total Qualifying Bonus Points
Jun 23- NORWALK - Pro Stock Motorcycle Qualifying, Session #1 Bonus Points
Jun 23- NORWALK - Funny Car Qualifying, Session #2 Bonus Points
Jun 23- NORWALK - Top Fuel Qualifying, Session #2 Bonus Points
Jun 23- NORWALK - Pro Stock Motorcycle Qualifying, Session #2 Bonus Points
Jun 23- NORWALK - Pro Stock Qualifying, Session #1 Bonus Points
Jun 23- NORWALK - Pro Modified Eliminations Ladder
Jun 23- NORWALK - Pro Modified Final Qualifying, Session #2 Order
Jun 23- NORWALK - Funny Car Eliminations Ladder