Mon, 6 Dec 2010, 06:26 PM



NHRA Stars Greg Anderson & Jason Line to Take Part in Tuesday's Stocks for Tots



Courtesy of Jon Knapp



MOORESVILLE, N.C. --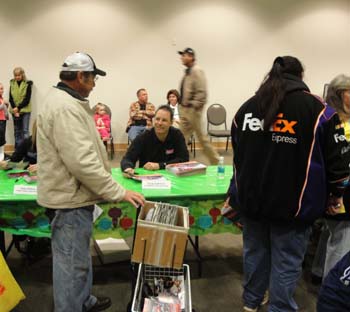 Greg Anderson at the event last year.
Since returning from the NHRA season finale in Pomona, CA three weeks ago, Summit Racing teammates Greg Anderson and Jason Line have had little spare time. After his championship celebration was cut short when his transporter was completely consumed by fire shortly after leaving the track, Anderson and the KB Racing team have been working non-stop to assess the damage, filing the necessary insurance paperwork while finding suitable replacements.
In addition, despite a lack of on-track action, Line has spent little time at home, as he first visited the troops in Germany as part of a Summit-sponsored USO tour before heading to Arizona to participate in the taping of an upcoming television series. As if this were not enough, the talented tandem has also been balancing preparations for the 2011 season with spending quality time with their families during the holidays.
However, this Tuesday, December 7, the two Pro Stock stars will take time from their hectic schedules to lend a hand to those in need, taking part in the Stocks for Tots fundraiser, signing autographs from 7:00 - 9:00 p.m. at the NASCAR Technical Institute, which is located at 220 Byers Creek Road in Mooresville, NC.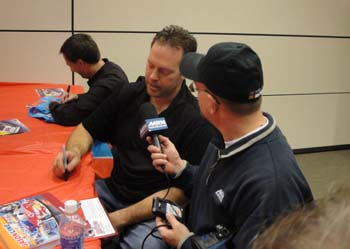 Jason Line at the event last year.
"For both Jason and I, doing the Stocks for Tots event is an absolute no-brainer," said Anderson, whose stellar three-win playoff run captured his fourth NHRA Full Throttle Pro Stock Championship. "It's a great cause that has become an annual deal for us, and something we look forward to every winter. It's a neat deal to go and share some laughs with the NASCAR drivers and racing legends, as well as spending time with the fans and signing autographs all for a great cause. We are all about anything we can do to help kids in need."
Since making its debut in 1989, the Stocks for Tots program has grown to become a holiday staple in the Mooresville area. This family-oriented event, which runs from 5:00 - 9:00 p.m., will feature a mix of stars of the NHRA, NASCAR and USAR circuits, along with a display of show cars and sale of racing memorabilia such as autographed sheet metal and crew shirts. Donated toys will be distributed to needy children in the area with the net proceeds going to help SCAN, which stands for Stop Child Abuse Now. For more information, please visit www.stocksfortots.com.
"As a father of two great kids, I admire the work done by Stocks for Tots and SCAN, so I'm glad to help in whatever way I can," said Line, the 2006 Pro Stock champion who finished fifth in the 2010 standings. "It's always a fun evening, and the fact that it's held right in our back yard only makes it better. I'm looking forward to spending some time with the fans and fellow members of the racing community to raise money for a very worthy cause. If you're in the area, I invite you to come out and join us - you won't be disappointed."




NHRA: 10 Most Recent Entries [ top ]

May 24- BOWLING GREEN - Edmond Richardson Still Finds Major Thrill Racing at JEGS NHRA SPORTSnationals
May 24- NHRA Expands Leadership Team with Two Executive Hires and Two Promotions
May 24- TOPEKA - Lucas Oil Drag Racing Series Wrap Up
May 24- TOPEKA - Special Awards
May 21- TOPEKA - Pro Mod Championship Points
May 21- TOPEKA - Monday Video
May 21- TOPEKA - Monday Pro Mod Wrap Up
May 21- TOPEKA - Monday Wrap Up
May 21- TOPEKA - Championship Points
May 21- TOPEKA - Summary of Eliminations in Top Fuel