Sun, 5 Dec 2010, 03:54 PM



NHRA Drivers Force, Dixon, Manzo Selected to AARWBA All-America First Team



Courtesy of NHRA Communications



GLENDORA, Calif. --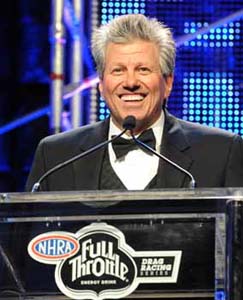 John Force
Four-time Jerry Titus Award winner John Force headlines a list of six NHRA drivers named to the American Auto Racing Writers & Broadcasters Association All-America Teams.
Force, along with NHRA Full Throttle Drag Racing Series Top Fuel world champion Larry Dixon and Lucas Oil Drag Racing Series Top Alcohol Funny Car driver Frank Manzo were named to the First Team; Two-time Jerry Titus Award winner Tony Schumacher and Funny Car driver Matt Hagan were named to the Second Team; and Get Screened America Pro Mod Drag Racing Series world champion Von Smith made the honorable mention list.
NHRA Full Throttle Drag Racing Series Pro Stock Motorcycle world champion and Auto Club "Road to the Future" rookie of the year winner LE Tonglet made the Rising Star list, the first year AARWBA had created the award recognizing a fresh new name making his mark in the sport. Though the poll does not include motorcycle racers, Tonglet's stellar performance in 2010 was enough to inspire a number of voters to write in his name.
The Jerry Titus Award, which is given in remembrance of the late racer/journalist, will be presented to the top vote-getter among the 21 First-Team drivers at the conclusion of the AARWBA All-America ceremonies at the Target Chip Ganassi Racing Facility in Indianapolis on Jan. 9.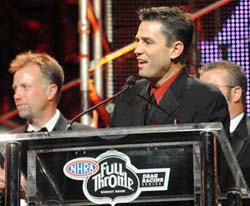 Larry Dixon
Force, who is making his 15th appearance on the First Team, is joined by not only Dixon (making his third First-Team appearance) and Manzo (making his second First Team appearance) but also Open Wheel drivers Dario Franchitti and Will Power, Stock Car drivers Jimmie Johnson and Kyle Busch, Road Racing drivers Scott Pruett, Memo Rojas, David Brabham, and Simon Pagenaud, Short Track drivers Bryan Clauson and Levi Jones, Touring Series drivers Todd Bodine and Bobby Santos, Off-Road and Rally drivers Rob MacCachren, Ricky Johnson, Antonio L'Estage and Nathalie Richard, and At Large drivers Jorg Bergmeister and Patrick Long.
Drivers from eight categories are elected to the First Team, the Second Team, and all drivers receiving at least five percent of the vote (minimum five votes) earn honorable mention.
Force, driver of the Castrol GTX High-Mileage Ford Mustang, won six races in 11 final round appearances and picked up three No. 1 qualifiers en route to his 15th NHRA Full Throttle Series Funny Car world championship in 2010.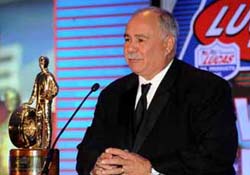 Frank Manzo
Dixon powered his Al-Anabi Racing dragster to 12 wins in 12 final round appearances and posted eight No. 1 qualifiers on the way to his third NHRA Full Throttle Drag Racing Series Top Fuel world championship in 2010.
Schumacher, driver of the U.S. Army dragster, earned his eighth All-America recognition with six wins, two runner-up finishes, 48 round wins and three No. 1 qualifying positions in NHRA Top Fuel competition.
Hagan, driver of the DieHard Dodge Charger Funny Car, earned his very first All-America recognition by posting three wins in five final round appearances, four No. 1 qualifiers, 37 round wins and finishing second in the NHRA Full Throttle Drag Racing series Funny Car point standings.
Smith, driver of the Barwa/Al-Anabi '68 Camaro Pro Mod entry, earned his third All-America mention after he drove to three wins in three final round appearances and earned the inaugural NHRA Get Screened America Pro Mod Drag Racing Series world championship.
Information on the All-America Banquet is available at www.AARWBA.org. The banquet and ceremony is open to the public.




NHRA: 10 Most Recent Entries [ top ]

May 24- BOWLING GREEN - Edmond Richardson Still Finds Major Thrill Racing at JEGS NHRA SPORTSnationals
May 24- NHRA Expands Leadership Team with Two Executive Hires and Two Promotions
May 24- TOPEKA - Lucas Oil Drag Racing Series Wrap Up
May 24- TOPEKA - Special Awards
May 21- TOPEKA - Pro Mod Championship Points
May 21- TOPEKA - Monday Video
May 21- TOPEKA - Monday Pro Mod Wrap Up
May 21- TOPEKA - Monday Wrap Up
May 21- TOPEKA - Championship Points
May 21- TOPEKA - Summary of Eliminations in Top Fuel