Wed, 1 Dec 2010, 11:00 PM



Auxier's Quick Turnaround Results In First ADRL World Title In Pro Nitrous



Courtesy of ADRL Communications



O'FALLON, Mo. --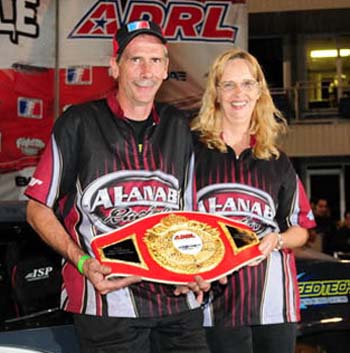 Auxier and his wife
celebrate championship.
Burton Auxier was the first to admit he didn't arrive at Texas Motorplex with much momentum.
It's a good thing he got there a week early then.
After not qualifying for the American Drag Racing League's (ADRL) final regular season race - the Summit Racing Equipment Ohio Drags IV - in late September, Auxier dropped in the points standing in Pro Nitrous heading into the Speedtech "Battle For The Belts" at the LenMar Motorsports ADRL World Finals VI.
But sensing the urgency of the situation, Auxier and his Al-Anabi Racing teammates arrived at Texas Motorplex several days early to test. Something clicked for Auxier and the quick about-face led to a magical day - and his first ADRL World Championship in Pro Nitrous.
"We came down here to test and we found a little something," Auxier said. "There's no doubt we've been struggling. Everything just worked."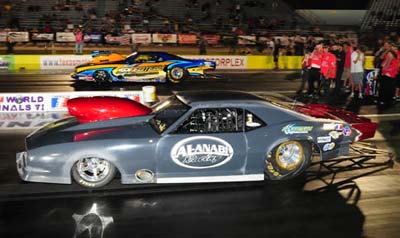 Auxier vs. Jenkins for championship.
Auxier went from the tremendous low from not qualifying at Summit Motorsports Park in Norwalk, OH to a tremendous high less than a month later at Texas Motorplex.
Beating legend, friend and teammate Shannon Jenkins in the finals made things that much sweeter for Auxier, who was nearly overwhelmed in the MAVTV Winner's Circle following the memorable win.
Jenkins could never find his groove in Ennis, Texas, yet still ended up in the finals against Auxier.
But Jenkins couldn't finish the deal against the dominant Auxier, who went 3.89 in the finals to earn the World Championship.
"This is just unreal," Auxier said. "Everyone pitched in and made this happen. Shannon has taught me a lot and he really has helped me a lot. It was good that we ran in the finals because I know he's the best guy. He's the best tuner there is."
The test session at Texas Motorplex surely helped and the modest and mild-mannered Auxier heaped praise on Jenkins for helping him reach this point in his career.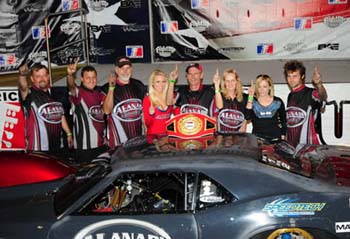 Auxier and crew
celebrate championship.
But things weren't exactly clicking heading into this race. In addition to not qualifying in Norwalk, Auxier blew the hood scoop off the car there and also struggled through a testing session in Martin, MI.
It all changed a few short weeks later and, though he wanted the championship for himself, Jenkins was happy to see his friend and teammate get the victory in their head-to-head duel.
"It was a great win for Burton. Of course we wanted to win, but it was a great day for Burton and Al-Anabi," Jenkins said. "He's a good friend and it was just a good team win."
Auxier stressed the team part of the win every chance he could.
Instead of rattling off names, he simply thanked everyone that played a part in his amazing day in Ennis.
It started in impressive fashion as well, as Auxier went 3.84 in his first-round matchup with Randy Weatherford to set up a showdown with Rickie Smith, the points lead in Pro Nitrous.
Auxier responded with an event-best 3.83, moving him into the finals against Jenkins. But even the legendary "Iceman" couldn't stop Auxier on that day.
"This really hasn't sunk in," Auxier said. "Everybody made this possible. I just can't say enough about all of that. Everybody just pitched in and helped. They made it all click."