Fri, 26 Nov 2010, 10:58 AM



Hey, Is That A Knife?



By Bob Frey


Photo copyright 2010 Auto Imagery, Inc.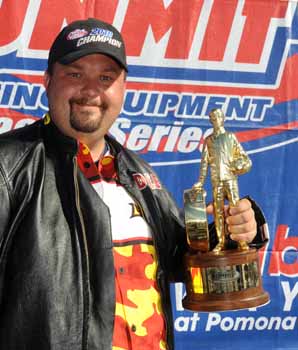 Dale Hamilton
It didn't seem to make any difference how many wheels the vehicles had, what the class or category or even what eliminator the racers were in, 2010 was a good year for racers from the Northeast Division. Frank Manzo and Al Ackerman won Lucas Oil World Championships in Top Alcohol Funny Car and Competition Eliminator respectively and Dale Hamilton and Butch Weinreich also won world titles. And while Dale and Butch may not be household names at Pomona where they won their crowns, they sure are back in the northeastern part of the country. That's because both drivers run in the rugged Division 1 area and both won Summit Racing Series Championships this year. After outlasting a good field of motorcycles and cars, both Dale and Butch got to head west for the Summit Racing Series National Championship Finals and both made the trip well worth their time.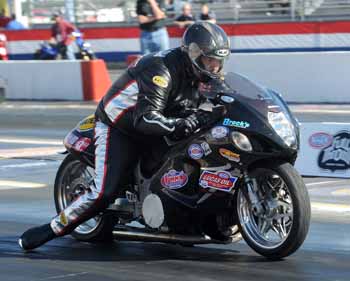 Dale Hamilton
Dale Hamilton won the Division 1 Summit Series when he knocked of Jonathan Tisdale in the final round at US 13 Dragway in Delmar, Delaware in September. That earned the thirty-three year old the right to go west to Pomona and race for the overall national championship, and to say that it was a good time would be an understatement. "I have to say the entire experience was great," Dale said. "From the banquet to the final day, everyone treated us well and it couldn't have been any nicer." Of course when you win it has a tendency to add to the overall joy of the event. "Even getting my bike out there worked out very well." That's because Dale was able to fly to California while his bike rode with the Dimino family. "I had never met them, but I heard that they were going to Pomona since Vinny had won the Super Pro championship. After a few phone calls I got in touch with them and they said that they would be glad to put my bike in their trailer. And even when they lost on Sunday and our final was pushed over until Monday, they offered to stay, support us and then take the bike home. They run a good track and it's easy to see why the racers like them. That was a big help."
Did he say "big?" That's interesting, because Dale Hamilton isn't your typical motorcycle racer. First of all, he's big and he weighs over three hundred pounds. "Yeah, I'm big," he said. Second, he has a variety of bikes that he runs and he could have selected any one of them to bring to Pomona. "I have four bikes that I race right now," he said. "My quickest one is a turbocharged, nitrous-powered bike, a Pro Mod bike, and I have gone as quick as 7.71 on it at almost 180 miles per hour." Then he added, "No telling what a small rider could do on it." He also has a couple of other machines that run from the low eight-second range up to the bike he took to Pomona, the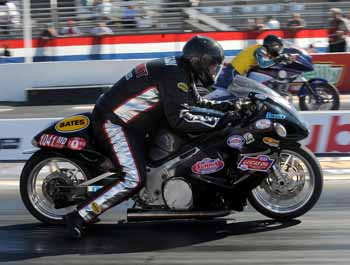 Hamilton vs. Leo Shaver
slowest one that he runs. "It's basically a street bike. In fact, we just turned in the tags on it for the first time." It's the fact that it is a very basic machine that caught the attention of a lot of the other riders in Pomona. "They took a look at it, saw that I didn't have a delay box, an auto-shifter, wheelie bar or any of the trick stuff that they all had. I kind of got the feeling that they thought I brought a knife to a gun fight." Well, maybe he did, but in the end it was that knife that got the job done. "It's a very consistent bike, and after I won the Division 1 race with it I decided that was the one I was taking to Pomona. I guess it worked out all right." I guess it did.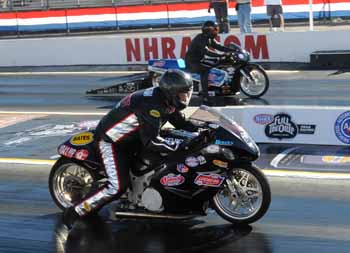 Hamilton vs. Mike Lakoskey
in the final.
While running at Pomona may be an awe-inspiring experience to some bike riders, it wasn't to Dale. "Back in Division 1 we get to race at a couple of national event tracks so that wasn't new to me. We run at Maple Grove, Englishtown and M.I.R. and they're all big tracks, maybe not as big as Pomona, but it gave us the advantage of having raced at big facilities." And the pressure of running for a national championship didn't scare him either. "I run on the MIROC series, that's a series between Maryland International Raceway and Rockingham Dragway and it's pretty intense. We had a field of 197 bikes in my class at one of those races, so I guess I'm used to the pressure." About the only pressure Dale felt at the race was when he detected something a little wrong with the bike. "It happened right before the bye run (round one). I had to make some changes to the clutch, minor changes, but something I didn't want to do in eliminations." Whatever he did, he did it right. "I had a friend of mine come out from El Paso and he had a pickup truck and some tools with him. It wasn't what I usually have at the races but it got the job done." With that out of the way Dale put a .003 reaction time on the board in his round two win over Division 7 racer, Leo Shaver. "After that I knew I couldn't lay back in the finals, so I just went up there and hammered it." He "hammered" a .008 reaction time in the final round against the Division 2 champion, Mike Lakoskey, and he said that as he went by the tree he knew he was going to win. "Once I saw green I knew I was going to win it. The bike was running well and I never even put it in sixth gear. It was a great feeling." I guess when you run as many races as Dale does you get those feelings, because the race was anything but a blowout. "Yeah, it was a double-breakout affair and I was closer to the dial than he was. But I can honestly say that I knew I was going to win." Not bad for a guy with a knife, is it?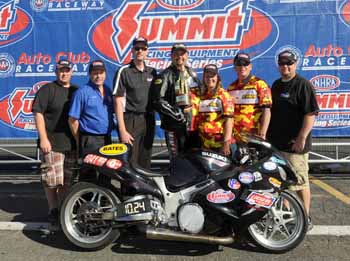 Hamilton and team celebrate win.
"All of the guys that I met out there were really nice. We spoke and talked about our bikes and they all had the same feeling that I did, that it was a great weekend for all of us. Even getting the final round carried over until Monday didn't dampen our spirits." For Dale, who began racing both cars and motorcycles back in the late 1990's, this was as good a weekend as he has had in his career. "I've run a lot of racers, including the MIROC series, some Prostar events and things like that, but this was the best." And what does a Summit Racing Series Motorcycle Champion do for relaxation. "Well, I'm in Florida right now with some friends and we're going on a Turkey Rod Run." The man who gave up racing cars years ago because the bikes were more exciting, is driving a '62 Chevy Biscayne or a '62 wagon in Florida. "We've done this for years and it's a lot of fun. I have a new bike to work on when I get home, but for now I want to relax and enjoy myself." I wonder if he brought that knife with him to Florida. Probably not!!
"I'd like to thank Rob and Marci Veronie with Thurmont Auto Sales, Dana and Dawn with Bates Leathers, Marion with The FBR Shop, Kathy and Elmer with Mason Dixon Dragway and my pit crew Tex Hailey and as always Bonnie Pelphrey. Thanks also to Bob Lang and Division 1, Kevin McKenna with National Dragster, Kenny Lewis, all the motorcycle racers at Mason Dixon as well as my friends and family and a special thanks to NHRA and Summit Racing for an outstanding E/T series."




NHRA: 10 Most Recent Entries [ top ]

Apr 24- CHARLOTTE 1 - Steve Torrence Enjoying Four-Wide Success Heading to NGK Spark Plugs NHRA Four-Wide Nationals
Apr 24- CHARLOTTE 1 - Fact Sheet
Apr 24- Kalitta Motorsports Welcomes NASCAR Stars to the SealMaster Track Walk in Charlotte
Apr 24- zMAX Dragway Celebrates 10th Anniversary
Apr 24- CHARLOTTE 1 - NGK Spark Plugs NHRA Four-Wide Nationals Brings 40,000 Horsepower Thrill Show to zMAX Dragway
Apr 23- HOUSTON - Lucas Oil Drag Racing Series Wrap Up The NHRA Lucas Oil Drag Racing Series Wrap Up
Apr 23- CHARLOTTE 1 - J.R. Todd Aiming for Two Four-Wide Racing Wins in 2018
Apr 23- Mid America Dragway Joins NHRA Member Track Network
Apr 23- HOUSTON - Special Awards
Apr 23- HOUSTON - Sunday Video