Wed, 24 Nov 2010, 09:04 AM



It's Number Three for Larry



By Bob Frey


Photo copyright 2010 Auto Imagery, Inc.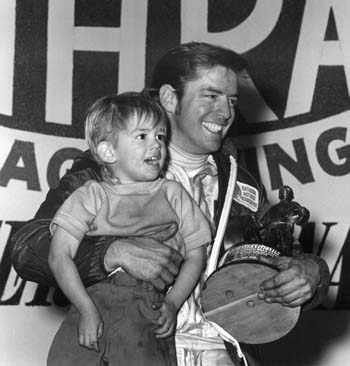 Larry Dixon with his father
when he won the '70 Winternationals.
Photo by NHRA
I was just going through the new book by
Lou Hart
entitled
"Chevy-Powered Drag Racing"
and I came upon a picture of the
"Real Don Steele"
Top Fuel car. The picture was taken at the 1974 PRO National Challenge race at New York National Speedway (a race that I announced, by the way) and it featured the driver,
Larry Dixon. Sr
.
Did you know
that Larry drove that car to a 5.94-second clocking at Ontario Motor Speedway in 1973 and that made him the first and only driver of a Chevy-powered dragster to be in the
Cragar Five-Second Club
?...I remember talking to the current
Full Throttle Top Fuel Champion
,
Larry Dixon
, a long time ago and telling him how much I loved the Chevy car that his dad drove. In fact, I used to have a t-shirt of it and it was always one of my favorites. And, no, I don't still
have it although I wish I did. I also remember telling Larry that I saw the
Smirnoff
dragster that his father also drove, and while I never had a t-shirt of that car, I do have the original artwork from a magazine article that was done about the car and it's quite nice, if I do say so myself.
Did you know
that Larry Dixon Sr. drove the beautiful Smirnoff car to the Top Fuel title at Irwindale's big fuel show in 1967? He beat the
"Red Mountain Boys"
in round one,
Jeep Hampshire
in round two,
Brissette & Sutherland
in round three and
Dave Beebe
in the final round. By the way, if memory serves me correctly, the "Red Mountain Boys" car was owned by
John Mitchell
, and about thirty years later, the first car that Larry Dixon Jr. drove at an NHRA national event was a car that was owned by, you guessed it, John Mitchell. Larry drove it at the national events in
Topeka
and Brainerd in 1993 before he got the call to drive for
Don Prudhomme.
If I'm wrong I know I'll hear about it. Anyway, all of that got me thinking about how many times I saw his dad race, and while it wasn't a lot, it was always a treat to see the elder Mr. Dixon in competition. Well, I can say that I have seen Larry race a lot, in fact, except for one race that I missed six years ago I can say that I have seen every run that he has made down the track in NHRA competition. I can also say that it has been a treat to watch him grow into one of the best Top Fuel drivers of his generation.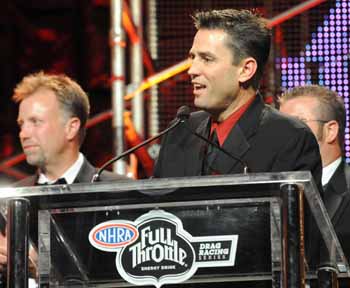 Dixon at the Awards Ceremony.
Larry Dixon won the 2010 Top Fuel championship and he did it in style. Larry won a season-high and a career high sixty-two rounds of racing.
Did you know
that his previous personal best was in 2003 when he won fifty-nine rounds? The best in the class still is, and may be for a while, the seventy-six rounds that
Tony Schumacher
won in 2008, the year that he won fifteen races. In that championship year Tony did what not many drivers have done, and that is he won the first race of the year and was never out of first place the rest of the season. This year, Larry won the Winternationals before being upset in round one in
Phoenix
by
Steve Chrisman
, a loss that dropped him into third place. Larry picked up his second win of the year in
Houston
, and then, after winning his third race of the year in
Las Vegas
he was back in his familiar spot at the top of the pack and he never looked back. Ok, so maybe he looked back, but only to see how far his competitors were behind him...The Houston and Vegas wins were just one of three times during the year that Larry won back-to-back races, and that includes the three consecutive races he won in Brainerd, Indy and Charlotte....Since I mentioned Larry's sixty-two round wins,
did you know
that he becomes just the third Top Fuel driver to win sixty or more rounds in a single season? Tony, of course, was one of the others and he's done it several times and
Kenny Bernstein
would be the third. Kenny won sixty-one rounds in his championship year of 2001, while Larry, who finished second that year, won fifty-seven rounds in '01 which, by any standard, is a good year..One of the things that Larry will be remembered for are the twelve races that he won in twelve final round appearances. First of all, to be perfect in final rounds for one year is impressive. And, to win twelve races in one year is impressive. To combine the two puts you in a category all by yourself. As good as those twelve finals look on your resume, and they do look good,
did you know
that wasn't the best year for Larry? In his two previous championship years, 2002 and 2003, he went to fourteen and thirteen final rounds respectively. He didn't win a dozen races but he did go to more finals. Still, any way you look at it, and by any measurement, 2010 was a very good year for Larry and his team and I'm sure his father is proud of him.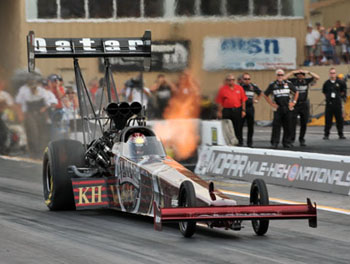 Dixon launches hard.
The
Al-Anabi
team performed well during the season and that was obvious by the eight number one qualifying spots that they had. That was, by far, the most in the Top Fuel class this year. As good as it was, though, it wasn't Larry's best year.
Did you know
that he qualified number one nine times last year? But even his earlier championship years couldn't compete with the numbers he put up this year. In case you were wondering, there were five drivers who qualified at the top in the dragster class this year, and, not coincidentally, they were the five drivers who won races in 2010. You may think that Tony had the next most number one spots, but that would be incorrect.
Did you know
that
Cory McClenathan
and
Antron Brown
both qualified number one five times this year, and that's second-best to Larry's eight? Tony did it three times and
Doug Kalitta
paced the field twice. Tony's number one spots came in
Phoenix
and at the second races in
Las Vegas
and
Pomona
. It's amazing that he went almost the entire year without a number one spot and then, with the pressure on, he did it at two consecutive races at the end of the year. I may have mentioned this before but the fact that he did it at the "Finals" and didn't win shouldn't come as a surprise to anyone.
Did you know
that in the last thirty-four years the number one qualifier in Top Fuel has won the "Finals" just three times? Hard to believe, but true..While there have been drivers who have qualified number one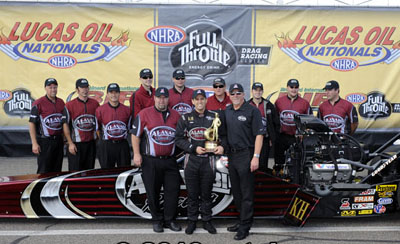 Dixon and crew celebrate Brainerd win.
more than eight times in a year none of them had the success that Larry did from the top spot.
Did you know
that, of those eight number one spots, Larry won the race seven times? The only race he didn't win after qualifying number one was in
Dallas
where he lost in round two. Other than that, if he was the leader going into Sunday, he was practically invincible.
Did you know
that in the history of the sport only one other Top Fuel driver won as many races from the number one spot as Larry did this year?
In 2008 the "Sarge" won seven times after qualifying number one. Other than that, nobody else has ever done what Larry and his team did this year, and from where I sit that's just one of many things that makes the accomplishment even more impressive..Since Larry always says that we "win as a team and we lose as a team," and since he had his team join him on stage at the awards ceremony, I thought I should mention them, too. Besides, as I always say, the drivers get all, or most of the credit when the team wins and all, or most of the blame when they lose. But even the most talented driver couldn't do it without a good crew, a really good crew. Among those on Larry's team are
Jason McCulloch,
the crew chief,
Brian Husen
the assistant crew chief,
Adam Buranski
, (superchargers)
Kevin Eckstein
(tires),
Jim Marcellus
(cylinder heads),
Nick Peters
(clutch),
Robert Proctor
(short blocks & bottom end),
Chris Rose
(racks - rods & pistons) and
Shawn Dill
(engine & clutch). Nice job, team.
As Larry was locking up the championship he also was closing in on another milestone in the sport and in his career. With his round wins this year Larry raised his total to 599 for his career. In the process he passed
Bob Glidden
who has 597 round wins and he moved within striking distance of another rare accomplishment.
Did you know
that only three racers have won 600 or more rounds in their professional careers?
John Force
, of course, leads the way (1082), with
Warren Johnson
second (869) and
Kenny Bernstein
third (682). Since Kenny's wins were split between Top Fuel and Funny Car Larry is the leader in the dragster class with his total. Just for the record, John's wins have come in 566 races,
Warren
's in 594 and Kenny's in 450 while Larry has reached his total in 360 national events. While none of the personal accomplishments or numbers means a lot to Larry, who is the ultimate team player, they should, or at least I think they should. He has done very well for himself and his teams over the years and three Top Fuel championships is something that not a lot of drivers can say they have achieved. Let's face it, when you're in a club that includes
Don Garlits, Shirley Muldowney, Gary Scelzi
,
Joe Amato
and Tony Schumacher you're in very exclusive and impressive company.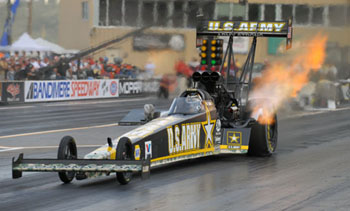 Tony Schumacher
As good as Larry was during the season there were a couple of other notable things in the Top Fuel class in 2010. Of course Tony's run at the championship, again, made the last couple of races more interesting. Cory McClenathan's good year and then departure from the
Team Schumacher
camp is noteworthy. And the fact that we had just those five winners this year certainly surprised me, if for no other reason than the fact that we had a lot of good cars in the class.It's getting to be so commonplace that none of us should be surprised the way the
Army
car runs. Most teams would consider this a great year if they had Tony's numbers, but I guess when you're used to winning championships like they are, anything less may be a disappointment. Tony won forty-eight rounds and six races this year and ran his overall career record to 550 - 240 and that's good in anybody's book. He was in eight finals to win those six races and the only two that he lost were to Larry in
Chicago
and
Sonoma
. Overall the two giants of the class met eleven times this year and Larry won eight of those meetings. For their career against one another they are a remarkable 35 - 35...Cory had a good year, too, it's just that Larry and Tony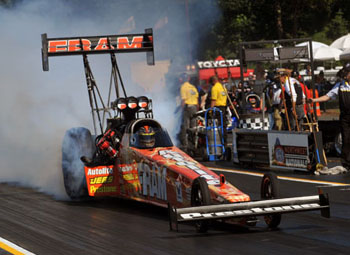 Cory McClenathan
were having better years and that seems to be the story of Cory's career.
Did you know
that Cory won forty-five rounds this year and that's the most for him in any one year of racing? He won forty-four in both 1997 and '98 but this year was his best in terms of rounds won. He also finished in the top ten and that makes eighteen times that he has been in the top ten in his career. I don't know what lies ahead for him but even if he doesn't race again, and I certainly hope he does, he has had a career that most other drivers can only dream about...
Antron Brown
won the last race of the year and that helped him finish fourth in the points and that's the thirteenth consecutive year that he has been in the top ten. He beat
Shawn Langdon
in the final race of the year and that means that he has won at least one race for eleven of his thirteen years in the sport....The final round at
Pomona
between Antron and Shawn was interesting because it featured two of the best drivers on the starting line in Top Fuel. For the record, Shawn had a .038 reaction time in the final and Antron had a .039.
Did you know
that, as good as he is, Antron has never beaten Shawn off the line? Ok, so they have only met four times, but when you were first off the line 70% of the time in 2010, like Antron was, you would think you would beat Shawn sooner or later..On the other side of the coin, we all know that Shawn is great on the line, but
did you know
that in 2010 he was first off the line 83% of the time and that's even better than he was last year?
The dragsters have always been regarded as the "Kings of the Sport" and they gave us some very exciting moments in 2010 and now we'll just have to wait and see what next year holds. I do know this, you have to go back to 2001 to find the last time the TF champ wasn't named Schumacher or Dixon, so the question is, will someone new add their name to that list or will the Al-Anabi and Army teams slug it out again?




NHRA: 10 Most Recent Entries [ top ]

Mar 18- GAINESVILLE - Summary of Eliminations in Top Fuel Harley
Mar 18- GAINESVILLE - Summary of Eliminations in Pro Modified
Mar 18- GAINESVILLE - Summary of Eliminations in Top Alcohol Funny Car
Mar 18- GAINESVILLE - Summary of Eliminations in Competition Eliminator
Mar 18- GAINESVILLE - Summary of Eliminations in Top Alcohol Dragster
Mar 18- GAINESVILLE - Summary of Eliminations in Super Stock
Mar 18- GAINESVILLE - Summary of Eliminations in Stock Eliminator
Mar 18- GAINESVILLE - Summary of Eliminations in Factory Stock Showdown
Mar 18- GAINESVILLE - Summary of Eliminations in Super Comp
Mar 18- GAINESVILLE - Summary of Eliminations in Super Gas