Fri, 19 Nov 2010, 02:26 PM



Congratulations to the Champs



By Bob Frey


Photo copyright 2010 Auto Imagery, Inc.





After the final race of each season I am fortunate enough to get to host the Lucas Oil awards ceremony. That's where the Lucas Oil champions are honored for their achievements during the season. I've done it for as long as I can remember and it's always a fun night. It is a lot more low-keyed than the Full Throttle ceremony but no less important and the champions are no less deserving. In fact, as I mentioned this year, they often have to face more competitors and have to go more rounds than some of the professional racers do. The racers who run in the Super categories often have to go seven or eight rounds at a time to earn their points. The men who won this year represented a great mix of old and young and they will all represent their particular category very well.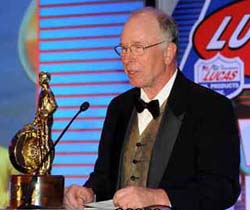 Bill Reichert
Bill Reichert was almost apologetic on the Lucas Oil television show from Pomona. On it (the show airs this weekend on ESPN2) he said that he wanted to win the championship based on his own performance rather than someone else's. That was a reference to the fact that he was out of races to claim when he came to Pomona and he won the championship when Chris Demke lost to Shawn Cowie in the second round. I pointed out that he did win it on his merits, and the fact that he didn't beat Chris on the track or win the Pomona race shouldn't take away from what he has done. He smiled gently, and kind of agreed, but that's the type of guy that he is. The truth is that Bill had another very good year, the best in the class, and he won his fifth consecutive championship. That, in itself, puts Bill in a very select group of racers. He becomes one of only fourteen racers in history to win five or more season titles. He also became just the sixth man to win five consecutive championships and only the second to do it in the Top Alcohol Dragster class. Sounds like a pretty good year for the Rislone team and I don't see any reason why Bill won't challenge for the title again next year.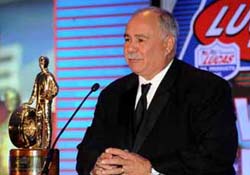 Frank Manzo
Frank Manzo was on the verge of tying John Force for the most championships ever, that is, until John went out and won his fifteenth on the last day of the season. As it stands, Frank still has more championships than any other driver in the history of the sport except John Force and that's not a bad thing to put on your resume. Frank won nine of a possible ten races this year en route to the title and that includes six national events where he won the race, qualified number one, set low elapsed time and top speed. In other words, six races where he completely dominated the class. It also includes running his final round win streak to an amazing thirty in a row, and that's something that even John Force can't say that he has ever done. Frank also spent a lot of time overseas while working with the Al-Anabi Pro Mod team and he did a good job as crew chief in addition to running his own car. I know that Frank would like to slow his schedule down and maybe just run at the national events next year, and if he does that it could impact his chances at tying John for the most championships. But after all he has done in his career, and knowing Frank, that's probably not a concern for him. I do know that he thinks the alky Funny Cars can run in the 5.30 range and I know he'd like to be the first to do it, so maybe that will be his focus in 2011.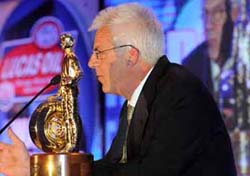 Al Ackerman
Al Ackerman won his first championship in 2010 when he grabbed the Competition Eliminator national crown. Driving his little dragster Al took on the big cars, the little ones, the cars and trucks and put up the most points in Competition Eliminator history. He also won by the biggest margin in the class's history so he should be feeling pretty good about himself as he heads into the off-season. Most drivers will tell you that if they can't win the championship they would like to win the U.S. Nationals. Others even put winning Indy at the top of their "bucket list," so you can imagine what a season it was for Al when he did both. He also won national events in Brainerd and Norwalk along with putting three divisional races in the win column. Al has been racing for a long time and this was, by far, his best season. His little dragster ran well, he beat the 2009 World Champion, Bruno Massel, in the Indy final, and generally had a "career year" in 2010. He told me in the middle of the season that he wanted to bring the championship back to New Jersey and he did. Nice going, Al.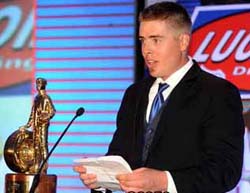 Ryan McClanahan
Ryan McClanahan is a third-generation racer and a former Jr. Dragster national champion. Following his year in 2010 he is also the Lucas Oil World Champion in Super Stock Eliminator. During his acceptance speech on Monday night Ryan made it clear that his years behind the wheel of a Jr. Dragster played a big part in his championship this season. He also mentioned the "gene pool," and the fact that his grandfather was a three-time NHRA World Champion. He picked up two national event wins this year, and like Al, he beat the reigning World Champion in one of those final rounds and that has to give a young driver a lot of confidence. When you include his three divisional wins it's easy to see why he is the champ, after all, that's a lot of wins for a sportsman class racer. Ryan's SS/BM Cobalt wasn't the car that he thought he would win the championship with since he got off to a better start in Stock Eliminator. But in the end he had just enough to hold off Lincoln Morehead and Brad Zaskowski to get his first national championship.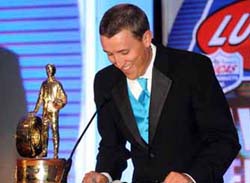 Brad Burton
Brad Burton won the Winternationals (when he beat Ryan in the Stock Eliminator final) and never looked back. Of course, with the way the points are structured in the sportsman classes it's tough for a driver to go wire-to-wire to win the championship but Brad came about as close as you can to doing that. In addition to the Winternationals he won in Denver and he made it to the final round in Indy before losing to Tim Bishop. Another big win in Great Bend, Kansas, was worth 105 points and that was just about all Brad needed. Another second-generation racer, who was profiled in this column earlier this year, Brad gave his father a lot of credit for his success and you could tell that he had a lot of support from his parents. Actually that's one of those things that you had to be at the awards presentation to know what I mean because it's too hard to explain, but trust me, mom and dad are very proud of their son, the champion.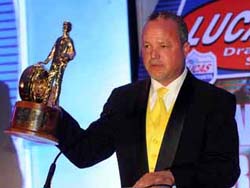 Gary Stinnett
While Al, Ryan and Brad were all first-time champs, the Super Comp World Champion celebrated a three-peat. Gary Stinnett, the 8.90 champ, had already won two national championships before his 2010 crown. Unlike those other two, where he got off to a good start and watched the others try to catch him, Gary came from way back to win the championship this year. He only won one national event, the one in Brainerd, and one divisional race, the one in Topeka, but he went enough rounds at the other races to be the champ. Of course he didn't know that he would be the champ until all of his challengers were out of races and out of rounds and that didn't happen until Pomona. Gary has won national events in four different classes and is always competitive regardless of class, type of "tree" or "bulb" that he's using or the car that he is driving, and not may racers can say that. Don't be surprised if, before his career is over, he wins the championship in at least one other class.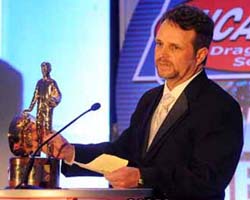 David Tatum III
David Tatum III and Gary Stinnett are good, close personal friends and it seems that they helped and encouraged each other this year. Gary told a story about helping David figure out some strange weather patterns at a race early in the year, and once they solved that little conundrum they were off to the races, literally and figuratively. David, who drives a car that is owned by David Watson, won the Sportsnationals for the third time this year and he made it to the final round at Indy, a race he had previously won. Those races, combined with three divisional wins, were enough to give him his first national title. A quiet, soft-spoken man, David let's his car do his talking for him and this year it said, "catch me if you can." He put a lot of points on the board early and nobody, not even Mike Ferderer or Val Torres, the only other Super Gas drivers to post six hundred or more points, were able to catch him. As a divisional champ, and Indy champ and a Jegs All Star there really isn't much that David hasn't done or can't do in the 9.90 category. Maybe the only challenge will be to see if he can repeat in 2011.
Congratulations to all the champions, and to everyone who didn't win, there's always next year. And the way the schedule is there will be a lot of points put up at divisional races long before the national tour begins at the end of February. That way, even before the Winternationals, we could have an idea if any of the 2010 champs will challenge for another championship.




NHRA: 10 Most Recent Entries [ top ]

Apr 22- HOUSTON - Top Fuel Final, Round 4 Eliminations
Apr 22- HOUSTON - Funny Car Final, Round 4 Eliminations
Apr 22- HOUSTON - Pro Stock Final, Round 4 Eliminations
Apr 22- HOUSTON - Pro Modified Final, Round 4 Eliminations
Apr 22- HOUSTON - Top Fuel Harley Final, Round 3 Eliminations
Apr 22- HOUSTON - Super Gas Final, Round 6 Eliminations
Apr 22- HOUSTON - Super Comp Final, Round 6 Eliminations
Apr 22- HOUSTON - Super Stock Final, Round 6 Eliminations
Apr 22- HOUSTON - Stock Eliminator Final, Round 6 Eliminations
Apr 22- HOUSTON - Pro Modified Round 3 Eliminations