Wed, 17 Nov 2010, 02:48 PM



Itís All Over



By Bob Frey


Photo copyright 2010 Auto Imagery, Inc.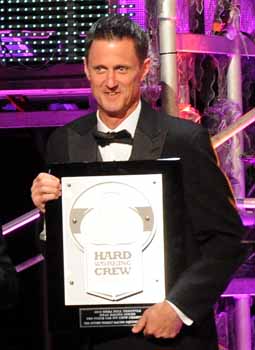 Rob Downing with the
Full Throttle Hard Working Crew award.
The 2010
Full Throttle
drag racing season is over, and for most of the people involved, that's probably a good thing. I say that because by the end of the twenty-three race season most racers, officials and workers are ready for a break. Make no mistake about it, I love everything about the season, but by the middle of November I am ready for a break. But in about a week I will be longing for another week at the races. What I'm saying is that the end of the season always comes at just about the right time and then the start of the season comes at just about the right time. This year, of course, with the new schedule there will be more time between the end of one year and the start of the next year than we have had for a long time. The way I figure it there are 101 days from the end of the 2010 racing season until the beginning of the 2011 season, and that, by any drag racing fans standards, is a long, long time.
The championships were first decided on the track on Sunday and then the champions were officially crowned on Monday at the annual awards ceremony. The Pro Stock title was clinched when Greg Anderson qualified for the race while the Top Fuel championship was clinched when Larry Dixon won his first round match against Mike Strasburg. For Greg it is his fourth series championship while Larry picked up his third. Both drivers were very gracious in their acceptance speeches and both made it a point to thank their teams and their crews for all of their hard work. Later in the ceremony Greg's Summit Racing team was rewarded with the Full Throttle Hard Working Crew award, an award that was voted on by over 65,000 fans.....The Funny Car and Pro Stock Motorcycle crowns were both won by the under-dogs, or at least by the teams that came into Pomona in second place in the points. John Force, who was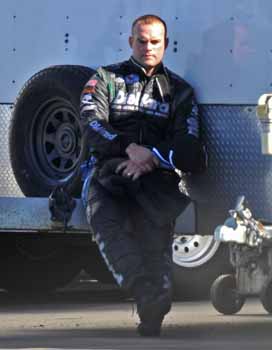 Matt Hagan after
losing in round one.
thirty-seven points behind
Matt Hagan
coming into the
Auto Club Finals
, beat his former teammate, friend and mentor
Gary Densham
, in round one, and when he took out
Bob Bode
in round two John was the champ. That's because Matt Hagan was beaten by
Bob Tasca
in a great opening round match. After that loss all Matt could do was sit and wait for his fate to be determined, and the fans at
Pomona
and at home watching on ESPN were reminded of the shots they saw of
Doug Kalitta
and
Rod Fuller
in previous years when they were waiting to see what
Tony Schumacher
was going to do. In the end, Matt suffered the same fate that Doug and Rod did, and now he knows how they felt to lose the championship on the last day of the season.....
LE Tonglet
got an opening when
Andrew Hines
fouled out in his first round match against
Steve Johnson.
If you look back at last week's column you'll see that I mentioned that the title could be decided by a foul start and I also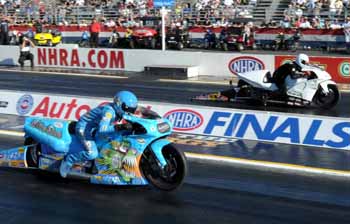 Tonglet vs. Johnson
for the Championship.
mentioned Andrew's history at
Pomona
, a history that included four red lights in his last five starts there. For his part LE almost gave it all back when he recorded a .007 reaction time against Johnson in round two. "I didn't mean to do that," he told me Monday night. "That was way too close to fouling out." Yes it was, but it was a green light and it just showed how cool the kid is under pressure....The fans at
Pomona
were treated to some great racing and a lot of drama, and in the end they saw the crowning of four champions and that's what they came to see. It was fun, exciting and dramatic, and in the end you would have to say that the best men won.
There have been a lot of good years in the Top Fuel class but few can compare to the year Larry Dixon had. Sure, Tony Schumacher's championship year were great but for a driver and a team to go twelve for twelve in final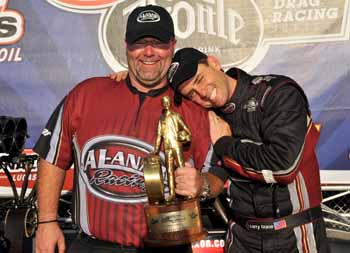 Dixon and Jason McCulloch
rounds like Larry did is very impressive. Led by
Jason McCulloch
and the rest of the
Al-Anabi
crew, the big maroon car ran very well all year long, kept mistakes to a minimum, and in the end won the championship by being the best and most consistent car all year long. When Larry was staging for his first round match with Mike Strasburg, I announced that he was 20-2 in first round races for the year and that's very good.
Did you know
that as good as that mark is Tony Schumacher was 22-1 this year in the first round? The Army car, under the direction of
Mike Green
, ran very well this year and it's no surprise that they challenged for the championship right down to the last day. In fact, when Tony ran 3.794 in qualifying it gave him a run that was good enough for a back-up to the record and that got everyone thinking about 2006.
Did you know
that since 1993 the TF elapsed time record has only been set twice at the "Finals?" And, as I stated last week, being eighty-five points behind the leader coming into Pomona, like he was this year, is a lot different than coming in forty-five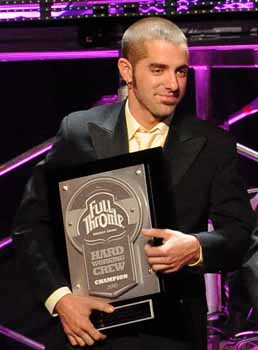 Dominic Lagana with the
Full Throttle Hard Working Crew award.
points behind like he was in '06....The Top Fuel Full Throttle Hard Working Crew award went to the
Bobby
and
Dominic Lagana
family, specifically for their exploits in Las Vegas, and that was well received by the crowd at the awards ceremony. Bobby, Dominic and the rest of the
Big O Tires
team did a wonderful job this year and their performance in Vegas was among the most exciting of the year....
Antron Brown
picked up the win at the last race of the season, and in the process became just the fifth Top Fuel driver to win this season.
Did you know
that is the fewest number of winners since the 2003 season? Of the five drivers who won in 2003 only Larry and Tony were among the winners this year. Antron's win gives him back-to-back wins at the "Finals" and he becomes the fifth driver to do that. The win gives Antron at least one win in eleven of the last twelve seasons and that's a very impressive record...We'll have a recap of the 2010 Top Fuel season next week, but for now let's just congratulate Larry and his team for a great year, and thank Tony and the rest of the Top Fuel class of 2010 for providing some very exciting racing.
If you asked most people before the race got underway I think they would have told you that John Force would win the championship. At least most of the people that I spoke to thought that and that's taking nothing away from Matt Hagan and his team. It's just that John is, well, he's John Force, and he usually finds a way to get the job done, especially when his back is against the wall. Of course the big news came after the race and after the awards show when it was announced that Austin Coil had decided to leave Team Force. In a prepared statement Austin just said that he wanted to go in a different direction and he will take a year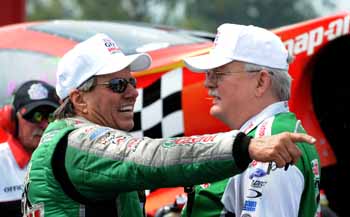 Force and Austin Coil
off before "hanging out my own shingle" in an effort to land with another team. Austin went on to say that he really enjoyed working with
Mike Neff
and that he wanted to do some things on his "bucket list," things he couldn't do while still working as part of Team Force. Whatever his reason for leaving, you have to admit that John and Austin formed one of the great teams of all time, and the simple fact that they were able to work so well together for all these years is amazing. Personalities being what they are, for two men, two very talented men, to co-exist that long is remarkable. You just hope that it was a good parting of the ways for them because that's the way you would like to see their partnership end...Speaking of Mike
Neff,
he has to get a lot of credit for what he has done. Adding to the championship that he won with
Gary Scelzi
and the race that he won as a driver for Team Force, Mike certainly looks like he is the total package when it comes to Funny Cars. Not many guys can say they have accomplished what he has and he is still a young man....Matt Hagan and his team had a wonderful year and they should be proud of what they accomplished even if they didn't win the championship. I'm sure they'll look back at the two final rounds in Maple Grove and Las Vegas, or the first round in Pomona as rounds that got away, but I think they should look at the fact that they had a good season, made a serious run at the championship and they did it in only their second year as a team. Nice job...John ended the year by winning the race when he beat
Jeff Arend
in a great race.
Did you know
that Jeff becomes the thirty-seventh different driver that John has beaten in a final round? That's a bunch, isn't it?...I'll have more on John and his season in an upcoming story.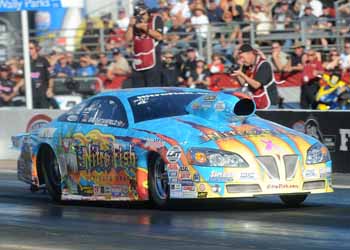 Greg Stanfield
I don't know what is more surprising, the fact that Greg Anderson won the championship or the fact that
Mike Edwards
finished third? Mike, who seemed destined to win consecutive titles just a few weeks ago, just couldn't seem to win a round over the past few weeks of the season.
Did you know
that Mike lost in the first round at each of the last three races, and that's the first time he did that since the end of the 2007 season? And he qualified in the bottom half of the field in
Las Vegas
and
Pomona
and that's the first time he's started from the bottom half of the field at consecutive races since the end of the 2008 season. Still, Mike had a good year and a third place finish is nothing to be ashamed of.....
Greg Stanfield
finished second and his
Nitro Fish
team should be very proud of that. They had more resources than some and not as many resources as others and they were as competitive as any team in the class.....
Allen Johnson
didn't win the championship, in fact he finished sixth, but he certainly had a very good car all year long. At Pomona Allen qualified number one for the fourth consecutive race and that's the first time that he has done that in his career.
Did you know
that since the year 2000 Allen is only the fourth driver to qualify number one at four or more consecutive races in Pro Stock? Like I said, he has a very good car....Allen qualified number one even though he and fellow
Mopar
driver
V. Gaines
both ran 6.551, and that's because AJ recorded a higher speed on his run and that's what they use to break the tie.
Did you know
that in the forty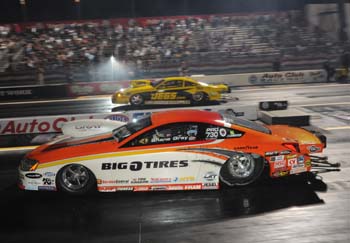 Gray vs. Coughlin
year history of this race that's only the second time that the top spot in Pro Stock has been decided on a tie-breaker? In 2001
Jim Yates
and
Bruce Allen
both ran 6.850 and Jim got the top spot on speed, and that's the only other time it has happened at Pomona
....Shane Gray
won his first race and he capped a great rookie season, a season that may have ended with a
Rookie of the Year
award if it weren't for that Tonglet kid. Shane made it to three final rounds and picked up a win and that's a very good season for anyone, especially a rookie....When Shane lined up against
Jeg Coughlin
in the final round it was almost a foregone conclusion that Shane would win, and that's because Jeg qualified in the bottom half of the field (13
th
).
Did you know
that in the entire forty year history of the "Finals" no driver from the bottom half of the field has ever won in Pro Stock? Ever!! And the only other time that a number thirteen qualifier even made it to the final round was when
Tom Martino
did it in 1997. Like I said, Jeg didn't have a chance.
Only kidding, because Jeg always has a chance, although he won't be challenging for any Pro Stock titles in the near future.
That's because he announced this week that he will be "stepping away" from the class in 2011. I know I was taken by surprise by the announcement and I'm sure others were, too. Jeg will be missed and it will be interesting to see what shape the
Victor Cagnazzi
team takes in 2011.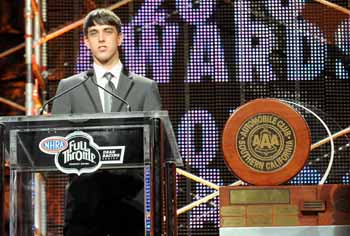 Tonglet with the
Road to the Future award.
LE Tonglet's run to the championship may have been the most surprising of the four Full Throttle titles. For a while it looked like he would not even make the "Countdown," but when
Ken Koretsky
stepped in and gave him the financing he needed he made the best of it and won the championship. Monday night was a good night for LE since he was also named as the Rookie of the Year and the Hard Working Crew award and that means he picked up $100,000 which has to help his program for next year.
Did you know
that LE's brother GT won the Road to the Future award in 2001?
Did you know
that the only other motorcycle racer to win the rookie title was
Matt Hines
who shared it in 1996 with Mike Edwards?....
Hector Arana
came close to ending the season on a high note when he made it to the final round only to foul out against Eddie Krawiec.
Did you know
that Hector is only the third Pro Stock Motorcycle champion to fail to win a race in the year after his championship?
Dave Schultz
won in 1988 and didn't win a race in '89 and
Geno Scali
won in 2003 and didn't win a race the next year.
It's unusual that it happens, but it does.....LE did a great job with both of his acceptance speeches and he will be a good representative for the class and what can be done if you just get a break here and there.
I'll have an update on the Lucas Oil World Champions later this week and some more info on the individual Full Throttle champions in the coming weeks, but for now I'd just like to congratulate all the champs and say that the new season can't get here soon enough. Ok, so a few months off isn't a bad idea!!




NHRA: 10 Most Recent Entries [ top ]

Jun 23- NORWALK - Total Qualifying Bonus Points
Jun 23- NORWALK - Pro Stock Motorcycle Qualifying, Session #1 Bonus Points
Jun 23- NORWALK - Funny Car Qualifying, Session #2 Bonus Points
Jun 23- NORWALK - Top Fuel Qualifying, Session #2 Bonus Points
Jun 23- NORWALK - Pro Stock Motorcycle Qualifying, Session #2 Bonus Points
Jun 23- NORWALK - Pro Stock Qualifying, Session #1 Bonus Points
Jun 23- NORWALK - Pro Modified Eliminations Ladder
Jun 23- NORWALK - Pro Modified Final Qualifying, Session #2 Order
Jun 23- NORWALK - Funny Car Eliminations Ladder
Jun 23- NORWALK - Funny Car Final Qualifying, Session #2 Order