Tue, 16 Nov 2010, 04:52 PM



NHRA Full Throttle Series World Champions Crowned Monday at Awards Ceremony in Los Angeles



Courtesy of NHRA Communications


Photo copyright 2010 Auto Imagery, Inc.





CENTURY CITY, Calif. --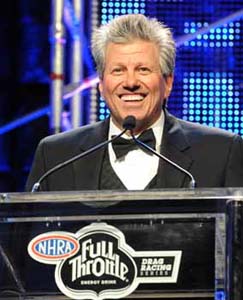 John Force
John Force, 61, and rookie LE Tonglet, 20, the oldest and youngest world champions, respectively, in NHRA's 59-year history, headlined the four world-championship-winning drivers crowned Monday evening during the 2010 NHRA Full Throttle Drag Racing Series awards ceremony at the Hyatt Regency Century Plaza in West Los Angeles.
Two other NHRA Full Throttle Series world champions - Larry Dixon and Greg Anderson - also were presented checks and trophies for their achievements during the 2010 Full Throttle Countdown to the Championship.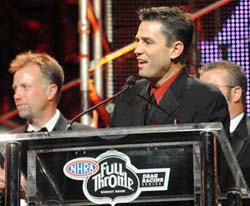 Larry Dixon
Among the evening's highlights was a very special award presentation from NHRA President Tom Compton to Speedway Motorsports Inc. owner Bruton Smith for his "extraordinary contribution and positive impact on NHRA Drag Racing." Smith's son Marcus accepted the award.
Those in attendance also took time to remember two very important members of the NHRA family who passed away during the year: dedicated NHRA board member Dick Wells and Jeff Byrd, a longtime friend of NHRA who was a former R.J. Reynolds executive and president of Bristol Motor Speedway and Bristol Dragway for the last 14 years.
Force won a record 15th world championship title in Funny Car in dramatic fashion, erasing a 38-point deficit held by Matt Hagan on the final day of the season to win the championship at his home track in Pomona. It was an emotional comeback effort for Force, who suffered near career-ending injuries three years ago in a horrific crash at the Texas Motorplex near Dallas. Force received the $500,000 champion's check from NHRA and Full Throttle, but more importantly proved to his family and friends that he still has the championship swagger.
Louisiana native Tonglet mounted a surge in the playoffs that resulted in his first Pro Stock Motorcycle world championship, worth $75,000 from NHRA and Full Throttle. Tonglet became the third rookie driver to win a championship in NHRA history, joining Frank Hawley (Funny Car, 1982) and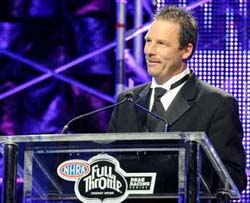 Greg Anderson
Gary Scelzi (Top Fuel, 1997). Tonglet rode his Nitro Fish Suzuki to four wins in five finals during the six-race Countdown playoffs to hold off three-time world champ Andrew Hines for the crown.
Dixon, who also won Top Fuel titles in 2002 and 2003, drove his Jason McCulloch-tuned Al-Anabi Racing dragster to a record 12 victories in 12 final rounds and ended Tony Schumacher's streak of six straight world championships dating back to the 2004 season. The Indianapolis driver received a check for $500,000 from NHRA and Full Throttle.
Anderson claimed an emotional Pro Stock title after enduring a season in which he lost his North Carolina home to fire and nearly lost his Las Vegas-based team owner Ken Black to a stroke. Anderson overcame the setbacks and gained confidence after winning his home race at Charlotte during the playoffs. He added playoff wins at Dallas and Las Vegas to hold off defending world champ and season-long leader Mike Edwards and eventual second-place finisher Greg Stanfield for the title. Anderson was presented a check for $250,000 from NHRA and Full Throttle for his fourth world championship trophy.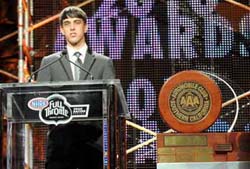 LE Tonglet
Pro Stock Motorcycle champ Tonglet also was named the winner of the $20,000 Automobile Club of Southern California Road to the Future Award, which recognizes the top NHRA rookie performer of the year. Many of the nation's most prominent motorsports journalists selected Tonglet, who was nearly flawless during the Countdown playoffs. Each of the nominees for the prestigious award received multiple votes this year. The other candidates in the all-star rookie class were Auto Club NHRA Finals Pro Stock winner and fourth-place points finisher Shane Gray and Funny Car showman Jeff Diehl.
Winners of the Full Throttle Hard-Working Crew Award, which recognizes the hardest-working crews in each of the four NHRA Full Throttle Drag Racing Series categories, were Dominick Lagana's Big O Tires dragster crew in Top Fuel ($25,000) for advancing to the final round at the NHRA Las Vegas Nationals; Ashley Force Hood's Castrol GTX Ford Mustang crew in Funny Car ($25,000) for winning the Mac Tools U.S. Nationals for a second consecutive year; the entire Summit Racing crew in Pro Stock ($15,000) for putting both cars in the final at the NHRA Las Vegas Nationals; and rookie Tonglet's Nitro Fish Suzuki crew in Pro Stock Motorcycle ($5,000) for racing to victory at the prestigious Mac Tools U.S. Nationals in Indianapolis.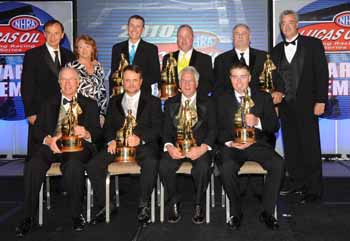 Lucas Oil Drag Racing Series champions.
Drivers in seven categories in the NHRA Lucas Oil Drag Racing Series also were recognized as 2010 world champions: Bill Reichert (Top Alcohol Dragster), Frank Manzo (Top Alcohol Funny Car), Al Ackerman (Competition Eliminator), Ryan McClanahan (Super Stock), Brad Burton (Stock Eliminator), Gary Stinnett (Super Comp) and Dave Tatum (Super Gas).
The 2010 NHRA Full Throttle Drag Racing Series awards ceremony will be available in its entirety to fans worldwide on the Internet on Wednesday, Nov. 17, at 3 p.m. (ET) at NHRA.com and the NHRA channel on YouTube.




NHRA: 10 Most Recent Entries [ top ]

Apr 22- HOUSTON - Top Fuel Harley Round 1 Eliminations
Apr 22- HOUSTON - Pro Modified Round 1 Eliminations
Apr 22- HOUSTON - Pro Stock Round 1 Eliminations
Apr 22- HOUSTON - Funny Car Round 1 Eliminations
Apr 22- HOUSTON - Top Fuel Round 1 Eliminations
Apr 21- HOUSTON - Sunday Schedule
Apr 21- HOUSTON - Saturday Video
Apr 21- HOUSTON - Saturday Wrap Up
Apr 21- HOUSTON - Super Stock Class Eliminations Finals
Apr 21- HOUSTON - Funny Car Qualifying, Session #4 Bonus Points