Mon, 15 Nov 2010, 05:24 PM



Final Score



By Kelly Wade


Photo copyright 2010 Auto Imagery, Inc.





POMONA, Calif. --
The 2010 season of the Lucas Oil Drag Racing Series came to a close at venerable Auto Club Raceway Pomona in the Monday morning finish of the 46th annual NHRA Finals. Top Alcohol Dragster's Michael Manners, Top Alcohol Funny Car driver Mickey Ferro, and Competition Eliminator pilot Dan Fletcher were awarded their trophies on Sunday, while Brett Brown (Super Stock), Jody Lang (Stock), Matt Constant (Super Comp), and Randy Balough (Super Gas) stayed on the extra day to grab the gold.
The NHRA Summit Racing Series National Championships were also decided on Monday, with Shorty Rader defeating Phillip Owens in Super Pro and Butch Weinreich earning the Pro trophy over Jeff Hefler, who was the Sportsman champ with a final-round defeat of Chad Isley. Dale Hamilton scored the Motorcycle win over Mike Lakoskey.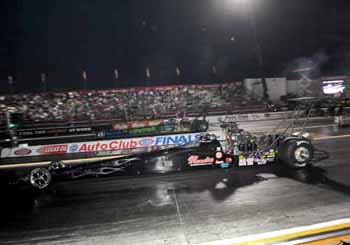 Shawn Cowie vs. Michael Manners
A few of the Lucas Oil national championships were still on the line entering the event, including the Top Alcohol Dragster title. Bars Leak/Rislone A/FD pilot Bill Reichert was in the points lead but coming off of a non-qualifying effort at the Lucas Oil Series event in Las Vegas. Peen-Rite-Abrasive Finishing blown alcohol dragster driver Chris Demke had a shot at the title but had to get to the final round to move around Reichert for national championship glory. Demke got a break in the opening round when Joey Severance banged the blower just past half-track and faltered, but his hopes were dashed in the second round when Mundies Towing blown dragster pilot Shawn Cowie beat him from start to finish, and Reichert was once again crowned the world champion.
Qualifying was quick, and six drivers in the field set either one or both ends of their career best records: Kyle Rizzoli, Darren Nicholson, Don St. Arnaud, Megan McKernan, and Larry Miersch. Manners struggled in the first session and was 15th, but in the second session he vaulted to the No. 4 spot, which held through to eliminations, and Cowie started from the sixth position.
Notably, Division 2 champion Duane Shields, a four-time winner this season in six finals rounds, missed the field, and McKernan picked up her first round win when No. 1 qualifier Chase Copeland struggled to a 10.589 to his opponent's winning 5.730.
COSMO Aguygen A/Fueler pilot Manners got around a cylinder-dropping Brandon Pierce in the first round and then launched nearly identical to second-round challenger Reichert's .056 before closing in with a 5.358 to 5.447 win. In the semifinals, Manners drew Tigerflow A/Fuel Dragster wheeler Monroe Guest, who scorched off the starting line with a .019 start to Manners' .055 but started dropping cylinders early. Manners breezed ahead at the 330 mark and clocked a winning 5.350 at 267.69 for a pass to his third final round at a national event.
In the first round, Cowie was second off the starting line by .008 next to St. Arnaud, who was starting in his second national event in the A&J Construction A/Fuel Dragster. Cowie shook but recovered to edge ahead of St. Arnaud soon after the 60-foot timers and increased his lead all the way to the finish line. After defeating championship hopeful Demke in round two, Cowie earned a trip to his fifth national event title round when he made a 5.300 pass in his defeat of red-lighting Jim Whiteley.
The thrilling final was decided on a holeshot; Manners was first off the starting line, .025 to Cowie's .096, and recorded a 5.347 to his opponent's 5.333. It was the first national event win for the Willis, Texas, racer.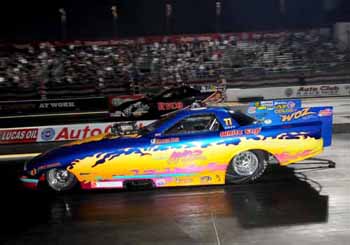 Mark Woznichak vs. Mickey Ferro
Ferro continued what is beginning to look a bit like a reign of terror when he tallied his fourth national event win of the year with a defeat of a troubled Mark Woznichak.
Ferro, who scored at the divisional event in Las Vegas the previous weekend and has notched a win in each of the last three national events he has attended, was the No. 2 qualifier in his Ryco Hydraulics Monte Carlo behind pole sitter Tony Bartone, whose 5.449 at 266 mph reset the national record for speed.
During eliminations, Ferro picked off Brian Hough, 5.614 to 5.697, was 5.569 to beat Alexis DeJoria's out-of-the-groove 5.650, and then easily made his way to the money round when semifinals challenger Sean O'Bannon struck the tires and had to lift in a rematch of their recent semifinals meeting that Ferro won on his way to the event title.
Ontario, Calif., resident Woznichak, the No. 13 qualifier, drove his Rancho Framers/Color By Woz Camaro to a surprising first-round victory over Las Vegas runner-up Doug Gordon. Gordon launched first and Woznichak got loose and looked to be done for, but Gordon slowed abruptly at the top end and the 'chutes popped out, and Woznichak raced past for the win on a 6.306 to 6.533.
In round two, Keeter Ray's Mustang was dancing around the track and took out the 330 and 660-foot timers, resulting in a disqualification while Woznichak advanced on a 5.654 pass and earned lane choice over Steve Gasparrelli in the semifinals. The two were both tardy out of the gate, Woznichak by a tenth more than his opponent, but Gasparrelli slowed halfway down the track and Woznichak picked up a ticket to the second national event final round of his career.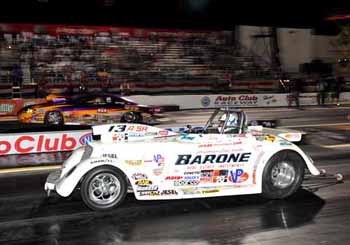 Vinny Barone vs. Dan Fletcher
Neither Fletcher nor fellow Comp finalist Vinny Barone entered the closing round with a CIC penalty, but after Fletcher recorded a stellar .002 reaction to Barone's .052, the two went all out and each incurred a permanent CIC in their race for the title. B/EA driver Fletcher got the win with his (-.62) 8.34 to A/SR competitor Barone's (-.65) 8.38.
Randy Jones was the first to fall to Fletcher in the category, and Ed Sigmon soon followed suit. In the third round, Fletcher was .008 at the tree to Jeff Lane's .043 and carried it to a (-.47) 8.34 to (-.45) 8.55 victory before logging another great reaction (.012 to .067) and then getting the semifinals victory over Tyler Hogan.
Barone, who won the Atlanta national event earlier this season, drove his roadster to an opening-round triumph over Bob Marshall and then advanced on a freebie when David Rampy lit a .006 red-light. Both Barone and Justin Lamb were red in round three, but Lamb was the greater offender, and Barone once again was gifted with a round-win in the semifinals when Alan Ellis was .011 too quick at the hit.
Comp eliminations were marked by two big incidents. In the first, Peter Biondo, driving his brother Sal's I/AA Beretta, made a hard move towards the wall in his first-round match with Mark Wolfe and then crossed the centerline and tagged the wall with force. The car took a tumble and there was a flash of flame, but Biondo emerged okay. The run was disqualified.
The second incident involved No. 2 qualifier Steve Kent, who red-lighted in the third round and then got loose down track and zipped across the lane and into the wall, flipping upside down and sliding to a stop in his blue Pistonator-themed E/A Corvette. Kent was also free of serious injury after the incident.
Stock and Super Stock racer Lang was looking for another double-up (he accomplished the feat in Las Vegas last season at the spring event) but finished just shy in Pomona, locking in a Stock victory over Dallas Glenn and then falling in the final round of Super Stock to Brown.
Lang was .013 at the tree with a dead-on 12.308 (12.30 dial) in his L/SA Malibu to beat Glenn's .019 and dead-on 10.634 (10.63) in the final episode of Stock Eliminator and nab his 18th national event win by just two-thousandths. In the quarterfinals, Lang stopped Dan Fletcher with a .021 to .020 reaction and 12.382 (12.32) to 11.304 (11.21), and the round win was good for a bye run into the title round.
Seattle divisional event winner Glenn, of Kent, Wash., drove his C/SA '96 Corvette past back-to-back red-lighting opponents - Dave Bridgewater in the quarterfinals and Keith Lynch in the semifinals - en route to the first national event final of his career.
Brad Burton was awarded the 2010 Stock title with little challenge when Tyler Wudarczyk, who might have been able to catch him, was unable to attend the event. Burton exited in the third round when he was on the wrong end of a double-breakout with Bridgewater.
In the last round of the year for Super Stock, Brown was an excellent .009 off the starting line in his SS/MA '64 Chevelle to Lang's .063 launch, and it made the difference in the final numbers as both drivers were .044 over their dial-ins.
Brown took a big advantage off the starting line in the quarterfinals over Joe Teuton and exchanged it for a win ticket at the top end before leaving the starting line with a deficit in the semifinals but getting the win light when Bridgewater broke out.
Driving his GT/JA '81 Malibu, Lang had an early advantage in a quarterfinals match with Sean Cour and then came out on the winning end of a double breakout to take the bye run into the final.
Super Comp victor Constant made his way to the winner's circle at a national event for the fourth time; his most recent victory was in 2007 at the SummitRacing.com Nationals in Las Vegas. Constant, perfect in final rounds, left the starting line with a .019 reaction after Bart Hiatt fouled out by .031. The Stockton, Calif., racer was .005 at the tree in the quarterfinals and ran 8.922 on the 8.90 index to beat Steve Williams and collect the bye run into the final.
Hiatt, of Fallon, Nev., was equally as awesome on the starting line and utilized his .005 in a double-breakout quarterfinals victory over Steve Mikus, who had a decent .016 reaction time before his too-quick 8.872 to Hiatt's 8.877. In the semifinals, Thomas Bayer was better at the tree, but Hiatt ran a perfect 8.900 to get the win over his 8.990.
The Super Comp national championship was awarded to Gary Stinnett when Edmond Richardson lost to Jimmy Lintz in the first round. Richardson needed to win the event to snag the title.
Balough posted his third Super Gas national event win with a final-round defeat of breakout opponent and '08 Cobalt driver Chris Newman. Newbury Park, Calif., resident Balough drove his '63 Corvette to a fourth-round defeat of Tom Pulliam for the quarterfinals bye run, and in the semifinals, he recorded a near-perfect .001 reaction and clocked a 9.932 on the 9.90 index to stop Ken Mostowich.
Lancaster, Calif., racer Newman, the 2004 runner-up at the spring national event in Las Vegas, used a starting line advantage in the quarterfinals, .016 to Steve Williams' .032, to get the win light despite his opponent's dead-on the index 9.900. Newman was five-thousandths over for a .0112 margin of victory that was good for the semifinals bye run.
The Lucas Oil Drag Racing Series now enters the off season and will return alongside the Full Throttle Series in just over three months at the Kragen O'Reilly Auto Parts NHRA Winternationals, Feb. 24-27.
Sunday's final Lucas Oil Drag Racing Series results from the 46th annual Automobile Club of Southern California NHRA Finals at Auto Club Raceway at Pomona. The race is the final national event of 23 in the NHRA Full Throttle Drag Racing Series.
Top Alcohol Dragster -- Michael Manners, 5.347, 270.64 def. Shawn Cowie, 5.333, 263.00.
Top Alcohol Funny Car -- Mickey Ferro, Chevy Monte Carlo, 5.522, 257.58 def. Mark Woznichak, Chevy Camaro, 6.055, 171.05.
Competition Eliminator -- Dan Fletcher, Chevy Cobalt, 7.713, 171.08 def. Vinny Barone, Chevy Roadster, 7.727, 171.69.
Monday's final results from the 46th annual Automobile Club of Southern California NHRA Finals at Auto Club Raceway at Pomona. The race is the final national event of 23 in the NHRA Full Throttle Drag Racing Series.
Super Stock -- Brett Brown, Chevelle, 11.424, 115.26 def. Jody Lang, Malibu, 10.764, 117.38.
Stock Eliminator -- Jody Lang, Malibu, 12.308, 104.14 def. Dallas Glenn, Corvette, 10.634, 127.73.
Super Comp -- Matt Constant, Dragster, 8.921, 168.66 def. Bart Hiatt, Dragster, 8.835, 178.02.
Super Gas -- Randy Balough, Corvette, 9.937, 158.35 def. Chris Newman, Cobalt, 9.880, 169.47.
Summit Super Pro -- Shorty Rader, RaceCraft, 7.621, 171.93 def. Phillip Owens, M&M, 7.500, 178.52.
Summit Pro -- Butch Weinreich, Dart, 11.225, 110.95 def. Jeff Hefler, Nova, 9.860, 126.61.
Summit Sportsman -- Jeff Hefler, Chevette, 12.291, 97.51 def. Chad Isley, Plymouth, 12.915, 92.94.
Summit Bike -- Dale Hamilton, Suzuki Hayabusa, 10.219, 129.38 def. Mike Lakoskey, 8.343, 152.61.




NHRA: 10 Most Recent Entries [ top ]

Apr 24- CHARLOTTE 1 - Steve Torrence Enjoying Four-Wide Success Heading to NGK Spark Plugs NHRA Four-Wide Nationals
Apr 24- CHARLOTTE 1 - Fact Sheet
Apr 24- Kalitta Motorsports Welcomes NASCAR Stars to the SealMaster Track Walk in Charlotte
Apr 24- zMAX Dragway Celebrates 10th Anniversary
Apr 24- CHARLOTTE 1 - NGK Spark Plugs NHRA Four-Wide Nationals Brings 40,000 Horsepower Thrill Show to zMAX Dragway
Apr 23- HOUSTON - Lucas Oil Drag Racing Series Wrap Up The NHRA Lucas Oil Drag Racing Series Wrap Up
Apr 23- CHARLOTTE 1 - J.R. Todd Aiming for Two Four-Wide Racing Wins in 2018
Apr 23- Mid America Dragway Joins NHRA Member Track Network
Apr 23- HOUSTON - Special Awards
Apr 23- HOUSTON - Sunday Video