Sun, 14 Nov 2010, 02:34 PM



Greg Anderson Wins 2010 NHRA Full Throttle Pro Stock Championship



Courtesy of Jon Knapp


Photo copyright 2010 Auto Imagery, Inc.





POMONA, Calif. --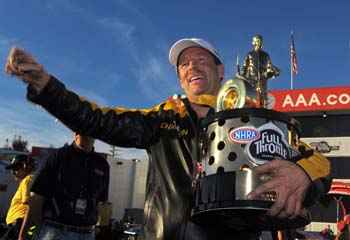 Greg Anderson
Greg Anderson and the Summit Racing team completed a remarkable season on Saturday, winning the 2010 Pro Stock championship in the NHRA's Full Throttle Drag Racing Series. By qualifying fourth for Sunday's final eliminations of the Auto Club Finals, Anderson built an insurmountable lead over defending champion Mike Edwards to claim the fourth championship of his career, first since 2005 and first under the Countdown to One playoff format instituted in 2007.
"This has certainly been the most trying and absolutely the most rewarding season that I have ever had in drag racing, and one I will certainly never forget," said Anderson. "I know they say your first championship is always the most special, but considering how hard this Summit Racing team had to fight and claw to get back to where we could win races on a consistent basis, and that we had to do it for most of the season without our team leader Ken Black puts this one right at the top."
Ironically, when the NHRA season started back in February, Anderson's KB Racing team was surrounded by uncertainty. Not only had team owner and mentor Ken Black suffered a debilitating stroke in December, but Anderson had also been displaced from his home in Concord, NC by a devastating fire in January, with each development naturally affecting the team's off-season preparation. Although they were able to advance to the final round at the season-opening Winternationals in Pomona, the first half of their season was punctuated by uncharacteristic performances with only two finishes of the semifinals or better, a showing the Mooresville resident attributed to simply trying too hard.
"In the early part of the season, we so wanted to put a smile on Ken's face, I think we just tried too hard," said Anderson. "He's like a father to us, so we wanted to make him proud of us, thinking it would help with his recovery. Unfortunately, we weren't doing well in any facet of the program, and that driven by our minds not being right.
"He finally had to make us realize that he was going to be okay and that we needed to go back to having fun at the racetrack, and stop worrying about winning for him. Ironically enough, once we did that, we were able to go back to running the way we are capable of and started winning again."
However, once the straight-liners headed to Norwalk, Ohio for the Summit Racing Equipment Nationals in June, the tide started to turn for the Anderson-led crew. On Saturday, he won the K&N Horsepower Challenge, Pro Stock's version of an all-star race, for the third time, defeating Edwards on a hole shot in the final. He then went on the capture the national event win on Sunday, sweeping the weekend for only the second time in Pro Stock history to claim the $25,000 double-up bonus and give his team a much-need boost in confidence. Anderson continued his winning ways at the next race in Seattle, scoring consecutive wins for the 24th time in his career to secure his spot in the NHRA championship playoff.
Seeded fifth, Anderson made the most of the opportunities presented during the Countdown. After falling 104 points behind Edwards following the first event, the decision was made to switch cars, parking a chassis with which he had won in Norwalk and Seattle in favor of the Summit Racing Pontiac that he had campaigned in 2009. The move paid immediate dividends, with Anderson advancing to four consecutive final rounds, winning three, including a dramatic and emotional victory at the penultimate race of the season in Las Vegas, where the team welcomed team owner Ken Black back to the track. This performance generated a 219-point swing, with Anderson only needing to qualify in order to claim the title.
"A few months ago you couldn't have bet me any amount of money in the world that this would happen, but it did, and it's because this Summit Racing team refused to give up," said Anderson. "Our performance over these last few races was not a fluke or because we got lucky. We made some moves to make ourselves better, including switching cars around, and they paid off. I know Mike Edwards was the dominant car for the last year and a half, but he had a couple of miscues during the Countdown and we were able to take full advantage of them.
"I feel horrible for Mike and know how he feels right now, because I've lost championships in a similar fashion, but I am so proud of my race team for what they have done. Mike is a great driver with a great team, but he didn't hand the title over to us - we took from him. This was a complete team effort, with the KB Racing team getting the job done.
"They got my head in the game and everything else in shape to get us through the rough times, and having Ken Black join us for these last two races has just been the icing on the cake. He was the last ingredient we needed to make this a championship caliber team, so here we are, Full Throttle champions, and, as I said, this is the most gratifying one ever. Best of all, it put a big smile on Ken's face, as well as his wife Judy and Kenny Jr, and considering everything they've gone through, nothing could make us happier."
After recognizing his fellow competitors, Anderson also took time to acknowledge those whose invaluable support had allowed them to compete, thanking them for their continued involvement with the KB Racing organization. Finally, he was quick to point out that work still remained to be done before the 2010 season came to a close, vowing to maintain the same aggressive approach that had earned him the title.
"This is such a great sport, and seems to get better every year," said Anderson. "It gets tougher to win, which is the way it should be, and every time you win a championship or national event you feel proud. This Pro Stock category is so tough that you have to earn every single point, so right now I feel like I just jumped over the moon.
"Of course, we couldn't have accomplished any of this without the support of a great sponsor, and we're fortunate to have one in Summit Racing. Their goals mirror those of this race team, and we are so grateful that they have stuck with us. I am so proud to bring them this championship. However, even though we have won the big trophy, the season is not over. We still have a race to run tomorrow, and I have every intention of taking home the Wally. It won't be easy, but I have all the confidence in my Summit Racing team."




NHRA: 10 Most Recent Entries [ top ]

Apr 20- HOUSTON - Super Gas Round 1 Winners
Apr 20- HOUSTON - Super Stock Round 1 Eliminations
Apr 20- HOUSTON - Stock Eliminator Round 1 Winners
Apr 20- HOUSTON - Stock Eliminator Round 1 Eliminations
Apr 20- HOUSTON - Super Stock Round 3 Class Eliminations
Apr 20- HOUSTON - Super Stock Eliminations Ladder
Apr 20- HOUSTON - Super Stock Final Qualifying, Session #3 Order
Apr 20- HOUSTON - Stock Eliminator Eliminations Ladder
Apr 20- HOUSTON - Stock Eliminator Final Qualifying, Session #3 Order
Apr 20- HOUSTON - Super Stock Round 2 Class Eliminations