Fri, 12 Nov 2010, 10:16 PM



Burton Takes NHRA Stock Eliminator National Championship



Courtesy of Lee Elder



POMONA, Calif. --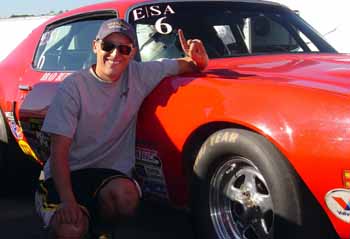 Brad Burton
Colorado's Brad Burton is an NHRA national champion.
The 22-year-old clinched his first Stock Eliminator championship Friday after the final round of qualifying. Burton knew the title was probably his after a regional race the previous weekend but couldn't celebrate until it became official here.
"This is something I can do with my dad," the younger Burton said. "It's something I'll never forget."
Scott Burton, Brad's dad, also races in the Stock category.
The Burtons both race on Goodyear Eagle drag radial tires and Brad credits his tires with playing a major role in grabbing his national crown.
"With a Stocker, you have to have a dead hook every time at the start," Brad Burton said. "The 60-foot time is where these cars do their business."
Burton's 1972 Pontiac Firebird uses Goodyear radial drive tires that measure 30 inches tall and nine inches across the tread. The tires mount on a 15-inch wheel. His car completes the quarter-mile distance in about 10.5 seconds on each pass and is routinely timed at more than 100 mph.
"We're trying to supply the power to those radials at each track," Burton said. "Last year we finished well enough in the standings that we knew (the Goodyear tires) were good and we would go for (the championship) this year."
Brad finished sixth in points in 2009 and his dad was eighth. This season, Brad started the season by winning the Winternationals at Pomona, won the Mile High Nationals in his home state, was the runner up at the US Nationals and won a regional race.
Oh, and when he wasn't drag racing, Burton graduated from the University of Colorado with a degree in civil engineering.
"It gets harder later in the year," the champ said of the competition at the track. "Everyone knows who you are and what you are doing."
Burton may have finished the season feeling like he was being chased from behind, but championship photographs are traditionally taken in front of the driver, where Burton will be holding a trophy.




NHRA: 10 Most Recent Entries [ top ]

Sep 28- GAINESVILLE - Sunday Videos
Sep 28- GAINESVILLE - Mickey Thompson Top Fuel Harley Series Standings
Sep 28- GAINESVILLE - Pro Mod Championship Points
Sep 28- GAINESVILLE - Championship Points
Sep 28- GAINESVILLE - Sunday Wrap Up
Sep 27- GAINESVILLE - Summary of Eliminations in Top Fuel
Sep 27- GAINESVILLE - Bonus Points
Sep 27- GAINESVILLE - Summary of Eliminations in Funny Car
Sep 27- GAINESVILLE - Summary of Eliminations in Pro Stock Motorcycle
Sep 27- GAINESVILLE - Summary of Eliminations in Pro Stock