Fri, 12 Nov 2010, 09:16 PM



Force Moves Back to within Two Rounds of Hagan



Courtesy of NHRA Communications


Photo copyright 2010 Auto Imagery, Inc.





Dixon Stays No. 1 in TF, Schumacher Closes Gap to 84; Force Hood, Gaines, Krawiec also #1



POMONA, Calif. --
Ashley Force Hood
John Force picked up a critical bonus point in qualifying Friday at the 46th annual Auto Club NHRA Finals to move back within two rounds of points-leader Matt Hagan in the race for the 2010 Funny Car championship.
The one bonus point he earned for the third-quickest pass during Friday's second qualifying session drew him to within 39 points of Hagan, who was shut out of the bonus points after earning three on Thursday.
Meanwhile, three of the four categories had new provisional No. 1 qualifiers - Ashley Force Hood in Funny Car, V Gaines in Pro Stock and Eddie Krawiec in Pro Stock Motorcycle. Larry Dixon remained atop the Top Fuel order.
There will be two more qualifying sessions on Saturday - and two more chances for Hagan and Force to earn bonus points - before Sunday's 23rd and final race in the 2010 NHRA Full Throttle Drag Racing Series season.
"This could jump around back and forth . this is going to be a showdown and I love a showdown," the 14-time champion Force said.
Force Hood led a 1-2-3 in qualifying for the John Force Racing team with a 4.076 at 309.98 mph in her Castrol GTX Ford Mustang.
"Track's good, conditions are good. I'm excited. It's good to be back," said Force Hood, who is in position to earn her sixth No. 1 of the season and second straight. "It just all came together for us that round. In racing you can go from zero to hero so (Saturday) is a fresh start for us."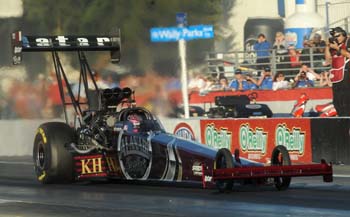 Larry Dixon
There are still a maximum of six qualifying bonus points available (per driver) in each of the final two qualifying sessions (based on the 3-2-1 system for the top three ETs of each session) in addition to the points awarded based on final qualifying position.
Dixon's 3.813 at 318.39 in his Al-Anabi Racing dragster from Thursday held up, but second-place Schumacher earned two bonus points during the Friday session to pull to within 84 points of Dixon. Barring a national record, Schumacher would need to cut the deficit to 80 points to have a shot at the championship on Sunday.
"I'm not worried about two points . not yet," Dixon said. "I have a lot of confidence in my team and my car. I am still depending on that, that we don't have to be defensive. Don't play defense, play offense, it's more fun."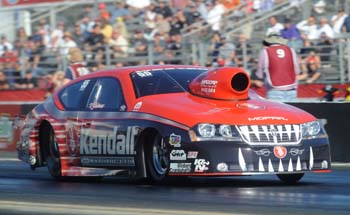 V Gaines
Dixon slowed to a 5.708 at 117.21 in his qualifying pass on Friday, meaning that he wasn't in contention for any of the bonus points.
"Whether it's a good run or a bad run, it's good information, the clutch was slipping too fast. I'm thrilled it happened today and not Sunday," Dixon said.
In Pro Stock, V Gaines moved atop the qualifying ladder in his Kendall Dodge with a 6.561 at 210.83 mph that would be the first No. 1 career if it holds. Greg Anderson, who needs to qualify to secure his fourth championship, has his Summit Racing Pontiac safely in the field right now at No. 4.
"We've got two sessions to go, but that was certainly a big lift after our attempt to scrape the wall (Thursday)," Gaines said.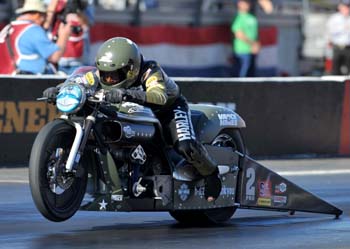 Eddie Krawiec
Screamin' Eagle Vance & Hines Harley-Davidson rider Eddie Krawiec moved into the provisional No. 1 spot with a track record 6.865 at 194.21 that would be his first this season and sixth of his career.
"Those three points are pretty valuable (for Harley-Davidson teammate Andrew Hines competing for the championship) and also for me. I'm competing with Matt Smith for (third place)," said Krawiec, who has gained four bonus points so far to pull even with Smith for the moment heading into Saturday's final two qualifying sessions.




NHRA: 10 Most Recent Entries [ top ]

Jun 23- NORWALK - Total Qualifying Bonus Points
Jun 23- NORWALK - Pro Stock Motorcycle Qualifying, Session #1 Bonus Points
Jun 23- NORWALK - Funny Car Qualifying, Session #2 Bonus Points
Jun 23- NORWALK - Top Fuel Qualifying, Session #2 Bonus Points
Jun 23- NORWALK - Pro Stock Motorcycle Qualifying, Session #2 Bonus Points
Jun 23- NORWALK - Pro Stock Qualifying, Session #1 Bonus Points
Jun 23- NORWALK - Pro Modified Eliminations Ladder
Jun 23- NORWALK - Pro Modified Final Qualifying, Session #2 Order
Jun 23- NORWALK - Funny Car Eliminations Ladder
Jun 23- NORWALK - Funny Car Final Qualifying, Session #2 Order