Fri, 12 Nov 2010, 05:54 PM



'Hot Rod Junction' to be Among the Most Popular Stops for Fans Heading to 46th Annual Auto Club NHRA Finals



Courtesy of NHRA Communications



Entry to Car Show, featuring close to 100 vintage hot rods, is free with Auto Club Finals admission



POMONA, Calif. --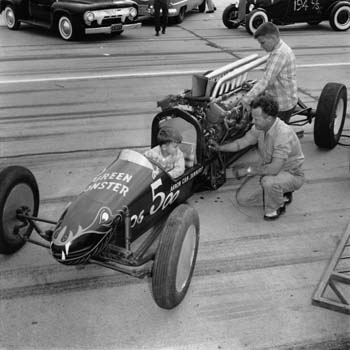 The 'Green Monster'
Fans raved so much about the wildly popular "Golden Corral" car show at the 50th anniversary Kragen O'Reilly NHRA Winternationals in February that NHRA has decided to replicate the show at the upcoming 46th annual Auto Club NHRA Finals, Nov. 11-14, at Auto Club Raceway at Pomona.
Dubbed "Hot Rod Junction," this car show will have a few new wrinkles - most notably the winning cars from this year's Wally Parks Museum "Twilight Cruise Nights" - as well as many of the same ones that made the Golden Corral so successful: It will be in the same location, adjacent to the main entry gate, and it will once again include some of the all-time classic hot rods, such as Tommy Ivo's 'Barnstormer' AA/FD, Chris Karamesines' 'Chizler' AA/FD and Roland Leong's "Hawaiian" dragster that was driven by Mike Snively and Don Prudhomme.
"It's a real treat for the fans, a chance to see and enjoy the history of the sport, from world-record-setting Top Fuel dragsters from the golden age of drag racing to hot rods to street rods to some of the Bonneville cars," said NHRA Museum Board Member and retired NHRA vice president Steve Gibbs, who added that many of the cars' owners and original drivers will be there to chat with fans and sign autographs. "We're going to have a real wide variety of cars . it's Hot Rod Junction."
Among the real treats for drag racing aficionados will be Art and Walt Arfons' 'Green Monster' rear engine dragster that "set the drag racing world on its end" in the 1950s by adding as much as 20 mph to the norm with runs in the 150s and 160s (mph), according to Gibbs.
He said the 'Green Monster,' which has an Allison World War 2 aircraft V-12/1,700 cubic-inch engine that cranked out over 2,000 horsepower, sat for years and years before recently being fully restored by Jon Rowley.
"This is the car," Gibbs stated emphatically, "Not a replica. It's quite a car and it's great to have it back fully restored for presentation."
In all, there will be about 30 of the invited cars like the 'Green Monster,' there will be 14 of the 2010 NHRA Hot Rod Heritage Series champions, and approximately 40 Street Rods that earned their spot as a Cruise Night winner.
The owners of the Street Rods on display, like Leonard Knight (1939 Ford Deluxe Coupe), Robert Siminger (1929 Ford Model A Tudor) and Linda Hopper (1958 Corvette), all live locally in places like Glendora and LaVerne and Claremont (complete list of the Cruise Night winners, with car and hometown, available upon request).
And once again, entry into the "Hot Rod Junction" car show is FREE with your paid event admission. To learn more about tickets to the 46th annual Auto Club NHRA Finals, the final race in the 2010 season, go to NHRA.com , NHRATIX.com or call 800-884-NHRA (6472).




NHRA: 10 Most Recent Entries [ top ]

Mar 18- GAINESVILLE - Pro Mod Sunday Wrap Up
Mar 18- GAINESVILLE - Sunday Wrap Up
Mar 18- GAINESVILLE - Pro Mod Championship Points
Mar 18- GAINESVILLE - Bonus Points
Mar 18- GAINESVILLE - Championship Points
Mar 18- GAINESVILLE - Mickey Thompson Top Fuel Harley Series Championship Points
Mar 18- GAINESVILLE - Bonus Points
Mar 18- GAINESVILLE - Summary of Eliminations in Top Fuel
Mar 18- GAINESVILLE - Summary of Eliminations in Funny Car
Mar 18- GAINESVILLE - Summary of Eliminations in Pro Stock