Fri, 12 Nov 2010, 01:58 PM



Now Go Get Em Kid



By Bob Frey


Photo copyright 2010 Auto Imagery, Inc.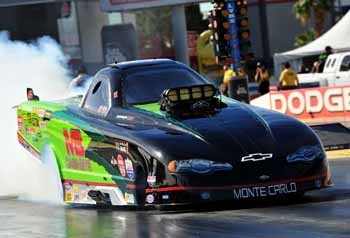 Doug Gordon
When I recently did the NHRA breakfast at the SEMA show one of the questions that came up was directed at Austin Coil, the long time crew chief for John Force. For those of us who have watched Austin for the better part of the last quarter century we are familiar with the starting line ritual between Austin and John. He leads John to the line, carefully moves him into the staging beams, and after getting assurance from the crew chief in the other lane that he is ready to go, Austin makes his last few adjustments to the engine, and then it happens. "It" is a little gesture that he makes to John just before walking away from the car. To some it looks like the traditional "Ok" sign, you know the one, with the thumb and index finger together and the other three fingers up in the air. The question for Austin was, "Some people said that you were not telling John that everything was ok, but that he had no (as in zero) chance to win the race. Is that true?" After the laughter died down Austin answered, or more correctly he evaded the question. And while it may not be quite as famous, there is another tradition that takes place on the starting line in the Top Alcohol Funny Car class and that's the one between Mike and Doug Gordon, the father and son who run the MB Cabinets Funny Car. Doug pre-stages the car and Mike looks him in the eye and gives him a very emphatic fist-pump. "We've been doing it for a while," Doug said while getting ready for this week's race in Pomona. "Dad's been doing it as long as I can remember and it really gets us both pumped up for the race. Every time we think about stopping it someone will come up and tell us how cool they think it is."
Cool or not, tradition or not, this father and son team have had great success over the past twenty years. Father, Mike, began running in the alky class twenty-two years ago and he met with a lot of success. "Dad did very well and I remember coming to the track with him when I was about thirteen," Doug said. As he spoke Doug was busy working on the family's car in preparation for the last race of the year. "I'm working on the cam, changing the compression, just trying to see if we can't make some power. We went to Las Vegas last week for the divisional race and for some reason it just didn't run." When he says it didn't run he means that the team suffered a very rare DNQ at the divisional race. And what makes that failure to qualify even more surprising was the fact that the team had been to the final round at the same track at the national race just one week earlier. "Yeah, but in truth we didn't run well at that race, either. We had a few lucky breaks, and that's good, but we weren't pleased with our performance." That race ended with a red light start by Doug in the final round, and for that he had no excuse. "It was just a bad mistake on my part. I didn't stage properly, had the rpm's up and down and then just hit the gas." The result was a foul start and a runner-up finish to the red hot Mickey Ferro. "Let's face it, Mickey's got a good car and he's running well. We just hope we can make a better showing this week."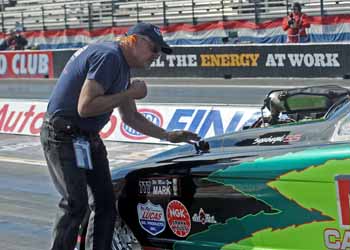 Mike stages his son Doug.
Historically the Gordon family has done well at Pomona. This will be the fifteenth time that Doug has competed at the NHRA Finals while his dad raced another six times at the final race of the year. And while they haven't put any wins on the board at the Auto Club event, they are in the midst of a very good year overall. "We've been pretty good this year," Doug said. "We'd like to be a little more consistent and last week just shows what I mean. We're a lot better than what we showed in Vegas." Indeed they are, and their 2010 record proves it. With one race to go they have been to a pair of finals on the national level, including a runner-up the last time the tour was in Pomona. They have also been to a couple of divisional final rounds and they are just one round out of the top ten. "We've had a really good race car and we've qualified well at some of the national races. We just haven't had a lot of good luck, or at least we didn't until the national race at Vegas. We'd love to finish the season on a high note with a win this weekend." Doug admits to having a lot of good memories of Pomona, especially the 2003 Winternationals. "That was the first race that my wife ever came to and it was a lot of fun. We made it to the semi-finals and ran into a lot of problems but we had a lot of help. We had a cam problem and we had Alan Johnson here, Jim Head was taking all the fuel system stuff off the car, I mean, it was crazy. And then to go on and win the race was just the best."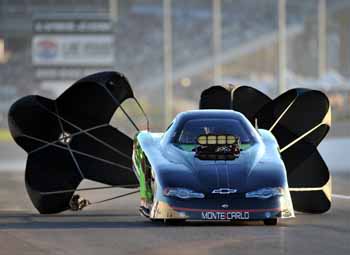 The car that the team runs now was new in 2007 and it's been a very good car. "It was built by Brad Hadman and we have the Bob Miner engine combination. There are a lot of guys out here that run the Miner engines and we all share information and it makes it a lot easier. Steve Gasparrelli, Clint Thompson, Mark Woznichak and guys like that run this engine and Bob is always around to help us out." One of the things that really helps the team is the fact that the Miner motors are very dependable and very easy on parts. "If you don't do something stupid these engines are very forgiving." And that's always good for teams that operate on a budget. "My brother, Steve, and I work at the family business, Morro Bay Cabinets. Dad still comes in every day but we run most of the day-to-day operation. Dad's always there to answer any questions that we have and mom is always there working hard, too." Brother Steve may be the only one in the family who isn't interested in racing. "He watches us on television and he'll be here this week, but he's not committed to it like dad and I are."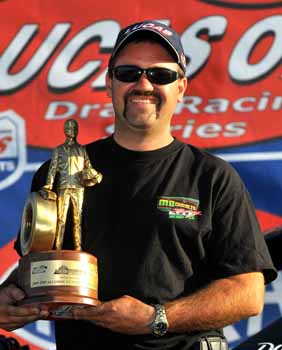 Doug Gordon
With the final race of the season upon us Doug knows that he'll have to be on his game if he wants to win. "Most of the good West Coast cars are here and then Mickey Ferro will be here, too. He had two good weeks in Vegas and if we want to beat him or the others this week I'll have to stay focused. You can't make mistakes and beat these guys." As he spoke Doug continued to work on the car and he admits that he enjoys the mechanical part as much as he does driving. "I'd never want to be a guy who comes in and just drives the car and doesn't work on it. I really enjoy this part and if you made me choose between working on it and driving it I'd choose to work on it. But make no mistake about it I love to drive this car."
Doug has been to nine final rounds in his career and he would like to make it double-digits in Pomona. "Of course we'd like to win or make the final round this week, but there are a lot of good cars here. If we could regain our performance level and make the semi-finals I'd consider it a good weekend. We have a car that can win this weekend but we'll have to be mistake free." And when he's done working on the car, and when he's getting ready to move into that last stage beam, all Doug has to do is look out the window at his dad who will give him the old "go get 'em sign. And based on what we have seen from the team in the past, Doug will do just that.
Special thanks from the Gordon family to NGK and everyone at Lucas Oil.




NHRA: 10 Most Recent Entries [ top ]

Mar 22- LAS VEGAS 1 - Defending Funny Car Winner Tommy Johnson Jr. Excited for Four-Wide Racing
Mar 22- NHRA Northwest Nationals Tickets on Sale Now
Mar 21- LAS VEGAS 1 - Fact Sheet
Mar 21- LAS VEGAS 1 - Event Preview
Mar 20- Strong Stable of Contending Pro Stock Racers Vie for Final Starting Position for K&N Horsepower Challenge
Mar 20- GAINESVILLE - Special Awards
Mar 20- GAINESVILLE - Lucas Oil Drag Racing Series Wrap Up
Mar 19- GAINESVILLE - Sunday Video
Mar 18- GAINESVILLE - Pro Mod Sunday Wrap Up
Mar 18- GAINESVILLE - Sunday Wrap Up