Thu, 11 Nov 2010, 07:58 PM



Hagan Fires First Salvo in Funny Car Duel



Courtesy of NHRA Communications


Photo copyright 2010 Auto Imagery, Inc.





Dixon, Line and Arana Round Out Provisional No. 1s



POMONA, Calif. --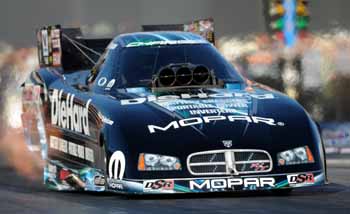 Matt Hagan
Matt Hagan fired the first salvo of this much-anticipated final weekend of the 2010 NHRA Full Throttle Series season with a blistering 4.139-second pass at 293.86 mph to earn the provisional No. 1 in Funny Car.
The three bonus points he earned for the quickest pass of the session extended his lead over second-place John Force (qualified fourth) to 40 points, which means (since he owns the tiebreaker with Force) that if he maintains that margin throughout qualifying Force would need to win three more rounds on Sunday to win the championship.
"That's huge," Hagan said of the three bonus points, before adding cautiously, "It sounds great right now, but we've got a lot of qualifying left. I don't think it will stick."
The other No. 1 qualifiers at the 23rd and final race in the 2010 NHRA Full Throttle Drag Racing Series season were Larry Dixon (Top Fuel), Jason Line (Pro Stock) and Hector Arana (Pro Stock Motorcycle).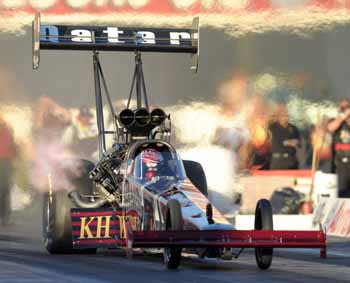 Larry Dixon
There are still a maximum of nine qualifying bonus points available (per driver) in each of the final three qualifying sessions (based on the 3-2-1 system for the top three ETs of each session) in addition to the 1-to-8 points awarded based on final qualifying position.
"We're so close we can taste it (but) all the thinking and all the wishing in the world isn't going to change a thing. We just have to go out there and do it," said the 27-year-old Hagan, driver of the DieHard Dodge Charger.
Dixon and the Al-Anabi team entered the weekend with an 85-point lead over Tony Schumacher and the U.S. Army team and he extended it to 86 with the pace-setting 3.813 at 318.39 (Schumacher qualified second). With four rounds during eliminations, and each round-win worth 20 points, a lead of 80-plus points is all but insurmountable (Schumacher could earn an additional 20 points for setting a national record).
"Really all I did was get us qualified," said Dixon, who eliminated the one mistake that could have opened the door for Schumacher. "We'll be in the show no matter what else happens . we'll be in the race."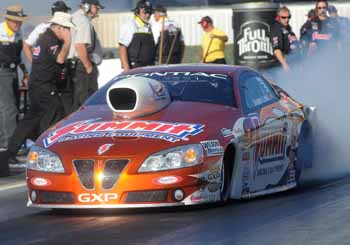 Jason Line
Line, Summit Racing Pontiac teammate of points-leader Greg Anderson, paced the Pro Stock field with a 6.561-second pass at 211.16 mph that would be his second of the season and 18th of his career.
"It could be a big weekend for us," said Line, who's never won this race. "We can also move up to second in points, we gained three points on (Mike) Edwards. I'd like to finish second . a 1-2 finish (for Summit Racing) would be a nice way to end a not really nice year."
Line, who closed the deficit behind Edwards from 11 to eight, has qualified no lower than fifth in the Countdown and his performance has closely mirrored the recent dominance of his teammate's car.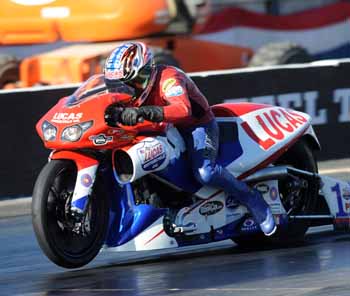 Hector Arana
"We just stopped being dumb," Line said jokingly before adding, "We haven't got a new pieces or parts, per se, we just got them to fit together better."
Lucas Oil Buell rider Hector Arana, the defending Pro Stock Motorcycle champion who has been mathematically eliminated this year, sits atop the class with a track record 6.870 at 194.35 that would be his third straight and seventh overall No. 1 of the season.
"I going to give it my best," Arana said of trying for his first win of 2010. "It would be nice to finish and at least win this last one. Now that I have the performance, I just have to do my job on the light."




NHRA: 10 Most Recent Entries [ top ]

Apr 23- HOUSTON - Lucas Oil Drag Racing Series Wrap Up The NHRA Lucas Oil Drag Racing Series Wrap Up
Apr 23- CHARLOTTE 1 - J.R. Todd Aiming for Two Four-Wide Racing Wins in 2018
Apr 23- Mid America Dragway Joins NHRA Member Track Network
Apr 23- HOUSTON - Special Awards
Apr 23- HOUSTON - Sunday Video
Apr 22- HOUSTON - Sunday Pro Mod Wrap Up