Thu, 11 Nov 2010, 01:00 AM



Finally First



By Kelly Wade


Photo copyright 2010 Auto Imagery, Inc.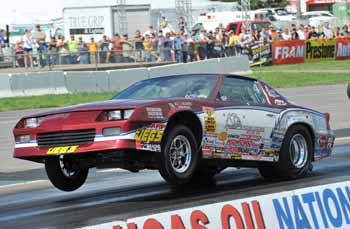 Brad Zaskowkski and his
Super Stock GT/G '87 Camaro.
Super Stock racer Brad Zaskowski was getting pretty tired of finishing second. This season, the Belmont, Mich., resident pushed a little harder and picked up enough points in NHRA's North Central division to win the championship for the first time in his career, diminishing the memory of back-to-back second place Division 3 finishes recorded in 2008 and 2009.
"We've had a lot of luck, and all of the cars have been real good for us the last few years," said Zaskowski, who drives an '87 Camaro Super Stocker and also occasionally wheels the Stock Eliminator '94 Z28 Camaro belonging to his brother, Shane, and the Super Stock '66 Chevy II Nova usually driven by his father, Bill.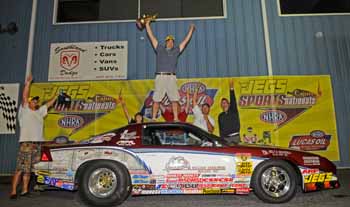 Celebrating big time in the
Cajun SPORTSNational's winner's circle in 2009.
"I'd been so close so many times - I've finished second four times in the division and was fourth twice - that even when I had a pretty good lead after the race in Earlville, Iowa, I wasn't counting the guys out who could catch me," continued Zaskowski. "A few people were saying, 'It would be just your luck if they catch you.' But everything just came my way."
Zaskowski, a stick-shift racer, earned his points with a pair of fourth-round divisional outings (Cordova and Bowling Green), a quarterfinals finish at the Chicago national, three semifinals (at the Norwalk divisional and national events and the SPORTSnationals in Columbus), a runner-up at the Chicago divisional, and a win at the division race in Columbus.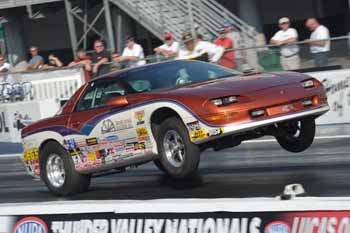 In his brother Shane's
E/S '94 Camaro in Bristol.
"The biggest thing was the win in Columbus," said Zaskowski. "I have had unbelievable luck at that track for the last three years; I won the 2008 points meet, runner-upped at the division race in 2009, and then I got to the semis at the SPORTSnationals that year. I don't know what it is, if it's confidence going in there knowing it's been real good for me or what, but it just seems to click there. It takes about six hours to get there from home, and we used to dread going to that track, but now I always look forward to it."
With his previous good fortune at National Trail Raceway in mind, Zaskowski had a plan to save the Columbus Northern SPORTSnationals as his last national event to count towards his overall score, and to fill the gaps, he drove his brother Shane's Camaro at a handful of nationals while Shane was away attending Central Michigan University. The plan paid off, and the points he tallied amounted to a third-place finish in the Lucas Oil Series Super Stock national standings, another career-best for the 30 year old racer.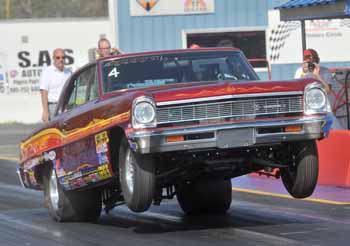 In his father Bill's
GT/J '66 Chevy II in Belle Rose.
With all three of the family cars set up virtually the same and all three of the stick-shift variety, switching between them isn't much of a problem. At the spring race in Belle Rose, Zaskowski got to drive the shoebox Nova his dad owns when his own car broke during a Thursday test session and his father was kind enough to sit one out. The three Zaskowskis also share tuning duties, but Bill primarily takes care of the engine work and maintenance on the Super Stockers while Brad and Shane attend to the Stocker.
Racing has been something that the three have long shared, along with mom Bonnie and sister Jill, and Uncle Jim and cousin Kevin Zaskowski also compete.
"We always went racing with my dad," said Zaskowski, who is a jack-of-all-trades at their family-owned Zaskowski Builders in Belding, Mich., during the week. "He was up at Mid-Michigan Motorplex the day my mom went into the hospital to have me, and he broke something on the car and had to come home. He said it was a sign because as soon as he got home he had to go to the hospital. Right after I was born he got into Super Stock racing, and we've been going ever since."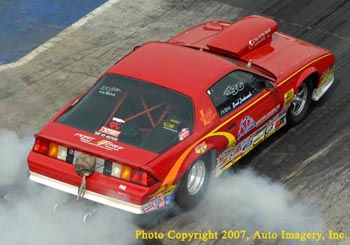 The '92 Camaro that
Zaskowski ran in Comp.
Zaskowski got to drive his own racecar for the first time in 1993, during the inaugural year of Jr. dragsters competing at local tracks. His Jr. drag racing days were brief, and after competing at the same points meets as his father for a short while, Zaskowski - then nearing 16 years of age - and his father built an H/SA '69 Camaro to run in Stock Eliminator.
After a couple of years in the Stocker, Zaskowski inherited his current Super Stock Camaro when his dad moved up to Competition Eliminator. The elder Zaskowski set off in a '92 Camaro and ran Comp until 2004, when he let his son have a go at it.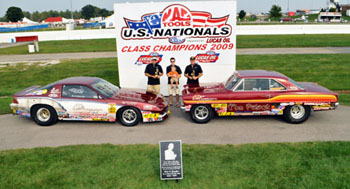 Brad and Bill were both
class champs at Indy in 2009.
"I got my [Comp Eliminator] license in the fall, and at my first divisional race that next spring, I ended up winning," recalled Zaskowski, who finished a remarkable second in the category for Division 3 in 2005. "It was like locking myself into continuing to drive that car, but eventually it got to where our car was an older car and the whole thing was too expensive for our budget.
"It's an awesome class to run when you're going fast and winning, but we were struggling with the car, and it wasn't running fast. It wasn't fun to be at the track. Now we don't get frustrated until Sunday if we lose, and with Comp, we were frustrated all weekend just trying to qualify. I like the diversity of the class and all the different cars and classes and different ways you can run it, and I'd love to get back into it again, but right now, it's not in our budget to be competitive."
Zaskowski beat Sal Biondo in the
Super Stock final in Joliet 2001.
A competitive edge is something the seven-time divisional event winner continues to sharpen, as exemplified by his notable success in finals at the national level: in each of his four title-round appearances, Zaskowski has scored the Wally.
"I've been very lucky, and the first final I was in was at Joliet, I ran Sal Biondo," said Zaskowski. "Before we ran, he told me that once you've made it to the final, it doesn't really matter what happens. The trip is paid for. The goal is just to get there, and I've always kept that in my head: Once you're in the final, you're already a winner. If you win the race, well that's just icing on the cake. I don't know if that mindset keeps me from stressing out about it, but it seems to work."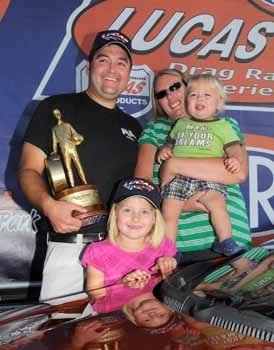 Zaskwoski with wife Amy and
their children after winning
Stock at 2009 Virginia Nationals.
Next season, the family plans to race all three cars again, and with a gold card in hand, Zaskowski is looking forward to getting out even more with his own little branch of the family in tow - wife Amy and kids Lilly, 6, and Blaine, 2. In addition to his gratitude for the support of his entire extended family, particularly mom Bonnie, dad Bill, and brother Shane, Zaskowski also thanked Ron and Sandy Richards, Mart and Kyle Jeltema, Parsons and Myers Racing Engines, Wildcat Mortgage, Top of the World Granite, Plainfield Lumber, and Rockford Floor Covering, as well as Jegs, Mickey Thompson Tires, K&N, Autometer, ARP Fasteners, Redline Oil, Port-A-Tree Timing Systems, and Zaskowski Builders.
"Winning a national championship would be unbelievable," said Zaskowski. "I don't want to say it isn't a goal of mine, but I can't be disappointed finishing third this season and fourth last year. That is almost a dream come true, and winning the division this year is just more icing on the cake."




NHRA: 10 Most Recent Entries [ top ]

Apr 19- HOUSTON - Friday Schedule
Apr 19- Tige Boats Named Presenting Sponsor of E3 Spark Plugs NHRA Pro Mod Drag Racing Series Portion of NHRA SpringNationals
Apr 19- HOUSTON - Previous Success, Early Win has Funny Car's Courtney Force Excited
Apr 18- Haney Headed for NHRA Pro Mod with Summit Racing on His Side
Apr 18- HOUSTON - Richie Crampton Enjoying Early-Season Success Heading to 31st Annual NHRA SpringNationals
Apr 18- 2018 Mustang Cobra Jet Celebrates 50th Anniversary of Racing Legend with Quickest
Apr 18- New Ford Mustang Funny Car Scheduled to Debut In 2019 NHRA Mello Yello Season Opener
Apr 16- HOUSTON - Fact Sheet
Apr 16- HOUSTON - After Early-Season Mishap Funny Car's Jonnie Lindberg Looks to Get On Track