Tue, 9 Nov 2010, 02:02 PM



This Should Be Fun



By Bob Frey


Photo copyright 2010 Auto Imagery, Inc.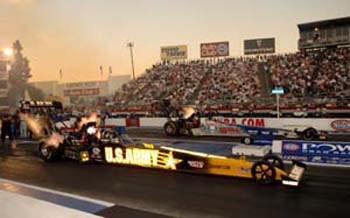 The Run...
They have run the "World Finals," or the NHRA Finals or the
Automobile Club of Southern California Finals
for forty-five years, but few of those races have had the
potential for excitement, happiness and disappointment like this one. Even while the Pro Stock championship is basically a foregone conclusion, and while the Top Fuel race is almost out of reach, there are still two great battles for the Funny Car and the Pro Stock Motorcycle
Full Throttle World Championships
and that should make the four days at
Pomona
very exciting for racers and fans alike. Now before you start writing notes to my boss, let me explain that Top Fuel statement. Sure,
Tony Schumacher
and his
Army
team came from way back in 2006 to win at
Pomona
, but they were not nearly as "way back" as they are this year. In '06 Tony came into the race forty-five points behind the leader, or a little more than two rounds, which meant that when
Doug Kalitta
went out in the semi-finals of that race Tony and his team, led by
Alan Johnson
, had to win the race and set the record to take the championship. They did that, and their final round pass, which is now known simply as
"The Run,"
will go down as one of the great moments in drag racing history. But this year they are more than four rounds back (eighty-five points) and that's a bunch even for a team as talented as they are. Make no mistake about it, as I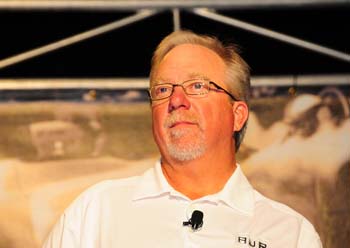 Alan Johnson at SEMA breakfast.
Photo by Roger Richards
said last week, "it ain't over 'til it's over," and
Larry Dixon
, and certainly Alan Johnson know that. As Alan said at the
SEMA
show this past week, in 2006 there was no pressure on them since they came into the race in second place, likewise, there's no pressure on Tony and his team this year. I'm sure they will give it their best, they always do, and I don't think I'd be calling the engraver just yet to put Larry's name on the trophy, but it's a daunting task, even for the Army team, to come from that far back at the last race of the season. If they do win it I'm not sure there will be any word or words to describe their 2010 season.
Mike Green
has, once again, demonstrated that he has a lot of talent and is surrounded by a lot of talented people and that's why Tony is in the position he's in.....Of course, what Alan Johnson and Larry Dixon have done, individually and collectively over the years, goes without saying and that's why they're in the position they're in.Qualifying should be fun in Top Fuel, because if Tony can gain six points on Larry and get the deficit under four rounds, then Sunday becomes even more interesting.
Did you know
that Tony's number one spot in
Las Vegas
was only his second of the year?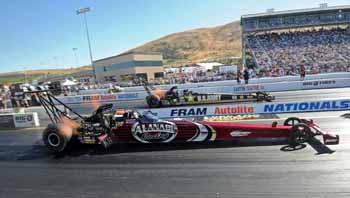 Dixon vs. Schumacher
Tony also qualified at the top of the pack just twice last year and he waited until the last race of the year in
Pomona
to get his second number one spot in 2009. This year he went nineteen races without qualifying number one, and
did you know
that's the longest he's gone between number one spots since he went forty-four races from Memphis of 2000 until Maple Grove in 2002?....In qualifying this year Larry has been in the top three spots at eighteen of the twenty-two races while Tony has been in the top three ten times. Toss in Larry's eight number one spots to Tony's two and you start to put a lot of extra points in Larry's column before eliminations even began...It's amazing that these two drivers, Larry and Tony, have met seventy times in their careers and each has won thirty-five times. But
did you know
that in 2010 Larry has won eight of their eleven meetings, and that's basically the difference in their points right now?...Tony comes into the event tied with
Kenny Bernstein
and
Don Garlits
with four wins at the "Finals" while Larry is one of eighteen drivers who have won the last race once.
Did you know
that in that group are
Rob Bruins, Gerry Glenn
and
Dennis Baca
among others?...
Cory McClenathan
may be the forgotten man in the points chase right now. The driver of the
FRAM
car is going to come up a little short in his bid for that elusive championship. It was announced that Cory will not return as the driver of the car next year, but let's hope that he does return with some team because he's such a valuable asset to the class. Cory has always been fun to watch, and win or lose he's not afraid to show his emotions. It's a shame that the loss in
Las Vegas
prevents him from challenging the top two drivers in
Pomona
. I wish him the best and hope that we haven't seen the last of Cory Mac.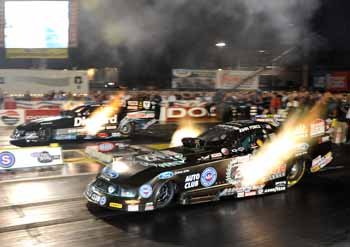 Force vs. Hagan
John Force's
win in
Las Vegas
was huge, but so was his performance on Friday and Saturday. That's where John picked up enough points to reduce his deficit to under three rounds and that's why he has a shot at his fifteenth championship when we get to
Pomona
. As it stands right now John is thirty-seven points (slightly less than two rounds) behind the leader,
Matt Hagan,
so Matt's job in
Pomona
is to do to John what John did to him in Vegas. By that I mean that Matt needs (or at least wants) to outscore John by four points during qualifying to put John one more round behind. Historically speaking, that won't be easy. John loves racing at his home track and always seems to rise to the occasion.
Did you know
that this will be John's 29
th
appearance at the "Finals?" At those previous twenty-eight races he has qualified number one five times and has an average starting position of fourth. When you include the fact that John has won this race seven times, all of a sudden it looks like he's coming to the perfect track for him, his car and his team. Of course only time will tell how it works out. Plus I'm sure that Matt and his
Die Hard
team will run well, too...John's first "Finals" was in 1978 when he brought the
Leo's Car Stereo/Wendy's Corvette
to the race, qualified seventh in the field and lost to
Gordie Bonin
in round one on a holeshot.....John's team was testing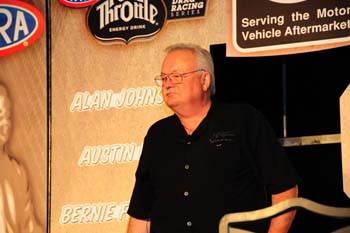 Austin Coil at the SEMA breakfast.
Photo by Roger Richards
in Las Vegas after the national event there, and from what
Austin Coil
told the group at SEMA, they were pleased with the results and are ready for Pomona....You never know how a young team and a young driver will respond to the pressure but I guess we'll find out soon enough. Matt Hagan and his team have looked good all year long and I expect the same from them this week. Over the last two races they have won six rounds but have dropped the final round at
Maple Grove
and
Las Vegas
. All they have to do this week is stay even with John on Sunday and the championship will be theirs. Easy, huh?....The possibility of a national record could change the championship picture in
Pomona
, and both teams would certainly seem capable of doing just that. Matt has already set and re-set the Funny Car record this year and the only member of Team Force to do that is
Ashley Force
, who set the speed mark in
Charlotte
. Of course you don't get any points for setting the speed record, but she did set it and that's worth noting.
Did you know
the last time that John set the record was back in 2004 when he went 4.665 at
Joliet
? And the last time the FC record was set at the "Finals" was in 2006 when
Jack Beckman
went 4.662. The weather will be a big factor in deciding if anyone even has a shot at the national record, and since the weathermen aren't real good at predicting what's going to happen four days down the road, I guess we'll have to wait until we get to
Pomona
to see what conditions are like. I will say this, if you think there is a real chance of someone setting the record this week,
did you know
that when Jack ran that 4.662 it was the first and only time that the Funny Car elapsed time record was set at the last race of the year in Pomona? Good luck to John and Matt and may the best team win.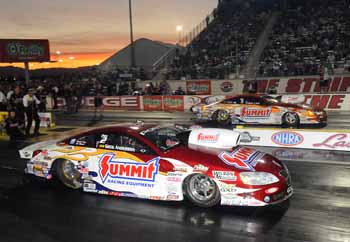 Anderson vs. Line
As hard as it may be to believe,
Greg Anderson
is on the verge of winning his fourth Full Throttle Championship. Now I'm not taking anything away from Greg, it's just that he wasn't the one most people were thinking about just a few weeks ago. But, as we have seen in the past, if a driver gets hot in the playoffs he can catch, pass and beat the points leader and win the championship and Greg has done just that. Well, almost. With a solid and very impressive performance over the past four races, Greg has come from fifth place after Indy to first place after
Maple Grove
to a commanding lead after his win in
Las Vegas
. Greg has been to four consecutive final rounds and that's his best showing since the end of the 2004 season. And his final round appearances have continued a very impressive streak, too.
Did you know
that Greg has been to at least six final rounds every year since the 2002 season? When you consider the fact that Tony Schumacher can't say that, John Force can't say that,
Jeg Coughlin
can't say that and
Andrew Hines
can't say that, then you begin to realize how good Greg has been over the past eight years. Plus, when you look at the kind of races that Greg and his teammate,
Jason Line
have given us this year, including the final round in
Las Vegas
, you start to see how Greg has really earned the championship. I know, it's not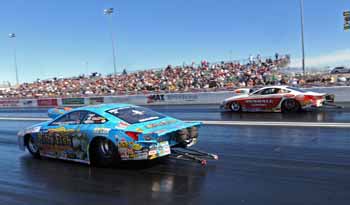 Stanfield vs. Edwards
over yet, but with a 115 point advantage over
Mike Edwards
going into Pomona, I like Greg's chances...Greg comes into Pomona with five wins at the season's last event, and while that's good, it pales in comparison to what
Bob Glidden
has done.
Did you know
that Bob won the "Finals" an amazing eleven times?
Warren Johnson
has won it six times and Greg's five wins put him third on the all-time list.
Did you know
that five wins are the most for Greg at any event, and that he also has five wins at Indy to his credit? Overall Greg has a lofty 23-3 record at the "Finals" and that computes to an 88% winning margin. Not bad, is it?....The battle right now, as hard as it may be to believe (or did I say that before) is between Mike Edwards and
Greg Stanfield
for second place. Mike comes in with an eleven point edge over Greg, and from what we've seen over the past few races, that's not a lot. By the way, just in case you were wondering, the difference between second and third place is $25,000 and that's not chump change in anybody's book.....Mike has had a good car over the past few races he just has struggled on the starting line. Like a golfer who gets the "yips" standing over a putt, sometimes I think drivers
Bob Glidden at SEMA breakfast.
Photo by Roger Richards
start to think too much when they get in a slump on the line. I've never driven a race car and I'm not saying that's what happened to Mike, but he sure has had the car to win races, but either a holeshot or a red light have cost him down the stretch. The one great thing about Mike, though, is that he puts it all in perspective. As much as he would like to win the championship again, he realizes that it's not the end of the world and he will rebound....I don't know how Bob Glidden will do this week, but I do know that he is very optimistic about the future. At the SEMA breakfast this past week he stated that he really thinks the Fords, his,
Erica Enders
and
Larry Morgan's
, will be much more competitive next year. I know that I, as a fan, certainly hope that's true..
Robert Patrick
is another driver who will be racing Fords next year and he is entered in the
Pomona
race. I have to believe that Robert thinks he can make the show or he wouldn't be coming all the way across the country for the event. Having competitive Fords is as good for the class as having competitive Mopars, and believe me,
Allen Johnson
and
V. Gaines
have competitive Mopars..Speaking of which,
Vinnie Deceglie
will be playing a "home game" this week and it would be a great time for his
Mountain View Tire
-sponsored Mopar to go rounds. Like four of them!!...As always, Pro Stock should be fun at
Pomona
.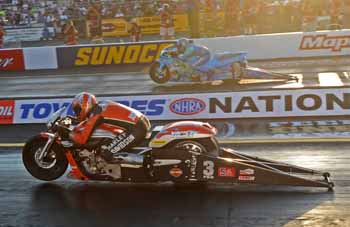 Hines vs Tonglet
Just like the Pro Stock Car class, if you asked people a few weeks ago who they thought would be the Full Throttle champ in the Pro Stock Motorcycle class, not may of them would have picked
LE Tonglet
. And while he's not the champ yet, in fact he's not even in first place, he sure has made the 2010 season an exciting one for the bike fans, and for all fans for that matter. Like Greg Anderson, LE has had a great run in the "Countdown" and he is only thirty-four points behind the leader,
Andrew Hines
, as we head to
Pomona
. Win, lose or draw, the rookie sensation from
Louisiana
has a lot to be proud of this year.
First of all, he is almost a lock for the
Rookie of the Year
honors, and why not? He has won five races this year and been to seven final rounds and that's a good career for some racers. Plus, he seems unflappable on the starting line. Except for that little glitch in the finals at
Maple Grove
, the one where he lost on a holeshot to Andrew Hines, he has been cool under pressure.
Did you know
that LE has been first off the line 60% of the time this year? And while that may not sound like a great number, it's exactly the same as Andrew who has been doing this a lot longer.Speaking of Andrew,
did you know
that he has been in fifty rounds of racing this year and only thirty-four of those rounds have featured green light starts by him or his opponents. That's amazing, at least to me it is. I guess it goes back to what I always say, and that is, give yourself a chance, get a green light and hope your bike can do the rest. Don't be surprised if the championship is decided in the motorcycle class because somebody fouls out....LE will be making his first trip to
Pomona
as a rider while Andrew has been there many times. But maybe that experience won't be such an advantage to Andrew who has never won at the last race of the year. In fact, in eight starts at the event Andrew has a 10-8 record overall, and his only final round there was back in 2005.
Did you know
that in four of his last five trips to Pomona Andrew has fouled out? Still, you have to think that three championships, a great career and the legacy of the
Vance & Hines
team have prepared him for the pressure of this last weekend. Then again, maybe LE is too young to know that he should be nervous!! All I can say is that it should be fun to watch and I'm glad I'm not one of the riders because I'd be a nervous wreck.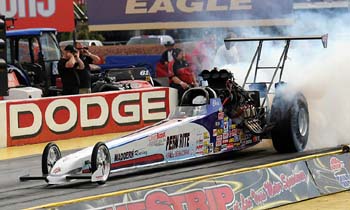 Chris Demke
Photo by Bob Johnson Photography
While most eyes will be on the Full Throttle classes there will also be two battles still brewing in the
Lucas Oil
classes.
Chris Demke
, who went into the Division 7 race at
Las Vegas
this past weekend needing to go to the final round to keep his title hopes alive, did just that. In fact, the driver for
Jerry Maddern
won the race and now he can overtake
Bill Reichert
if he just does one thing.goes to the final round at
Pomona
. Bill, who failed to qualify at the D-7 race, will be there this weekend trying to win the race and/or stop Chris from doing the same.
Did you know
that Bill has won the "Finals" three times and has been to the final round at four of the last five races he has entered in
Pomona
? Of course Chris won the season-opening race in
Pomona
so both drivers like the track and it should be a good test for both of them...And
Gary Stinnett
went enough rounds in Vegas to pass
Luke Bogacki
and take the lead in the Super Comp standings. The way I see it the only driver who could keep
Gary
from his third national championship is
Edmond Richardson,
who has to win the event to win another Lucas Oil title. Good luck to everyone.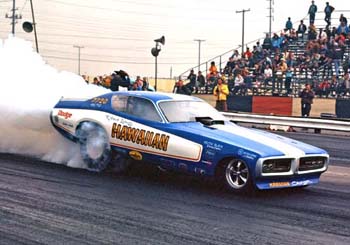 Butch Maas
I wanted to mention the passing of
Butch Maas
. The driver for
Roland Leong's "Hawaiian"
Funny Car that won the Winternationals in 1971, passed away last week after battling cancer. I had the opportunity to talk with Butch several times over the past few years and he mentioned that he once heard me say that Roland had a lot of drivers for his cars. "Yeah, well I drove for a lot of guys besides him," he said. "And not many guys can say that they drove for more owners than I did." And when I asked him how many he said, "I'll send you a list." And he did. So here, according to Butch, are all the cars that he drove. It all started in 1959 with the
Jerry Howard and Norm Porter
roadster and was followed by
Bob Baugh
& the
Scotty Muffler Roadster, Sammy Rose's
Jr. fuel car, another stint with the Scotty's Muffler team,
Tom Camblin
and the
Highland Speed Shop
Jr. fuel car (that won the Mickey Thompson 200 mph race at Long Beach),
Bill Martin's
400 Jr, Fuel Chevrolet,
James Bush & JL Payne's
car,
O'Donnell & Nelson
Top Fuel,
Billy Scott
Top Gas,
Larry Stellings
TF,
Berry Brothers, Bill Crossley
TF, Atlas Oil Tool -
Bateman & McKenzie
dragster,
Tony Waters
TF,
Pancho Rendon
TF,
Archie Ary
TF,
Glen O'Neil, Don Prudhomme
TF & FC, Roland Leong FC,
Creitz & Donovan
TF,
Jim Murphy
Funny Car,
Al Bergler
Funny Car,
Mart Higgenbotham
FC,
Mickey Thompson, Don Garlits
Streamliner,
Rossi & Lisa
TF and
Bill Smallwood's
Funny Car which, according to Butch, was his last ride at the Springnationals in 1974. Now that makes a ride with Roland look like steady employment, doesn't it?....Another one of drag racing's best leaves us too soon.




NHRA: 10 Most Recent Entries [ top ]

Mar 16- GAINESVILLE - Top Alcohol Funny Car Eliminations Ladder
Mar 16- GAINESVILLE - Top Alcohol Funny Car Final Qualifying, Session #2 Order
Mar 16- GAINESVILLE - Friday Wrap Up
Mar 16- GAINESVILLE - Competition Eliminator Eliminations Ladder
Mar 16- GAINESVILLE - Top Alcohol Funny Car Qualifying Notes, Final Session
Mar 16- GAINESVILLE - Competition Eliminator Final Qualifying, Session #2 Order
Mar 16- GAINESVILLE - Top Fuel Harley Qualifying, Session #2 Order
Mar 16- GAINESVILLE - Top Fuel Harley Qualifying Notes, Session #2
Mar 16- GAINESVILLE - Top Fuel Qualifying, Session #2 Order
Mar 16- GAINESVILLE - Top Fuel Qualifying Notes, Session #2