Fri, 5 Nov 2010, 05:38 PM



Slow and Steady Wins the Race



By Bob Frey


Photo copyright 2010 Auto Imagery, Inc.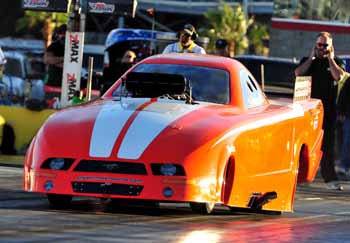 Jessica Cherniack in the new car.
I'm sure you all remember that old story about the hare and the tortoise. It's the one where the hare, we'll call him a rabbit, is in a race with the tortoise, we'll call him a turtle, a race the rabbit is sure to win. But along the way, feeling that he had a comfortable lead in the race, the rabbit decided to take a nap, and when he woke up the turtle was already across the finish line. The moral of the story, I guess, is don't take a nap when you're racing. Of course others would say the moral is that slow and steady wins the race. By that I'm sure they mean that if you try too hard, or get way ahead of yourself, you're probably not going to win, and while I don't know if that's true or not I do know this. If you are a new drag race team, especially in the highly competitive world of Top Alcohol Funny Car, and you're trying to be competitive, take it easy, don't over exert yourself early on. In other words, pace yourself and in the end you'll do just fine. That's the same advice I give teams when they are matched, or seemingly over-matched against an opponent. For example, you're in your first race and you look over and Frank Manzo is in the other lane. My advice would be to do your job, get a green light and make a solid run. If Frank beats you at least you gave it your best shot. Don't get overly excited, try to get a huge jump off the line and outrun him because that usually doesn't work. Anyway, the moral of my story is, just make a little progress every time you go out there and you'll be fine. And even though I have never spoken to her at the races, it looks like Jessica Cherniack is heeding that advice.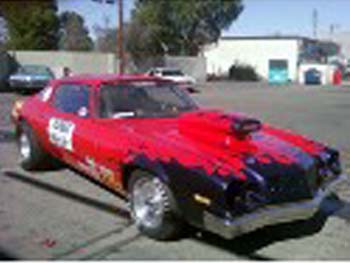 Cherniack's Camaro
Jessica is a young lady who is involved with cars in her everyday life. "My dad owns a repair shop not far from the track," she said. "I work in the front office. We're in the process of opening a second location right now so I'm keeping pretty busy." And while she tends to business in the front of the shop, her father, Mike, works on the cars in the back. They also have another car there that they are both involved with, a car that runs in the Top Alcohol Funny Car class. "I was looking for a hobby a few years back," she said. "Dad found this Camaro that ran in the 11-second bracket. I liked it at first but it got boring real quickly." So, in order to keep his daughter from getting bored, Mike did what any father would do, he bought her a funny car. "We saw the ad in National Dragster for a car that was owned by Larry and Mick Snyder. It seemed like a good deal so we bought it." That was back at the end of 2008 and the learning process for Jessica began shortly thereafter.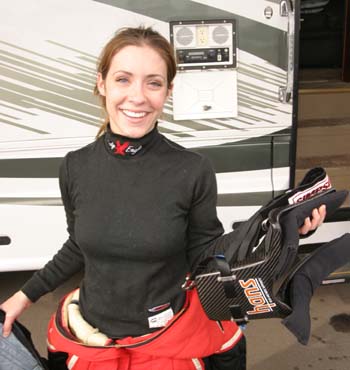 Jessica Cherniack
This past weekend at the Las Vegas Nationals Jessica made some of her best runs ever. In fact, when qualifying was over she had recorded career best numbers in both elapsed time and speed, a very competitive 5.838 - 246.57 mph pass that just missed the show. "It's still a big learning curve," she said. "We are making progress all the time and we were probably the happiest non-qualifiers ever." That's because the car, the team and the driver made some real progress. "Our goal all along has been to take things slowly and safely. We want to learn all about the car and what it does. The first car we had was equipped with a Roots blower and that couldn't even produce tire shake. The new car, with all the good stuff, makes a lot of power and shakes the tires so I've had to learn how to adapt to that." One of the keys to their performance at the Vegas race was the fact that Jessica is getting used to shifting the car properly and on time. "I have had this reaction that when the shift light comes on I have been lifting my foot of the pedal. I tried short-shifting this week and it seemed to help." Another thing that seemed to help was the advice and assistance she got from some of the other teams. "The Patron team and the Gasparrelli's were a big help. They would come over and talk and give me some advice. It's a great group of racers and I really enjoy being part of it." Another racer who helped out was the eventual event winner, Mickey Ferro. "My dad told him what I was doing when the shift-light came on and he gave us a gadget that we call a 'shift taser.' It hooks up to the light and the driver's wrist and when it comes on it shocks the driver." Jessica said she hasn't tried it and isn't sure if it's a gag or not, but she appreciated Mickey's input. Other teams thought it might be a good idea to have a "crew chief taser." You know, just in case they mess up.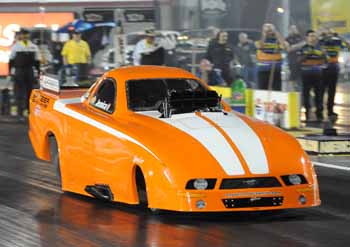 As well as she ran at the race in her home town Jessica said that the team almost skipped the event. "We weren't running that well and I was having some issues with the car and we didn't think it would be proper drag racing etiquette to come out and spoil the weekend for the good teams." Now that's a novel idea, and after what took place during qualifying on Saturday maybe some other teams should have taken that same approach. Still, in the end, the team ran well and made a nice presentation. "That was our last race for the year," she added. "We bought the car from Larry and Mick Snyder and they have helped us along the way. My dad talks to Larry after every run and we're going back to Indiana to spend some time with them and make some changes to the car during the off-season. They have been great and we can't say enough about how helpful they have been." Some more help came from a less likely team at the Vegas event. "We deal with the same people that Terry McMillen deals with for the oil at our shop. Terry was making an appearance in Utah before the race and our rep called and put Terry on the phone with Mike." Terry gave them the inspiration to attend the race. "We got to spend some time with Terry and his team and that was a lot of fun. Plus, he gave me some tips, and when you can get input from someone like him it's a good thing."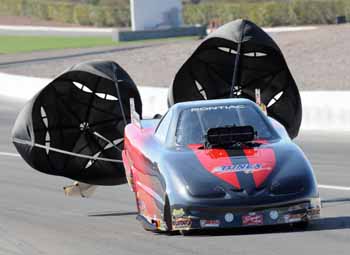 Cherniack's old car.
Jessica said that, unlike her first race car, she can't imagine this one ever getting boring. "It's a lot of fun to drive and when you have a weekend like we did it makes you want to go out and improve some more. We feel like we're making real progress and next year we want to beat Frank Manzo." After she said that she paused for a moment and then added, "Ok, so we want to qualify at the same race as Frank Manzo." Hey, it's a start. "This was our first happy weekend at the races and we are continuing to learn every time we go out. We expect to get some more help from Larry and Mick this winter and are looking forward to next year." If they pace themselves, just like the turtle, they'll do fine. And probably win the race.
Jessica and Mike would like to thank Snyder Motorsports and all of the other teams that have helped them along the way.




NHRA: 10 Most Recent Entries [ top ]

Mar 17- GAINESVILLE - Pro Modified Qualifying Notes, Session #3
Mar 17- GAINESVILLE - Funny Car Qualifying, Session #3 Order
Mar 17- GAINESVILLE - Funny Car Qualifying Notes, Session #3
Mar 17- GAINESVILLE - Top Fuel Qualifying, Session #3 Order
Mar 17- GAINESVILLE - Top Fuel Qualifying Notes, Session #3
Mar 17- GAINESVILLE - Pro Stock Qualifying, Session #3 Order
Mar 17- GAINESVILLE - Pro Stock Motorcycle Qualifying, Session #3 Order
Mar 17- GAINESVILLE - Pro Stock Qualifying Notes, Session #3
Mar 17- GAINESVILLE - Top Fuel Harley Qualifying, Session #3 Order
Mar 17- GAINESVILLE - Pro Stock Motorcycle Qualifying Notes, Session #3