Thu, 4 Nov 2010, 12:50 PM



That Elusive Double



By Kelly Wade


Photo copyright 2010 Robert Grice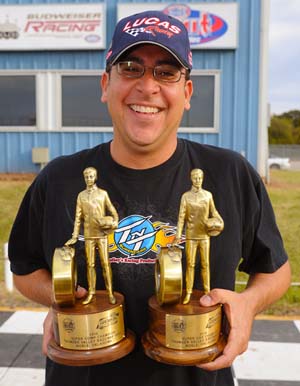 Jeff Lopez
It is every multi-class racers dream. They tow their racing machines here and there across the country, and they spend all kinds of time off-loading and preparing and getting psyched to race in two or more classes. They all have the distant vision of hoisting a pair of Wallys in the winner's circle - ala Super Stock and Stock winner Jody Lang at the spring Las Vegas national event in 2009. Many racers with incredible talent and years of experience have been chasing that dream and found it elusive, so when Division 4 racer Jeff Lopez scored a Super Gas/Super Comp double at the recent divisional event in Noble, Okla., he was reluctant to chalk it up to much more than luck.
"I probably should have lost the first round in Super Comp," said Lopez. "The guy went one-thou red against me and I was like five-over wide open; I couldn't run the dial-in at all. That was a huge help right there, because if he would have turned it any kind of green at all, I was done."
Good fortune continued in the Super Comp category when Lopez overcame a slight starting-line deficiency to Lloyd Parfait and ran an 8.906 on the 8.90 index to beat his opponent's 8.959 and score a bye run into the quarterfinals. The good times kept on rolling when he was just three-thousandths behind at the starting line but got the win light when Dylan Lee went farther under the index by a thousandth; the round-win came with another bye run, this time into the final round, where he was the benefactor in Steve Swenson's .080 reaction to Lopez's quick .020. He won it on a holeshot and accomplished task numero uno en route to the double-up triumph.
Lopez vs. Swenson
In Super Gas, Lopez survived a close one in the second round. He was .009 at the tree to Jack Campbell's .006 and clocked a 9.928 on the 9.90 index to his challenger's 9.933 for a .0026 margin of victory that amounted to little more than seven inches at the finish line. In the third round, Jody Thompson tree'd Lopez with a swift .005 light to .034, but Lopez got the nod in a double-breakout finish, and guess what. It was good for a bye run into the semifinals, where he got by another close one, leaving the starting line one-thousandth ahead of Kohlby Sasich and getting the win light by .0088. Lopez made good on the double and picked up the fourth divisional trophy of his career with a final-round defeat of break-out opponent Aaron Tatum.
"I had a little bit of luck when I needed it," said Lopez. "I had the bye run in both eliminators in the fourth round, and I was on the right side of the ladder in Super Comp so I knew that I could get another bye. It all comes back to first-round with that guy going red. Luck plays a big part in this, and it was basically: don't beat yourself.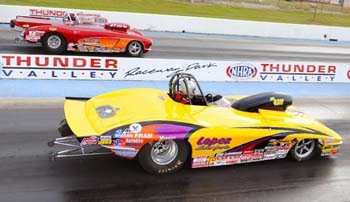 Lopez vs. Tatum
"I've won two classes before at bracket races, and I've actually been to three finals at a bracket race, but as for NHRA, I've never done anything like this before. I've gotten close, but never pulled it off." Earlier this season at the divisional at Texas Motorplex, Lopez won in Super Gas and finished in the quarterfinals in Super Comp.
Part of what the Bedford, Texas, racer has going for him is a pair of great racecars. His Super Comp rail is a Tommy Phillips-built car with a Max Long engine. Lopez purchased the car from Phillips, who ran it just once, in 2006. It was virtually turn-key, save for the engine, so he put his Max Long speciality in it and went racing. The Super Gas entry is a '63 Corvette purchased from Heidi Robison in 2008 that was wired and plumbed by Phillips.
"Tommy is really good, and he knows what he's doing," said Lopez. "Both of the cars I have are real good pieces to work with, it's just on the driver's end to keep everything squared away."
Lopez, who works in his family-run auto repair shop when he isn't racing, is supported by his father, Eli Lopez - the Super Gas winner at the 1984 Cajun Nationals - and brother Robbie, who also races. Lopez's fiance, Elizabeth, lends a hand, and Lopez extended thanks to engine builder Long of Max Long Racing Engines for bending over backwards for them and Phillips for putting everything together and getting it right. He also thanked Al Mallory of Mallory Screen Printing for all he's done for the team.
Racing has been a family affair for the Lopez clan for a long while, and, as can happen, Lopez's own interest was sparked by watching his dad race. The family has typically stayed local, bracket racing for the past decade and a half and rejoining the NHRA divisional competitors about five years ago. They've also enjoyed success on the IHRA circuit.
This season was the first that Lopez really committed to the division, and it paid off. After the spectacular showing in Noble, he led the South Central points in both categories and is looking to close the deal at the divisional event in Las Vegas this coming weekend.
"It worked out really good," said Lopez. "It's not over in Super Gas, though. I could still finish fifth in the division because I'm leading by a tie-breaker and everyone is within a round. But I'm just going to go to Las Vegas and see what happens. It was good timing to win when I did, and honestly, it was just my day. Things went my way all day long."
Lopez would like to race more often and possibly chase points next season, but being part of the family business makes it difficult to get away. When he goes racing, his dad goes, too, and they would like Robbie to be able to get away with them and get his time in on the dragstrip as well. But, as Lopez says, "If the shop is closed, the income is closed, and that doesn't work for us to keep doing this. We don't have sponsorship, so that is where the money comes from.
"I'm happy, though," he continued. "I've reached almost all of the goals that I've had other than winning a national event. The one thing I really wanted to do when I was growing up was win the Summit ET Finals, and I did that in Super Pro in 2006. That's the biggest bracket race in the division, and that was the highest on my list. I would say that I've just about done all that I ever wanted to do."




NHRA: 10 Most Recent Entries [ top ]

Apr 24- CHARLOTTE 1 - Steve Torrence Enjoying Four-Wide Success Heading to NGK Spark Plugs NHRA Four-Wide Nationals
Apr 24- CHARLOTTE 1 - Fact Sheet
Apr 24- Kalitta Motorsports Welcomes NASCAR Stars to the SealMaster Track Walk in Charlotte
Apr 24- zMAX Dragway Celebrates 10th Anniversary
Apr 24- CHARLOTTE 1 - NGK Spark Plugs NHRA Four-Wide Nationals Brings 40,000 Horsepower Thrill Show to zMAX Dragway
Apr 23- HOUSTON - Lucas Oil Drag Racing Series Wrap Up The NHRA Lucas Oil Drag Racing Series Wrap Up
Apr 23- CHARLOTTE 1 - J.R. Todd Aiming for Two Four-Wide Racing Wins in 2018
Apr 23- Mid America Dragway Joins NHRA Member Track Network
Apr 23- HOUSTON - Special Awards
Apr 23- HOUSTON - Sunday Video