Wed, 3 Nov 2010, 02:52 AM



Now It Gets Exciting



By Bob Frey


Photo copyright 2010 Auto Imagery, Inc.





I'm going to try to re-cap the past weekend in
Las Vegas
without using any of the typical gambling cliches that are often used with this type of story. It won't be easy, but I'll try. I should begin by saying that the weekend was very strange, and by that I mean that we saw things happen that we didn't
expect,
at least I didn't expect them. On the top of the list of things we didn't expect was all of the carnage that we saw on the track on Saturday. The two pro qualifying sessions were filled with parts breakage, oil downs and unusually long delays and it affected the way you felt about the race. By that I mean that you like to come out of a race with a feeling that it was a great event for everyone, racers and fans alike. But the way Saturday unfolded took a little of that spirit away from the event. Of course that's just my opinion but I think it's shared by a lot of other folks. I'm sure I wasn't the only one scratching their head wondering how to eliminate all the oil-downs and I'm certainly not the one who will have the answer, but I hope someone does. When it was all over in
Las Vegas
we saw some great racing, some stunning upsets and the race for the
Full Throttle
championships got a little closer in three of the classes, and the fans couldn't ask for much more than that. Sunday was a lot of fun, let's just hope that Saturday was a "one-time" deal.
Before talking about the racing I want to thank all of the racers and fans who made two events away from the track so very special. On Thursday, almost two dozen drivers took part in the Fan Fest and it was a huge success. Every time they have one of these events I think it can't get any better than the previous one and every time I'm wrong. This event was huge and it's just one of the many things that make this a great sport. Drivers from all four Full Throttle classes were there and so were thousands of fans who got to share some time with their favorite drivers. Taking pictures, getting autographs and a lot of bench-racing took place and I'm sure that everyone had a great time. I even made a grand entrance, sliding in on a line that was suspended about seventy feet above all the action, although it was such a surprise to everyone that I'm not sure there are any pictures to prove that I actually did it......While the Fan Fest was going on several of the drivers and fans committed to taking part in the "Troxel Challenge," the fundraiser that included jumping off the Stratosphere hotel. Really. Organized by Melanie Troxel, the event raised $6,400 for Speedway Children's Charities and that's a good thing. A lot of the drivers made the jump, some didn't, but they still contributed to the cause and a fun time was had by all. I'd like to thank Melanie for her efforts and I'd like to say a special "thank you" to Lynn Parker, the Sr. VP of Purchasing for the TBC Retail Group. That includes Tire Kingdom, Merchant's Tire & Auto Centers, NTB and Big O Tires, the companies that sponsor Shane and Johnny Gray and the Lagana brothers Top Fuel car. In addition to supporting the Fan Fest, Lynn announced that his company would match all the money raised at the "Challenge" and that was a great gesture. Anytime companies get involved with race teams it's a good thing, and when they also get involved with supporting the community it's an even better thing. Thanks Lynn, thanks Mel, and thanks to everyone who made both of those events huge successes.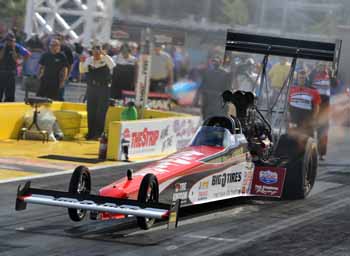 Dom Lagana
Since I mentioned the Lagana brothers I have to say that they were one of the real bright spots and certainly one of the really big surprises on Sunday. Driven by
Dominick
and tuned by
Bobby
, this second-generation team not only qualified for the field they made it all the way to the final round. And much like
Bob Bode
did in Brainerd, the brothers became huge fan favorites with every round that they won. After qualifying eleventh in the field, the Big O team beat
Clay Millican
in round one, the first round that Dominick won in Top Fuel. Sure, he has only driven at five races, but this was by far his best showing and the best showing in the family's history.
Did you know
that
Bobby Lagana Sr.
raced in the Fuel Funny Car class and raced at a dozen NHRA national events? He also competed in a couple Top Fuel races, and even though he was one of the last match racers out there, the senior Lagana never made an NHRA final round. Bobby Jr. has been to the semi-finals as a driver, but like I said, this was the first final round for the family and they did it in style.
After beating Clay they pulled the biggest upset of the day, and one of the biggest upsets of the year, when they beat the
points
leader,
Larry Dixon,
in round two. Dominick was first off the line, ran a 3.967 and that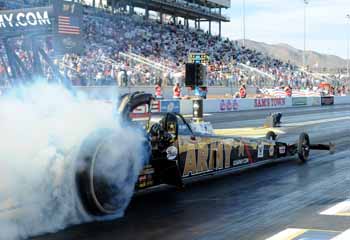 Tony Schumacher
was good enough to beat Larry's 3.984. Another win over
Antron Brown
in round three and, all of a sudden everyone was thinking that we could be about to see one of the greatest upsets in the history of the class, but
Tony Schumacher
had other ideas. The "Sarge," knowing that the two top guys in the points were out, and knowing that he had already set a new speed record, went out and ended Dominick's day with a convincing 3.845 in the final round. In the process he moved to within eighty-five points of the lead with one race to go, and while that's a lot, it's certainly not an insurmountable lead. Remember 2006? I'll have more on that next week, but as anyone in sports will tell you, it ain't over until it's over.
Did you know
that Dominick becomes the twenty first different driver that Tony has beaten in the final round? He has raced twenty three drivers in final rounds but, for some reason, he was never able to beat
Kenny Bernstein
or
Gary Scelzi
.
Did you know
that Dom also becomes one of thirty-nine drivers who are 0-1 in Top Fuel final rounds, and in that group are
Jim Harnsberger, Yuichi Oyama
and
Art Malone
among others...I've been following this sport for a long time and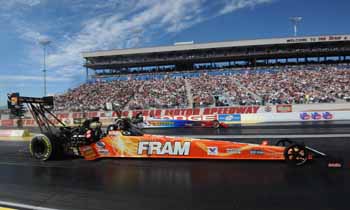 McClenathan vs. Mariani
I've had a lot of drivers or crew chiefs tell me that "they've found something" coming into a race, and most of the times the teams go out and look just like they did before. Well, that's what I heard from Tony before the weekend and apparently they did find something. Tony made the fastest runs in the 1,000 foot era, set the national record at 325.61 miles per hour and won the race in convincing fashion, and whether he can make another miracle comeback or not remains to be seen, but I will tell you that the
Army
car was very impressive in Las Vegas....Tony, who was the first man to go over 330 miles per hour when he did it in 1999, now becomes the first man to go over 325 mph at this track length.
Did you know
that Tony now has set the TF record ten times, and that
Joe Amato
did it eleven times? The win was Tony's fourth at the second
Las Vegas
event and he is the only TF driver to win it more than once...While Dominick was getting a lot of the headlines, Australian
Mark Mariani
also distinguished himself at the race. Mark, who was making his first appearance in the states, qualified fifteenth and then beat
Cory McClenathan
in round one virtually eliminating Cory from the title picture. And even though Mark lost in round two, he and his team have to be proud of what they accomplished in their first NHRA national event.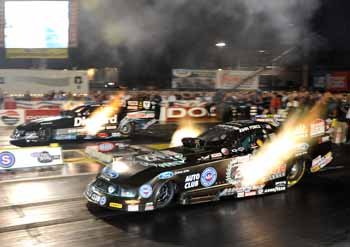 Force vs. Hagan
The Funny Car class got very exciting with the win by
John Force
. John is now just thirty-seven points behind
Matt Hagan
as the tour heads back to
Southern California
next week. The final round race between John and Matt was about as exciting as any I can remember in recent years and it was certainly worthy of the locale. In a city that has hosted some of the great heavyweight fights of all time, to see the two top drivers in the points go head-to-head was a real treat for the fans. With the two top guys in the points facing each other, the final round represented a forty point swing. If Matt had won he would have been seventy-seven points in the lead, instead he is now less than two rounds in front of John. What may go unnoticed by most fans is the fact that John earned enough points in qualifying to get the deficit under three rounds even before eliminations began and that was huge.
Did you know
that Matt becomes the thirty-sixth different driver that John has beaten in the final round?...When he shared the winner's circle with Tony it became the fourteenth time these two champions have won at the same event. By the way, someone asked me this weekend why
NASCAR
, which runs in circles, has a "
Victory Lane
," while drag racing, which runs in a straight line, has a "Winner's Circle?" Good question...Like Tony, John was part of the press conference prior to the race and he told the media that his team "had found something." Honest he did. "They put me and the car on a
diet,
moved some weight around and it should help us this weekend." Well, whatever they did, it worked....Historically John had his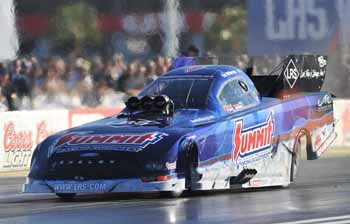 Tim Wilkerson
way with the drivers he met in eliminations on Sunday.
Did you know
that his overall record against his four opponents is now 26-9? Of course the win over Matt in the final was especially big and it ran John's record against him to 6-2...John won the race and set top speed along the way.
Did you know
that's the fourth time this year that John has had the fastest car on the property and that matches his entire total for the past three years?
Did you know
that the first time John set top sped was in Sanair in 1980 when he went 239.36 mph?....Going into the last qualifying session on Saturday three of the top drivers in the class were not in the show.
Robert Hight, Tim Wilkerson
and
Tony Pedregon
all were below the line, so to speak, and while two of them made the show Robert did not. That extends Robert's frustrating "Countdown" run, a five race span in which he hasn't won a round. That is not only his longest losing streak of the year it's also the longest one of his career....For a while it looked like the fans may get to see a John Force -
Ashley Force
final round, but Matt took care of that by beating Ashley in the semi-finals. Still Ashley qualified number one and recorded low elapsed time of the meet.
Did you know
that this was her fourteenth top spot and that ties her
with

Chuck
Etchells
for tenth on the all-time list?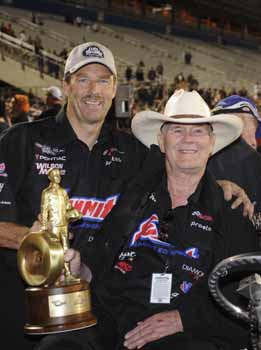 Anderson and Ken Black
A combination of things has moved
Greg Anderson
to within reach of his fourth Pro Stock championship. The combination includes his surge in the "Countdown" and
Mike Edwards'
slump at the same time. Greg, who beat his
Summit Racing
teammate,
Jason Line
, in the final round, is now 115 points ahead of Mike and that's an almost insurmountable margin with just one race to go. Greg has made his move by running well on Sunday after not doing very well in qualifying.
Did you know
that during the "Countdown" Greg has qualified ninth, fourth, ninth, ninth and eleventh? And
did you know
that the last time Greg struggled that much during qualifying was at the first four races of the 2002 season? This was only the fourth time that Greg qualified eleventh in the field and it's the third time that he has made the final round from that starting spot....I'm sure Greg would tell you that the key race for him was in the second round when he beat
Jeg Coughlin
and he did it on a holeshot.
Did you know
that this was the first time in his career that Greg had ever beaten Jeg on a holeshot?...Greg and Jason both dedicated the win to their car owner,
Ken Black
, who was back at the track for the first time in over a year. Ken sure picked a good race for his return and both drivers said that it was the "greatest race day of my life."...Winning from the bottom half of the field isn't easy and Greg's win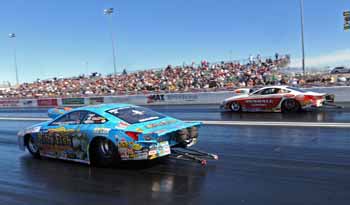 Stanfield vs. Edwards
was only the eleventh time in Pro Stock history that the number eleven qualifier went on to win the race...As hard is it would be to explain why we had so many oil-downs in the fuel classes in Vegas it would be just as hard to explain why Mike Edwards can't seem to win a round, let alone a race, right now. Mike, who only lost twice in round one last year has dropped six opening round encounters in 2010 including three in the "Countdown."....The first round race between Mike and
Greg Stanfield
was huge and Stanfield's win moved him to within eleven points of Mike in the battle for second place.
Did you know
that Anderson won the race on a holeshot and that was his eleventh such win of the year? Amazing, isn't it
?...
V. Gaines
has to be kicking himself. V, who qualified second, ran low elapsed time of the meet in Pro Stock in the first round but he lost when he fouled out.
Did you know
that this was the first time in his career that V. had set low elapsed time in the class, and that's why he's probably kicking himself?
Did you know
that in the entire history of the class, and that spans 664 races, this was just the fifteenth time that a Pro Stock driver recorded low E/T of the race on a losing run? On the bright side of things V. has to be pleased with the way his
Kendall Dodge
is running.
If you think that John can catch Matt then you have to think that LE Tonglet can catch Andrew Hines and win the championship. After all, John is thirty-seven points behind Matt and LE is thirty-four points behind Andrew. The win in Las Vegas, coupled with Andrew's semi-final loss to Matt Smith, means that we'll have an exciting weekend in Pomona and it would seem that the rider who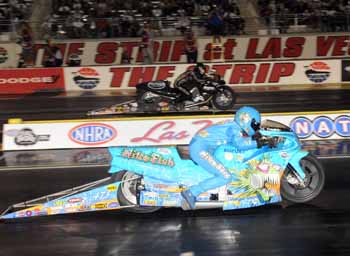 Tonglet vs. Smith
makes the least mistakes (that is, red lights) will probably win the championship. LE's win was his fifth of the year and that's very impressive for a rookie rider or any rider for that matter.
Did you know
that in the Pro Stock Motorcycle class only seventeen riders have won five or more races in their career?...LE qualified ninth in the field and that's a tough spot if you want to win the race.
Did you know
that, in the 306 race history of the class, this is only the fifth time that the number nine qualifier has won the race? It's also only the thirteenth time that a rider who qualified in the bottom half of the field won a race in the bike class....LE is riding very well and it will be interesting to see how the rookie handles the pressure and how the veteran, Andrew, handles it, too. One thing we already know and that is the fact that the motorcycles will have a very exciting weekend in
Pomona
.




NHRA: 10 Most Recent Entries [ top ]

Mar 20- GAINESVILLE - Lucas Oil Drag Racing Series Wrap Up
Mar 19- GAINESVILLE - Sunday Video
Mar 18- GAINESVILLE - Pro Mod Sunday Wrap Up
Mar 18- GAINESVILLE - Sunday Wrap Up
Mar 18- GAINESVILLE - Pro Mod Championship Points
Mar 18- GAINESVILLE - Bonus Points
Mar 18- GAINESVILLE - Championship Points
Mar 18- GAINESVILLE - Mickey Thompson Top Fuel Harley Series Championship Points
Mar 18- GAINESVILLE - Bonus Points
Mar 18- GAINESVILLE - Summary of Eliminations in Top Fuel