Tue, 2 Nov 2010, 12:34 PM



Good and Lucky at The Strip



By Kelly Wade



LAS VEGAS --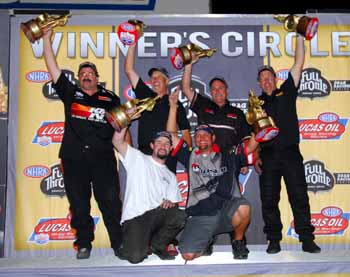 Steve Williams, David Rampy, Mickey Ferro, Jim Whiteley
Kneeling: Tony Mandella and Slate Cummings

Racers in every category were looking to cash in, and at the conclusion of the 10th annual NHRA Las Vegas Nationals at The Strip at Las Vegas Motor Speedway, six Lucas Oil Series competitors hit the jackpot and are headed home with a Wally: Jim Whiteley (Top Alcohol Dragster), Mickey Ferro (Top Alcohol Funny Car), David Rampy (Comp), Tony Mandella (Super Stock), Slate Cummings (Stock), and Steve Williams (Super Gas).
Of course, skill was necessary for all of the finalists, but the Top Alcohol Dragster, Top Alcohol Funny Car, and Comp Eliminator winners were each gifted in the final hour with a red-lighting opponent in the other lane.
Whiteley, leading the points in Division 7, earned his eighth national event victory in his ninth final round when Tigerflow representative Monroe Guest fouled by a thousandth in the closing act. Whiteley's most recent victory was at the season-ending NHRA Finals in Pomona in 2009.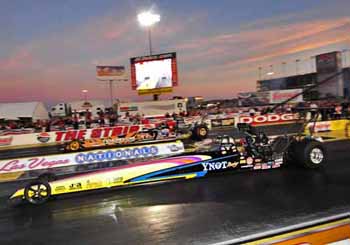 Whiteley vs. Guest
The J&A Service/Rator blown rail piloted by Whiteley was the car to beat all weekend. He earned the fifth No. 1 qualifier award of his career with a 5.354 at 267.06 mph recorded in the first round of qualifying and was the quickest in both of the other sessions.
Whiteley improved during eliminations, bettering his qualifying time with a stout 5.335 to stop Megan Mc Kernan's career best 5.474 in the first round before driving around Brandon Pierce and the Sooner One A/Fueler to log a 5.366 to 5.522 win. In the semifinals, Whiteley tree'd Mike Austin with a way-quick .016 to his opponent's .035, and he needed the edge at the top end where his slower 5.391 beat Austin's 5.377 by five thousandths.
Guest, a five-time finalist and three-time winner this season, qualified 10th and beat Michael Manners in the first round before he got left on by Joey Severance in round two despite an efficient .020 reaction - Severance was .015 at the tree. Guest made up ground and surged ahead of his opponent just past the 1,000-foot marker to advance to the semifinals, where Mark Taliaferro left before the tree was activated.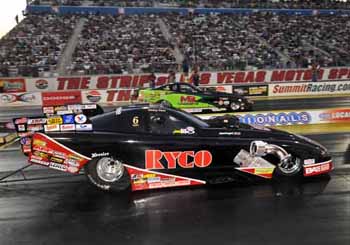 Ferro vs. Gordon
In the Top Alcohol Funny Car closer, Doug Gordon's .053 red light preceded traction troubles, and Ferro drove his Ryco Hydraulics Monte Carlo to his third national event triumph of the season and the fifth of his career. After earning the No. 1 spot with a 5.596 at 256.48, he laid down a speedy 5.559 to put Keeter Ray on the trailer, and in the second act, Ferro's 5.591 was low of the round and easily defeated Alexis De Joria's slowing 5.636.
Semifinals opponent Sean O'Bannon was second off the starting line by five-thousandths and could not make up the difference; Ferro won, 5.601 to 5.651, to preserve his position as second in both the national and Division 2 standings.
Gordon, in the Morro Bay Cabinets Monte Carlo, started from the No. 6 spot and ran his quickest pass of the weekend, a 5.643, to cut Mark Woznichak's weekend short in round one. Second round opponent John Evanchuk lost traction, edged towards the centerline, and had to lift, sending Gordon ahead on another respectable pass to the semifinals where he met up with Reading winner John Bojec. Gordon took a nine-thousandths advantage as they left the starting line and clocked a 5.680 to Bojec's 6.686.
Rampy vs. Edwards
First-time finalist John Edwards fouled by two-thousandths in the Comp Eliminator money round, handing Rampy his 62nd win in the category, the most of any other driver.
Rampy, in his A/EA entry, kicked off eliminations with a .009 reaction to Dean Carter's .006 and cleared the finish line ahead of his opponent's tire-spinning effort, (-.46) 7.98 to (-.45) 7.66. In round two, Rampy went (-.54) 7.98 to defeat Clint Neff's (-.42) 8.52 and carried a .04 CIC penalty to his third-round match with Steve Kent, who held a .15 CIC penalty of his own and fouled out by six-thousandths against the veteran driver. In the semifinals, Rampy was well armed at the hit and launched with a .020 reaction to A/SMA driver Todd Patterson's .068 and ran him down for a ticket to his 121st final round at a national event.
Rancho Cucamonga, Calif., racer Edwards nibbled at his index to stop Wade Oman and Buddy Perkinson then cut a remarkable .002 light and ran closer to the index to beat Scott McClay by .0017 before getting lucky in the semifinals when Anthony Bertozzi lit the red bulb by a thousandth.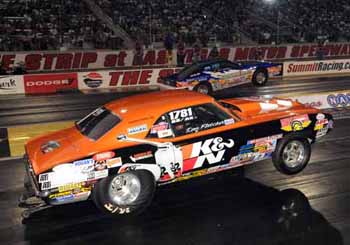 Fletcher vs. Mandella
Super Stock victor Mandella put a nice bullet point on his resume when he drove his GT/DA '87 Camaro to the final round victory over 36-time Super Stock winner Dan Fletcher. The Rancho Cucamonga, Calif., resident nabbed a nine-thousandths advantage at the tree and needed it at the top end; Fletcher was one-thou over his 9.51 dial and Mandella clocked a 9.989 on a 9.98 target to score the victory by .0012.
Mandella's road to picking up his third win in the class included emerging on the winning end of a double-breakout with points leader Ryan McClanahan in the third round, using a better light to stop Bobby Warren in round four, and running closer to his dial to get past Lincoln Morehead in the quarterfinals before advancing to his fourth final-round appearance when Eric Bell red-lighted by three-thousandths in the semifinals.
Fletcher drove his SS/AS '69 Camaro to easy victories in early round matches with red-lighting opponents Alan Falcone and Larry Zavala Jr., and in the quarters, Steve Wann broke out of his 9.92 dial by .008 to Fletcher's 9.580 (9.54) to send the professional sportsman racer on to the semifinals, where Lucas Oil-backed Gary Emmons gave him a challenge at the start with a .019 reaction to Fletcher's .013 but missed his dial by a greater margin.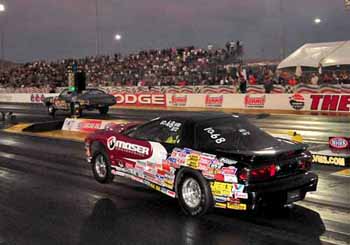 Cummings vs. Nelson
Stock racer Cummings left Las Vegas still in the running for the national championship title after his final-round defeat of Marlene Nelson. Cummings was a tidy .017 out of the gate to Nelson's .079 launch and he needed at the finish line; Nelson ran dead-on her 12.22 dial with a one to Cummings' .048-over 10.68.
The win was the third of the year for Cummings, who was second in the national standings, just 10 points behind Brad Burton, at the conclusion of the event. Driving his B/SA '99 Firebird, Cummings knocked out Jim Storms, a red-lighting Will Kelly and breakout opponents Nick Reiter and Jim Marshall before putting a stellar .005 reaction and 10.697 (10.69) in the books to score the bye run into the final and end Doug Lambeck's quest for the trophy.
Hugo, Minn., driver Nelson wheeled her I/SA '68 Chevelle to an easy opening-round victory over red-lighting Wesley Libby and then launched with a great .011 and clocked a 12.290 on her 12.27 dial to send Kayla Mozeris back to the pits on a .073 start and 11.863 (11.82). Troy Henderson fouled by .011 to Nelson in round three, and in the fourth act, Nelson got the win over Larry Gilley by just .0012 to set up for a quarterfinals match with young Dallas Glenn, who broke out by a thousandth to Nelson's .001-over 12.27. McClanahan was five-thousandths quicker off the line but broke out at the top end in the semifinals to send Nelson ahead to the first national event final of her career.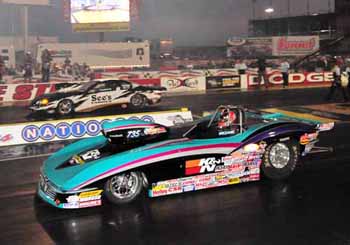 Williams vs. Warn-Skaggs
The Super Gas money round paired '63 Corvette driver Williams with Stephanie Warn-Skaggs and her '05 Grand Am. Williams used starting-line superiority to get the better of his final opponent of the weekend when he was .018 at the hit to Warn-Skaggs' .061, and he sealed it up at the finish line with a 10.115 on the 10.05 altitude adjusted index to his opponent's 10.079 for a .007-second margin of victory.
The win was the third for Williams, who closed in on the final round with victories over tough competitors including Thomas Bayer and Sheldon Gecker. After easing through a fourth-round bye run, Warn-Skaggs got the nod when Ryan Herem fouled by .012 and then advanced to her first final when Max Tafoya Jr. went red in the semifinals.
Lucas Oil Series drag racers will make a final showing at the Automobile Club of Southern California NHRA Finals at Auto Club Raceway Pomona, Nov. 11-14.
Sunday's Lucas Oil Drag Racing Series final results from the 10th annual NHRA Las Vegas Nationals at The Strip at Las Vegas Motor Speedway.
Top Alcohol Dragster -- Jim Whiteley, 5.347, 263.31 def. Monroe Guest, 5.446, 269.89.
Top Alcohol Funny Car -- Mickey Ferro, Chevy Monte Carlo, 5.578, 256.65 def. Doug Gordon, Monte Carlo, foul.
Competition Eliminator -- David Rampy, Bantam Roadster, 7.818, 124.49 def. John Edwards, Dodge Neon, 8.541, 114.66.
Super Stock -- Tony Mandella, Chevy Camaro, 9.989, 131.92 def. Dan Fletcher, Camaro, 9.511, 141.56.
Stock Eliminator -- Slate Cummings, Pontiac Firebird, 10.728, 107.32 def. Marlene Nelson, Chevy Chevelle, 12.221, 106.85.
Super Gas -- Steve Williams, Chevy Corvette, 10.115, 161.30 def. Stephanie Warn-Skaggs, Pontiac Grand Am, 10.079, 160.52.




NHRA: 10 Most Recent Entries [ top ]

Mar 22- LAS VEGAS 1 - Defending Funny Car Winner Tommy Johnson Jr. Excited for Four-Wide Racing
Mar 22- NHRA Northwest Nationals Tickets on Sale Now
Mar 21- LAS VEGAS 1 - Fact Sheet
Mar 21- LAS VEGAS 1 - Event Preview
Mar 20- Strong Stable of Contending Pro Stock Racers Vie for Final Starting Position for K&N Horsepower Challenge
Mar 20- GAINESVILLE - Special Awards
Mar 20- GAINESVILLE - Lucas Oil Drag Racing Series Wrap Up
Mar 19- GAINESVILLE - Sunday Video
Mar 18- GAINESVILLE - Pro Mod Sunday Wrap Up
Mar 18- GAINESVILLE - Sunday Wrap Up