Mon, 25 Oct 2010, 11:26 AM



Feeling Nostalgic



By Kelly Wade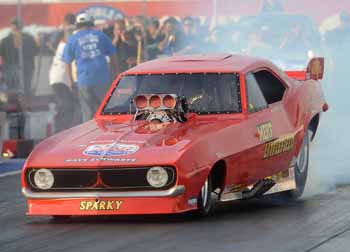 Rupert in the
Mert Littlefield tribute car.
Photo by Auto Imagery, Inc.
Sometimes the best way to move forward is to take a step back, and, in one sense, that is exactly what Jason Rupert did this year as he expanded his focus and grew from a Top Alcohol Funny Car driver into the pilot of a hard-charging Nostalgia Funny Car. Rupert stepped into the drag racing time machine and was quickly rewarded when he drove his Mert Littlefield tribute car to a 5.80 at 245.90 mph to latch onto the second position in the quickest 16-car field in the history of the class at the recent California Hot Rod Reunion at Auto Club Famoso Raceway in Bakersfield.
"I thought we were pretty close when we put that combination together," said Rupert, who pedaled through tire shake in the first round and gave up the win light to Clause LaVoie but set top speed at 250 mph in the process. "That thing actually surprised me. It was almost too easy; I've been racing for a long time, and I've never had it that easy before."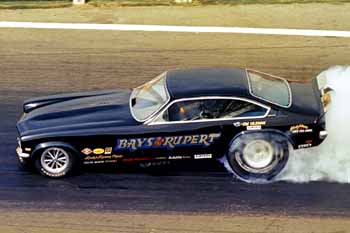 Frank Rupert
Photo by Auto Imagery, Inc.
Rupert speaks of what he knows; he has had plenty of previous track time to compare to his recent nostalgic outing, and what he hasn't observed on his own he has absorbed through his lineage. The 39-year-old Southern California resident is the son of Frank Rupert, a Top Fuel dragster and Funny Car racer whose life was spared but career was abbreviated after a serious accident at the 25th anniversary U.S. Nationals in 1979. Though Frank no longer drives a race car, he has continued to be involved in the sport and is now Jason's crew chief and an invaluable source of information.
The younger Rupert recalled, "Racing was something I always wanted to do, from the time I was a little kid sitting in the back of my dad's truck watching him. I knew I wanted to be that guy. At the end of high school, Richard Bays and Gary Densham asked me if I wanted to help work on their car, and I was like, 'That would be the most exciting thing in the world.' Those guys, along with my dad, are the ones who really got me addicted to this."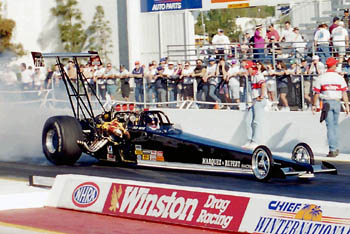 Rupert in the
Rupert & Marquez alcohol dragster.
Photo by Bob Johnson Photography
Rupert accompanied Densham to Australia to race in the early 1990s and soon after formed a partnership with Charlie Marquez on the Rupert & Marquez alcohol dragster. Rupert drove the rail for a couple of seasons but soon he and his father decided they wanted to alter their course a bit; they wanted to go Funny Car racing.
Good friend Ed Vanderwoude, who worked on Frank's cars in the early days, came through with a Pulde chassis and Rupert assembled a motor, and by the mid-1990s, Jason Rupert was officially an alcohol Funny Car driver. The team ran a limited schedule with the support of Forrest and Charlotte Lucas and their Lucas Oil brand, and formed a friendship with young Morgan Lucas, who went on the road with the Rupert team and worked on the car. Eventually, Lucas became an accomplished Top Alcohol Dragster racer himself and now competes in the Full Throttle Series in a Top Fuel dragster.

Lucas and Rupert teams celebrate
'02 Divisional wins at
Auto Club Raceway Pomona.
Photo by Bob Johnson Photography
"We were lucky enough to hook up with the Lucas family early," said Rupert. "They helped us finish the car and get to that first race, and we have had a pretty good relationship with them. They have helped us a lot through the years, just like some other manufacturers and friends who have become partners on the car and kept us going: Littlefield Superchargers, Manton rocker arms/pushrods, Pac Racing Springs, B&J Transmissions, Hussey copper gaskets, GRP rods, Molinari clutches, Bitetto Motorsports, Velasco crankshafts, Brad Anderson Enterprises, creative-metals.com, A&R Powdercoating, Williams Manufacturing, and Power Pros Exhaust.
"We've never really had a ton of money, but we have used our brains and knowledge, and I've been able to build some of the things for the racecar myself to keep the cost down. I mount the bodies and build the wheelie bars and things like that, and I actually enjoy doing it. It just takes time, and that's the hardest part."
He admits that the maintenance and repair on a racecar is never ending, but Rupert spends whatever time he can with his wife, Jennifer, and son Nickolas. He also owns and operates Rupert's Welding and Fabrication in Anaheim, Calif., and through the years, the family has spent a fair amount of quality time playing at the river or in the desert, activities commonly shared with other folks who race out of NHRA's Pacific Division. Accomplished Funny Car driver and respected supercharger manufacturer Mert Littlefield and his family - wife Lee, daughter Kasey, and son Brad - were among the Division 7 cohorts who have bonded on and off the track. Mert Littlefield passed away on September 20, 2010 at the age of 66.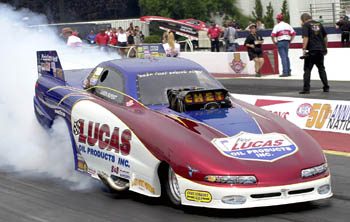 Rupert at the
NHRA 50th Anniversary.
Photo by Bob Johnson Photography
"Mert was like a second father to me," said Rupert. "After my dad crashed, Mert was instrumental in getting him to go out and do things with us again. They knew each other before I was born, and Mert and Richard Bays were partners for a while with my dad acting as sort of a silent partner.
"[There was a time when] I felt a little lost, and Mert said he was having some problems on his car and asked me if I thought it would be a good idea to team up, use my chassis and body and his crew, engine, and drive train. Man, I jumped at that deal, big time. He got me addicted to racing all over again."
Rupert spent much of this year building the Nostalgia Funny Car before he debuted it in August, and prior to that, his most recent trip down the racetrack was behind the wheel of a Top Alcohol Funny Car at the 50th anniversary Winternationals. A non-stellar 2009 season in the class was preceded by an abbreviated 2008 schedule due to a crash at the divisional event at Woodburn Dragstrip, where Rupert ran into trouble in his final round match with Brian Hough when he hazed the tires and backpedaled. The car took a hard right, caught air, and slammed into the wall, launching pieces of the body in the air and erupting into a ball of flames. Rupert was not seriously injured, and the crew later discovered a cracked heim joint that may have been one of the contributing factors in the incident.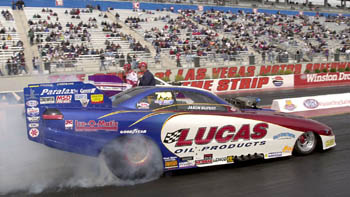 Rupert at Las Vegas in '02.
Photo by Bob Johnson Photography
The upside to Rupert's alcohol Funny Car journey has included two final-round appearances at the national event level (Phoenix 1997 and Sonoma 2007), and a divisional win scored at the only Lucas Oil Series race to take place at Auto Club Raceway Pomona, in 2002. Rupert's win was celebrated alongside Morgan Lucas, who took Top Alcohol Dragster honors at the event. Rupert, claiming Division 6 in 2002, finished second, and he has finished in the top 10 in either Division 6 or 7 five times in the past decade.
"I don't think I've experienced the high point of my career yet," said Rupert. "I think we've been very successful on the budget that we've had to work with, though. I just love driving, and I love the challenge of making the car go down the track. It's not really that easy, although a lot of people said we made it look easy in Bakersfield.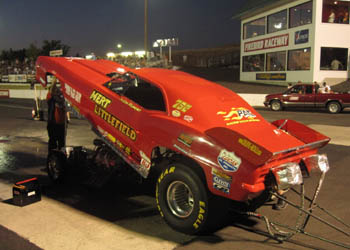 Rupert at the
Boise Night of Fire.
Photo by Matt Bynum
"At Pomona earlier this year, I think we were really close to figuring out the problems we had been having in the alcohol car, and at first I was thinking that we might be able to switch my car back and forth from an alcohol car to a nostalgia car, but between trying to run the business and get everything together, it was just taking so much time. I decided that I really needed to concentrate on one and not both. I didn't decide which one it would be until we went to that first nostalgia race, and I thought, wow, this is fun. Everything is so much more laid back. We did the Boise Night of Fire, and there were hundreds and hundreds of people there lining up for autographs or a picture with you. I always wanted to be part of the big show, and at those types of races, you are the big show. I'm not really egotistical, but it sure does make you feel wanted and appreciated."
Rupert has had help from Gary Densham in getting to nostalgia events; Densham's son, Steven, also made his debut in a N/FC this season. Rupert is grateful for the support he has received from so many folks both in the past and present, including his wife, Jennifer; father, Frank; mother, Brenda; brother, Matt; Dave Schwartz; Matt Bynum; Chuck and Del Worsham; Richard Bays; Ed Vanderwoude; Devery Howard; Billy Payne; Mert, Lee, Kasey, and Brad Littlefield; Andy Wilfong, Lee Kronquist, and everyone at Littlefield Superchargers; Forrest and Charlotte Lucas, Tom Bogner, and everyone at Lucas Oil; and Terry and Noel Manton.
"I still have the dream of someday driving a big car, and I'm not saying I wouldn't run alcohol again, but at this point in my life, the nostalgia deal is really up my alley," said Rupert, who hopes to run up to 10 events next season. "This is a lot more laid back. I feel like I don't spend enough time with my little boy and my wife, and I need to teach my kid how to ride a bike without training wheels, how to throw and catch a baseball - and hopefully he won't get this addiction to racing that I have. Unless I win the lottery or somehow come up with a huge sponsorship deal, I think I'm ready to just enjoy this right now."




NHRA: 10 Most Recent Entries [ top ]

Apr 24- Kalitta Motorsports Welcomes NASCAR Stars to the SealMaster Track Walk in Charlotte
Apr 24- zMAX Dragway Celebrates 10th Anniversary
Apr 24- CHARLOTTE 1 - NGK Spark Plugs NHRA Four-Wide Nationals Brings 40,000 Horsepower Thrill Show to zMAX Dragway
Apr 23- HOUSTON - Lucas Oil Drag Racing Series Wrap Up The NHRA Lucas Oil Drag Racing Series Wrap Up
Apr 23- CHARLOTTE 1 - J.R. Todd Aiming for Two Four-Wide Racing Wins in 2018
Apr 23- Mid America Dragway Joins NHRA Member Track Network
Apr 23- HOUSTON - Special Awards
Apr 23- HOUSTON - Sunday Video
Apr 22- HOUSTON - Sunday Pro Mod Wrap Up