Mon, 18 Oct 2010, 11:10 PM



The Great Ride



By Kelly Wade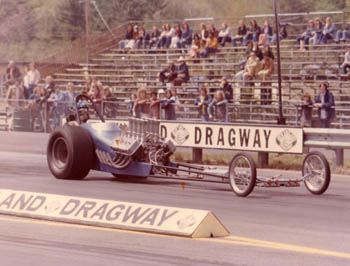 Naves' first dragster.
He doesn't have a tremendous collection of trophies or championship titles, but Top Alcohol Funny Car driver Bill Naves has an abundance of moments to be proud of. He has enjoyed a career packed with diversity and marked by resourcefulness, been up and down - and sometimes side-to-side - on racetracks across the country, raised a family in the sport, and built lasting friendships. Naves is a true racer, and he has plenty to show for it.
For the past 25 years the New England native, who now resides in Salisbury, N.C., and is employed by Larry King Chevrolet in Kannapolis, has been competing in a Top Alcohol Funny Car and fulfilling a goal that was established back in Jr. High when he attended his first drag race.
"A friend of mine had a birthday, and his mother let him take three friends to New England Dragway to celebrate," recalled Naves. "It was a big meet with a lot of Funny Cars, AA/Gassers, and cars of that nature. After seeing that, I knew there was nothing else that I wanted to do. I wanted to be in a Funny Car, and it's been great; there aren't too many people who can say that they've gone to the starting line and in the other lane they've had guys like Frank Manzo, Bob Newberry, Jay Payne, Steve Harker, Mark Thomas, and Jimmy Rector. All the big guys, all the great names, it is just amazing when you look at it."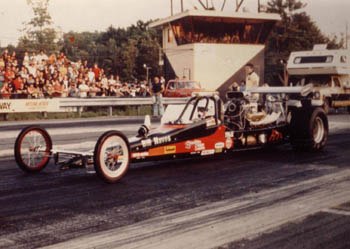 The Don Garlits Shorty
dragster driven by Naves.
Naves took a winding road to fulfilling his dream of driving a Funny Car and started out bracket racing at local tracks before building and running a fuel altered. From there, the ASE Master Mechanic got into a front-engine dragster and then, in the mid-1970s, moved into the short wheel base rear engine rail built and run by Don Garlits and known as Shorty. The car was driven by Phil McKay as a Top Fuel dragster for one season before Naves ran it in Pro Comp with a blown 392 and, later, a small-block Chevy. Naves' wife, Kimberely, licensed for Super Comp in the car.
"We had a lot of fun with that car, and we did a lot of traveling and got to learn different things about supercharged engines that we would never have had the opportunity to experience," said Naves, who also traveled with wheelstander champ Mad Man Marko for several years in the late 1970s and early 1980s and got to drive the wheelstanding Super Bug at New England Dragway while Mad Man Marko was putting on a show in the Young American in Canada.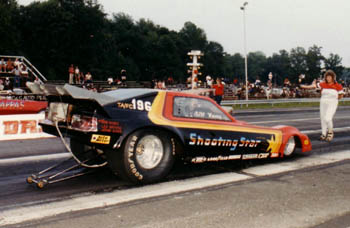 Naves in his first
Funny Car, an '87 Dodge Omni.
"[After driving the Garlits car], we jumped into the alcohol Funny Car class," said Naves. "I eventually hooked up with Arnie Karp and the Boston Strangler team; they found me a rolling chassis, and I took a year and put the car together."
According to Naves' son, Jagger, the '87 S&W-built Dodge Omni was the first in a long line of cars that the team piloted at match races and on the NHRA and IHRA circuit under the Shooting Star Motorsports banner, and during that first campaign they ran what Jagger called a "safe and fast combination" on Nick Boninfante's East Coast circuit. Their original Funny Car project was guided by Karp, Bobby Ellison, Keith Hughes, and Rick McGarvey.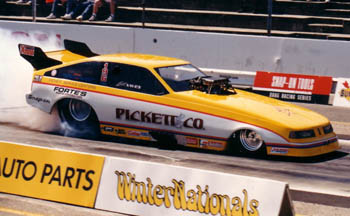 Originally the Boston Strangler
built by Chic Brignolo,
Naves drove this car for then-owner Tom Pickett.
At the time, it was said to be
one of the fastest Alan Johnson
Oldsmobile-powered Funny Cars on the East Coast.
"Those guys really taught me how to go Funny Car racing," said Naves. "I can still remember like it was yesterday Keith Hughes saying to me, 'Do you understand what you're getting into? Running a Funny Car in match racing means you're going to miss a lot of birthday parties and special occasions, and you're always going to be telling your friends you can't do something because you have to get the car ready.' I kind of thought he was kidding. He wasn't."
Fortunately, Naves has had tremendous support on the home front from Kimberely and their four children, Jagger, Matt, Magen, and Mandi. The family has been heavily involved in Naves' racing, and the kids - now all grown up - have each experienced the view from the driver's seat.
"We had one Jr. dragster, built by Mark Rowe, and each of my four kids took turns racing it for three or four years," said Naves." Jagger wound up qualifying to run the first Jr. Dragster Nationals at Indianapolis, so we were there for that inaugural race, and Matt got to do some announcing at the event. I have five grandkids now that live close by, and I get to see them a lot. We play as much as we can, and the truth is, I can't wait for the moment when I can start putting them in a Jr. dragster, too."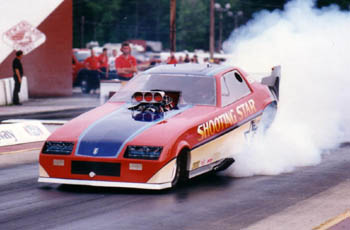 Dan Page reworked the chassis
of this Camaro and Naves
drove it for nearly a
decade beneath different bodies.
The family has worked and played together from day one, but they've had critical support from outside of their bloodline as well. At the track, son-in-law Eric pitches in, and between races, Jason and Clay Higgins, along with Allen Heglar, are on prep work.
"When I started racing, one guy from New England, Mark Rowe, he built chassis and manufactured parts like no one else," said Naves. "You can't begin to describe this man's craftsmanship. He has stepped up and saved me from having to quit so many times in my career, and I've thanked him so many times, but I can't thank him enough. He taught me how to weld, which has saved me thousands of dollars over the years, he let me use his machinery, and he taught me how to run a Bridgeport and make things. You can't even put a price tag on this kind of stuff."
Speaking of price tags, while costs have continued to escalate, the ingenious racer has made a career out of keeping his program running on a very tight budget while still staying within the rules and maintaining a safe racecar.
"I can squeeze 500 dollars out of 50 cents to keep the racecar going," said Naves. "I have had help from so many people who cycle out parts like blower belts and burst panels and let me know when they're done with their stuff, and I get it for pennies on the dollar. I got a lot from Johnny Russo who ran Pro Mod until last year, Jay Blake with the Follow a Dream car, Paul Gill, and Bunny Burkett. Before they passed, Dick Bell, Bobby Martindale, and Neal Parker helped keep me going.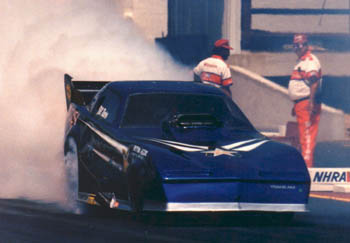 In the Firebird previously
piloted by Chuck Etchells.
"It's kind of like the movie Rudy. I can relate to that character: it's something that you really want to do, but you know you have no business being there. You're not the right size, and you don't have the right qualifications, but you'd do just about anything to be part of it."
Naves has paid his dues in the great sport of drag racing despite a smallish wallet, and in addition to financial resourcefulness, he has shown resilience and persistence. Three times he has been involved in a major mishap on the racetrack, all of which have boiled down to, according to Naves, driver error - though sometimes the driver error has been in simply starting the car.
The most recent accident occurred at Eastside Dragway in Waynesboro, Va., and it was severe enough to destroy his car, but not his spirit, thanks to a few friends. Naves had kind words for Delbert White, Ray Murphy, Bunny Burkett, Plaistowpowersports, Horton Racecars, and Richard Hartman Machine for each playing a part in getting his car back together so efficiently and getting him back out there to do what he loves.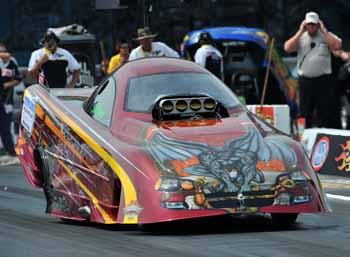 Naves' current Funny Car.
Photo by Auto Imagery, Inc.
The look of his current car is completely different than any he has run in the past; it's an '06 Dodge Stratus body purchased from Tim Stevens with an eye-catching gargoyle scheme painted by Eric Black of Burlington, N.C., but his appreciation of driving it is just the same as ever. Though his 2010 season is complete, Naves is looking ahead to next year and hopes to begin early at the Division 2 race in Gainesville and continue a full match racing schedule.
"I'd like to get back up in the top 5 in the division," said Naves, who finished fourth in Division 2 in 2006. "Aside from that, I've been to 70 different racetracks from Canada to Florida, and I'd really like to get that number up to 100 somehow. In my high school yearbook as a goal I put that I wanted to race at every dragstrip in the country. I was from New England and we only had one in Connecticut, one in Maine, and one in New Hampshire then, so I figured what could there be, one in every other state? I was so naive, and as I grew up and started going to them all, I was pretty surprised.
"But we're working on it. This has been a great ride, and I'm really thankful that I've been blessed with the people and the help and the family that I have. I hope to do this a few more years. I keep watching these guys who are older than me, and I keep thinking, okay, I can do this a little longer. We'll keep our finger crossed."




NHRA: 10 Most Recent Entries [ top ]

Apr 21- HOUSTON - Sunday Schedule
Apr 21- HOUSTON - Saturday Video
Apr 21- HOUSTON - Saturday Wrap Up
Apr 21- HOUSTON - Super Stock Class Eliminations Finals
Apr 21- HOUSTON - Funny Car Qualifying, Session #4 Bonus Points
Apr 21- HOUSTON - Total Qualifying Bonus Points
Apr 21- HOUSTON - Funny Car Eliminations Ladder
Apr 21- HOUSTON - Funny Car Final Qualifying, Session #4 Order
Apr 21- HOUSTON - Top Fuel Qualifying, Session #4 Bonus Points
Apr 21- HOUSTON - Pro Stock Qualifying, Session #4 Bonus Points