Wed, 25 Aug 2010, 09:26 PM



Those Iowa Boys



By Kelly Wade


Photo copyright 2010 Auto Imagery, Inc.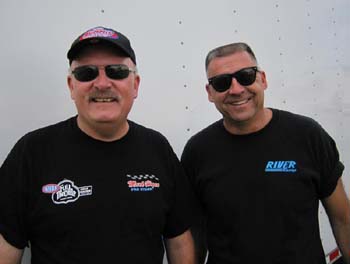 Mark Hogan and Dave River
Photo by Kelly Wade
The American Heartland is enriched with fertile soil capable of producing bountiful crops, and the guys and gals who have tread upon that soil for eons have been born and bred with the ability to tirelessly tame and cultivate it. They are a typically hard-working and persevering bunch, resilient and dedicated by nature, and Iowa Pro Stock racers Dave River and Mark Hogan certainly fit that mold.
Hogan, of Dubuque, and River, who hails from Maquoketa, are both still fairly new to NHRA competition, but despite running limited schedules, they pour heart and soul - and, of course, plentiful sums of cash-into their respective blooming Pro Stock programs. The two live approximately 30 miles from one another in the Hawkeye State, and although they don't always travel together, they generally pit next to one another at events. They also both qualified at an NHRA event for the first time at the 2009 O'Reilly Mid-South Nationals in Memphis.
"That was neat, but it was probably too early for that to happen, though, because we thought, 'This isn't that difficult,' " chuckled Hogan. "I knew racing Pro Stock was going to be extremely difficult, really. People ask us if we're nuts, but I always wanted to do it. It was all I ever talked about from the time they came out with Pro Stock when I was about 15. The cost kept escalating, and that's mostly the reason I kept waiting. But eventually it got to the point where I realized, if I don't do this soon, I'm going to be too old. I'm in my mid-50s now, and I decided I had to start, even if it was on a limited basis."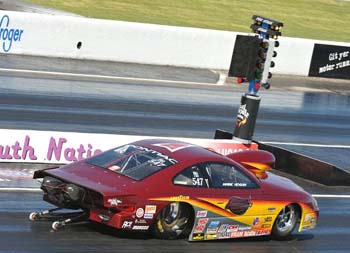 Hogan qualified for the
first time in Memphis last season.
Hogan, who had his first go at a drag strip - Cordova Dragway Park in nearby Illinois - in a '67 Chevelle in 1974, made a brief appearance on the NHRA scene in the early 1990s in a Jerry Haas-built Grand Prix but quickly realized there was no way he was in shape to be competitive with his combination, and he backed off. Hogan continued to race, though, and ran Mid-America Pro Stock with River for a spell, chipping away at the intense challenge of becoming competitive in a very tough class.
"We started out in 1999 with a mild big block motor so that I could get back to driving, and we got it to run in the 9s. The next year we put parts from a motor I had together and made it run low 8s, and then we got it to run high 7s, and we just kept working. I didn't want to jump into something real fast. We eventually put the motor back together the way it was in 1990, and we got it to run mid-7s. Then we put the motor in the car we have now and it ran 7.20s. That would have been enough to qualify back in the early 1990s, but the cars have gotten better. They're easier to drive, and they can handle the horsepower better."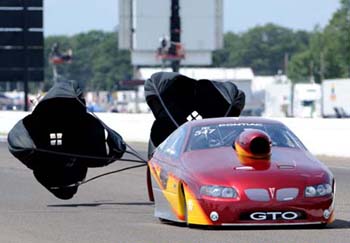 Hogan in his Brainerd debut in '08.
In 2008, Hogan decided it was time to return to NHRA competition, and he hauled his '07 GTO to Brainerd with an engine built from parts and pieces formerly used by four-time Pro Stock world champion Jeg Coughlin Jr. The combination produced 7.0s, and in just his second event, at Memphis that fall, Hogan broke into the 6s with an encouraging 6.995 at 197 mph. The following season, he purchased an improved engine from a competitive Pro Stock team and has been running with it since. Upon his return to Memphis in 2009, Hogan recorded a then-career best 6.756 at 206 mph, and in Joliet, he improved his quickest e.t. with a 6.735.
For the 2009 season, Hogan was joined on the tour by fellow Iowan River, whose drag racing future was sealed after meeting his idol, Lee Shepherd, at a local track in the early 1980s. Shepherd had been in town to compete in a match race with Bob Glidden.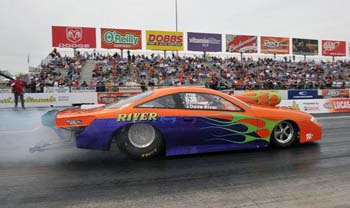 River made his NHRA debut
at the 2009 event in St. Louis.
"I was hooked before that, but Lee Shepherd was very, very nice," said River, who was deeply affected by the experience. "He would let you walk into his trailer, talk to him, and he'd sell you a tee shirt for ten bucks - which I still have. I was crushed when he was killed; he was my hero." From the experience, River gleaned that drag racing could be a positive, family-oriented environment, and eventually, he found that to be true firsthand.
River's first NHRA event was in St. Louis last season, but he had been running with the Ozark Mountain Super Shifters, a Midwest-based group paid to show at tracks, since 1994. The stick shift group is packed with cars free of delay boxes and throttle stops and includes an array of entries from nostalgia cars to late model Pro Stockers, and River campaigned an '89 Firebird originally built for veteran Northeast racer Joe Sway.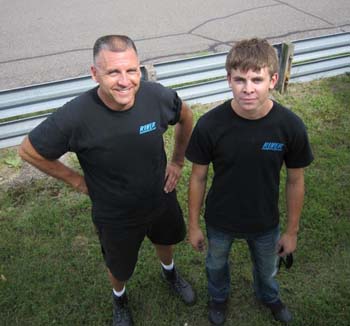 River and his son, Robert.
Photo by Kelly Wade
In keeping with the family theme of the sport, River's now 26-year-old daughter, Amanda, had her time in the Firebird and became the first female member of the Ozark Mountain Super Shifters and the youngest driver (up to that point) at the age of 17. Amanda, currently in her fourth year of med school at the University of Iowa, now watches her younger brother, Robert, drive the family car in the group, and Robert took over the title of youngest member ever when he slid behind the wheel at 16.
"Robert wanted to drive," recalled River, whose first quarter-mile adventure took place in a big-block powered '70 1/2 Z28 Camaro in 1979. "He didn't grow up in Jr. Dragster or with street cars. We started him at Cordova last year (in the Firebird). We live near the track and rented it in April, just him and I with some friends and family so that he could get experience without a lot of pressure. Since then, he's become very polished, and he has the opportunity to do very well. Last year, at 16, he went an 8.72 at 155 mph. I was 39 years old before I went that quick and fast.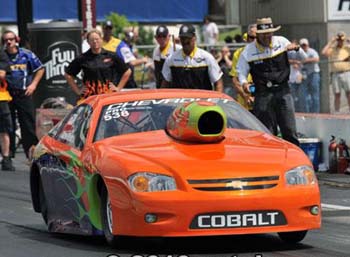 River in his '10 Chevy Cobalt.
"I'm very proud of him and of all the kids - Amanda and our 21-year-old daughter, Ashley, as well. She was diagnosed with a form of bone cancer on March 23rd of 1999 and went into treatment. Ashley has had four major surgeries, but she got through it and has done very well."
River receives much support from his family, especially wife Paula, a nurse manager by trade. The kids are the crew, along with friends who have been able to attend the races: longtime buddy "Shark" and Super Gas racer Terrel Hobbiebrunken have been generous contributors to the team efforts.
Robert, also a standout baseball player who is already being scouted by colleges, helps with maintenance on both the Firebird and his dad's '10 Cobalt Pro Stocker fitted with a Steve Schmidt engine in the shop at home, and he can do nearly everything dad can on the cars. River feels that he is setting his children up for success if they choose to pursue racing. "This is something that, if the kids want to do it, they can. I told Robert, if you try it and don't like it, don't do it. Do not do it for me. But if he wants to, it's a heck of an opportunity and one that I wasn't afforded at that age," he said. "It was kind of cool in Brainerd; in the staging lanes Paula was towing the car forward and Robert was in the driver's seat. He said to me, 'Get used to this sight,' as he rolled by."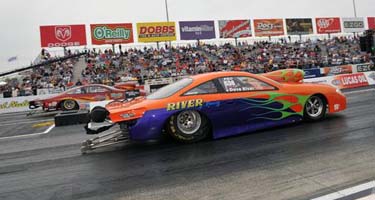 River vs. Hogan
Though River may someday be standing behind the car watching his son compete in NHRA Pro Stock, this is his own time to wear the driving gloves. Since he began racing in St. Louis last season, River set his career best in Memphis last year with a 6.794 at 202 mph and has been on site and ready to compete at 10 Full Throttle Series events, including the 2009 Mac Tools U.S. Nationals at O'Reilly Raceway Park at Indianapolis, a prestigious event that he is looking forward to having another shot at this season.
"We know Indy will be very, very tough. Eventually, I'd like to get enough power to be competitive and qualify at some of these races that we run," said River. "We know it takes a lot more power and probably even some more smarts. Once we qualify, then we want to win a round or two. At this point, at least we can say we qualified for one race. Hopefully, there will be more.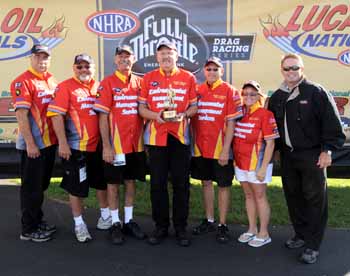 Hogan and his team accepting
Best Appearing Crew award
in Brainerd this year.
"When Ashley went into treatment, it taught us that this stuff may be important, but it's not life or death. It's not what's really important, because what's really important is family and relationships."
Hogan - who is helped by Jeff McLaughlin, Mike and Monica Halverson and their son James, Steve Myers, and Steve Siepp - agrees with River's approach.
"We just want to get better," said Hogan. "Realistically, we didn't think we'd be able to be competitive at all, but the motor is better than I thought it would be, and the driving isn't quite there yet - these things are harder to drive than they look - but it will come around. We know we're not capable on a limited budget and with a limited schedule of competing with the top teams, but we're just hoping we can have fun. Without all the volunteers we have, we couldn't do this. They're making sacrifices to come to the races to help me live my dream. They enjoy it, but I don't think they're having quite as much fun as I am."




NHRA: 10 Most Recent Entries [ top ]

Apr 21- HOUSTON - Sunday Schedule
Apr 21- HOUSTON - Saturday Video
Apr 21- HOUSTON - Saturday Wrap Up
Apr 21- HOUSTON - Super Stock Class Eliminations Finals
Apr 21- HOUSTON - Funny Car Qualifying, Session #4 Bonus Points
Apr 21- HOUSTON - Total Qualifying Bonus Points
Apr 21- HOUSTON - Funny Car Eliminations Ladder
Apr 21- HOUSTON - Funny Car Final Qualifying, Session #4 Order
Apr 21- HOUSTON - Top Fuel Qualifying, Session #4 Bonus Points
Apr 21- HOUSTON - Pro Stock Qualifying, Session #4 Bonus Points