Wed, 28 Jul 2010, 10:54 PM



Happy 25th, Mr. Lewis



By Kelly Wade


Photo copyright 2010 Auto Imagery, Inc.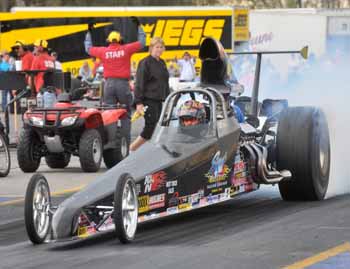 Lewis in Top Dragster
at the 2010 Cajun SPORTSnationals.
This year, Super Gas racer Jimmy Lewis celebrates 25 years of competing in the well-stocked and very tough 9.90 category; it was 1985 when the Forney, Texas-based driver joined his bracket racing buddies as they moved into NHRA competition. Since then, Lewis has experienced the every day ups and downs of winning and losing, and he's also felt the extraordinary high of earning a world championship title and the crippling low of crunching a car on the track and not knowing if a return to racing in the category was in the cards.
Lewis has almost done it all.
"Well, I'd still like to win Indy," contemplated Lewis. "And maybe the world championship again."
Those aspirations may come across as somewhat lofty -- winning the prestigious U.S. Nationals is on the to-do list of many drag racers, and one world championship is more than most will ever see -- but Lewis has a good record and is constantly pushing himself, qualifying his casual statement as more of a list of goals rather than general wishes.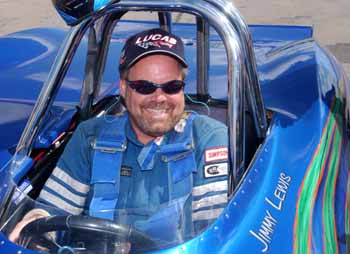 Jimmy Lewis
In addition to winning the Super Gas world championship in 1998, the two-time Allstars victor won a pair of Division 4 titles (1998 and 1999), he has 11 event wins at the divisional level, and his cumulative scorecard reflects six victories in 14 final rounds at national events, including a Super Comp runner-up in Indy in 2006. He has also won numerous IHRA events and division championships and scored at big money bracket races.
Lewis isn't one to be taken lightly and, for the past two seasons, has finished in the top 10 in the division, not just in Super Gas, but also in Top Dragster. The current Division 4 points leader, who drives the Sunset Racecraft-sponsored and Buddy Wood-owned '58 Corvette, isn't content with just one entry. Lewis competes in Super Comp and Top Dragster in his'08 Undercover dragster.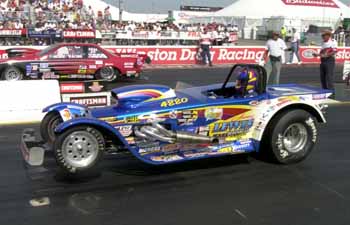 Lewis in his original
Brogie roadster in 2001.
"If they'd allow it, I would drive in all three categories at one race," said Lewis. "It gets hectic with two, but I've got good help and good equipment, so I would try a third one. About 20 years ago, they did let us, but at that point I was doing good to run one."
The hungry racer got his start behind the wheel of a little Volkswagen Bug soon after getting his driver's license. He bracket raced his Vee Dub at the local track and, for a bit, had a street bike that he competed with as well. The '67 Camaro that Lewis next acquired was the race car that would take him into the world of Super Gas, and he scored his first win in it, at the 1987 Cajun Nationals where he beat Sherman Adcock Jr.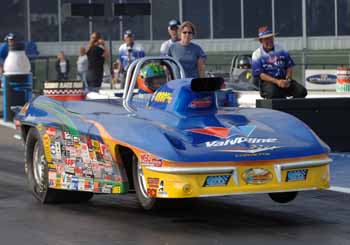 The roadster with the
'64 Corvette body in 2006.
Lewis wheeled the classic Chevy until 1994, when he bought a Brogie roadster, and eight years later, he put a '64 Corvette body on the roadster chassis and kept right on racing. The 2006 season brought a shocking, albeit temporary, halt to his program, though, when Lewis rolled the roadster in Tulsa at an IHRA event while trying to avoid an opponent whose throttle had hung open, forcing him to cross in front of Lewis and crash head-on into the guard wall.
"I was ready to quit, but too many people called and offered help, mainly my sponsor at Sunset Racecraft, and I was only out for probably a day," recalled Lewis. "Other than that crash, I haven't had too many struggles. The cost of racing and getting to the races is continually going up, but it's the same for everybody, and we all love it so much that we somehow find a way to keep doing it."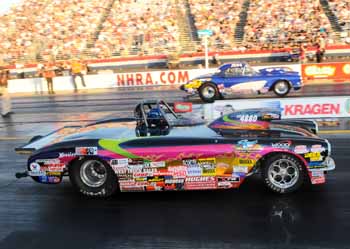 Lewis vs. Brad Pierce
at 2010 Winternationals final.
Lewis launched into the 2010 season with a runner-up at the 50th anniversary Winternationals and has been steady in the points chase since; he is currently fourth in the nation and still has a bunch of races on the calendar to cross off. He isn't exactly counting markers, though.
"To be honest, I haven't even looked at the points," he said. "In years past, I kept up with them race by race, and I knew exactly who did what and when and how, and what I needed to do. I've gotten caught up in the points battle and I spent too much time worrying about that instead of just racing. This year, I'm just racing. When I pick up a National DRAGSTER and read it, I'll look at the points, but that's about it. It takes too much away, and I just need to focus on winning rounds. The points will come."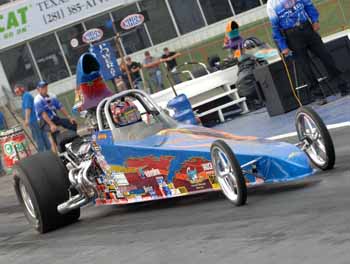 Lewis in his Super
Comp dragster in 2007.
Lewis is able to devote ample time to racing thanks to his job as a mechanic with Southwest Airlines. Working double shifts early in the week allows him to take time off and go racing, and on weeks where he isn't heading off to tracks around the country, he is able to pick up a couple of shifts to fill the space. Another perk of working for the airline is the availability to fly in and out of events if necessary, although Lewis and his wife, Phylis, often drive in the rig together.
Phylis and Sunset Racecraft owner Tracy Dennis -- who is the engine guru assigned to both cars and a major contingency sponsor with displays in the main sportsman pit area -- regularly join Lewis at the racetrack, as does car owner Wood. The reliable parts and pieces that keep Lewis in the thick of the competition come from Hughes Performance, K&N, Hoosier tires, VP racing fuel, and Moroso, among others.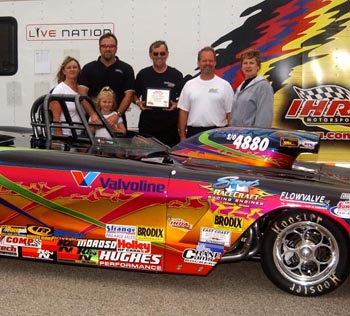 Sam & Tracy Dennis,
Buddy Wood and
Jimmy & Phylis Lewis
Photo by Robert Grice
Lewis acknowledged the support of Tracy and Sam Dennis at Sunset Racecraft Racing Engines, Buddy and Karen Wood and Chet and Jade Tucker at Wood Flowline Products, Faron Lubbers at Hoosier, Steve Williams at K&N, Jim Hughes and Kevin Kleinweber at Hughes Performance, John Adamson at TSI, Scott Hall at Moroso, and Ronnie West at West Truck Sales.
"Every year I always start out with winning the championship as a goal, but it's just so tough to win nowadays with so many good competitors and cars," said Lewis. "I race just as hard no matter what, and Super Gas has always been where my heart is since I first started running it. I've always loved the 9.90 class, and I'm still having a blast."




NHRA: 10 Most Recent Entries [ top ]

Apr 24- CHARLOTTE 1 - Fact Sheet
Apr 24- Kalitta Motorsports Welcomes NASCAR Stars to the SealMaster Track Walk in Charlotte
Apr 24- zMAX Dragway Celebrates 10th Anniversary
Apr 24- CHARLOTTE 1 - NGK Spark Plugs NHRA Four-Wide Nationals Brings 40,000 Horsepower Thrill Show to zMAX Dragway
Apr 23- HOUSTON - Lucas Oil Drag Racing Series Wrap Up The NHRA Lucas Oil Drag Racing Series Wrap Up
Apr 23- CHARLOTTE 1 - J.R. Todd Aiming for Two Four-Wide Racing Wins in 2018
Apr 23- Mid America Dragway Joins NHRA Member Track Network
Apr 23- HOUSTON - Special Awards
Apr 23- HOUSTON - Sunday Video
Apr 22- HOUSTON - Sunday Pro Mod Wrap Up