Wed, 14 Jul 2010, 08:30 PM



Neon Express



By Kelly Wade


Photo copyright 2010 Auto Imagery, Inc.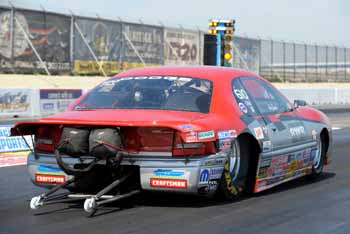 John Edwards at the
Pacific SPORTSnationals.
The intensity of drag racing has long been known as a powerfully attractive force that can grow to consume every waking thought if allowed, but So Cal Competition Eliminator racer John Edwards has managed to keep his passion in perspective with a diverse balance of work and play. This weekend, Edwards will set business aside as he rolls into Sonoma with his very quick C/AA Neon to compete at the Fram Autolite NHRA Nationals and restore the old adrenaline reserves.
Infineon Raceway is a short seven hour drive north for the Claremont, Calif., resident, and the racetrack - handily tucked in between the quiet Sonoma Valley wine country and the hubbub of San Francisco - is a familiar quarter-mile stretch; in 2009 Edwards set the C/AA record for e.t. with a 7.33 blast at the divisional event, a feat that extended his possession of the class record to four years and counting.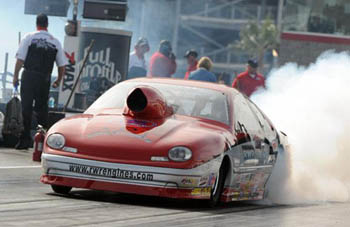 Edwards in his
'99 C/AA Dodge Neon.
Quick trips down the 1320 are just a small part of Edwards' life; he has been self-employed for the past 40 years as a real estate developer who also owns cattle ranches and farms as well as crab fishing boats in Alaska, and he sits on the board of directors for three publically owned companies. As varied as his interests may be, a few are tied neatly together by location: His excavating and contracting business, J.D. Edwards Company (JDE), is located in an industrial park a literal stone's throw from Auto Club Raceway at Pomona, and the energetic business man houses his race car right there at the office.
"I'm a very busy person," said Edwards. "I don't sit still, and I like that this is the kind of sport where there is only one winner. I thrive on the competition."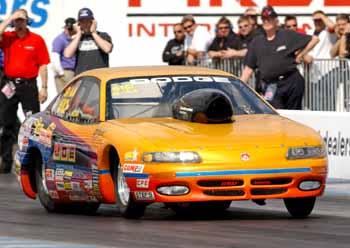 Edwards in his Avenger in 2004.
Edwards heard the call of the drag racing scene in his youth. Growing up in the Midwest, Edwards and his brother, Don, started off racing a '55 Chevy powered by a small block at an airport dragstrip in Sturgis, Ky., and when they moved with their folks to Southern California during high school, they had some good times out at Old San Gabriel Drag Strip until Irwindale Raceway opened. The brothers souped up the '55 bowtie with a big block and a four-speed in 1966 and regularly ran the No. 1 Money Bracket.
"We did alright," recalled Edwards. "We won our share, but we were just having fun."
These days, Edwards races alongside some of the best in the business in an intensely competitive category, but he appreciates the challenge and has not veered from piloting a Comp entry - originally Street Eliminator - for a notable length of time except for a stint to raise a family and focus on business ventures. Since 1994, he has been a regular participant throughout Division 6 and 7 and twice has earned runner-up honors at divisional events, once in Mission, B.C., and then again in 2000 at The Strip at Las Vegas Motor Speedway.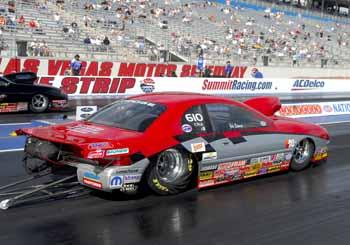 At the Strip at
Las Vegas Motor Speedway in 2008.
His ultra fast Neon is no Pro Stock hand-me-down and was originally built for Craig Eaton by Don Ness specifically to race in Comp. Edwards purchased the car complete and running from Eaton four years ago, and it's powered by a Rick Watters Racing engine. Watters, an esteemed engine builder whose assortment of customers includes hard-hitting competitors like Vinny Barone, Charlie Greco, Dean Carter, and Anthony Bertozzi, has been generating horsepower for three decades, and in addition to building the engines for Edwards' doorslammers, he is also crew chief, with Edwards' brother Don fulfilling the role of car chief. The Watters/Edwards partnership is mutually beneficial; in exchange for his good friend's masterful tuning services, Edwards does double-duty during qualifying and tests parts and pieces for RWR Engines.
"I don't pursue the championship as hard as a lot of the guys do," said Edwards. "And I like the testing portion of it as much as the race portion. That's probably why we don't win many races, but we always go fast. I'm heavily involved with Rick and his engine development, and we try to do everything to keep the customers up. There are no two engines alike, and we're continuously trying to improve. There aren't very many Hemi's in Competition Eliminator, and we've run them since day one - Rick and my brother are just a wealth of knowledge."
Last season, Edwards had the chance to help out a Rick Watters Racing Engines customer when ownership of the Beretta driven by Sal Biondo changed hands late in the season. Barone and Edwards partnered to give Biondo a last-minute shot at the Division title, helping the Northeast racer license out west in Edwards' car the day before the do-or-die Las Vegas divisional.
"Thursday was the first pass Sal had ever made in that car, and he had never driven a car that quick," said Edwards, who had been No. 1 qualifier at the SPORTSnationals in Fontana earlier that season. "He licensed that day, and Friday he qualified well. He didn't win the race and so he didn't win the championship, but he runner-upped, and I didn't really know he would do that good. I expected him to go at least two or three rounds, but to go to the final was outstanding."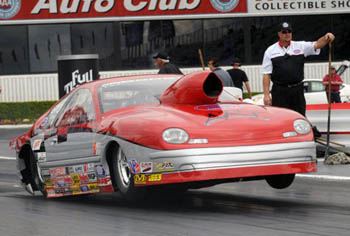 To round out this season, Edwards plans to compete at the national and divisional events in Sonoma, head over to Bakersfield, Calif., for the make-up of the postponed Phoenix national event, knock out both the national and divisional races in Las Vegas, and then wrap up at the Finals in Pomona. He may not quite be in the hunt for the championship, but he is still enjoying every step of the adventure and ultimately would like to score a top 10 finish before he even considers putting his drag racing days in the been-there, done-that category.
"I'd like to win one of these races sometime," said Edwards. "That would be nice, but so would a lot of guys. I don't look at life as having challenges, though. I'm a person who lives life to the fullest all the time. I go out there to have fun, and the fun is in the challenge, in the hunt. I'm the kind of guy who doesn't have the word 'no' in his vocabulary."




NHRA: 10 Most Recent Entries [ top ]

Mar 21- LAS VEGAS 1 - Fact Sheet
Mar 21- LAS VEGAS 1 - Event Preview
Mar 20- Strong Stable of Contending Pro Stock Racers Vie for Final Starting Position for K&N Horsepower Challenge
Mar 20- GAINESVILLE - Special Awards
Mar 20- GAINESVILLE - Lucas Oil Drag Racing Series Wrap Up
Mar 19- GAINESVILLE - Sunday Video
Mar 18- GAINESVILLE - Pro Mod Sunday Wrap Up
Mar 18- GAINESVILLE - Sunday Wrap Up
Mar 18- GAINESVILLE - Pro Mod Championship Points
Mar 18- GAINESVILLE - Bonus Points