Mon, 28 Jun 2010, 08:54 PM



Norwalk Know-How



By Kelly Wade


Photo copyright 2010 Auto Imagery, Inc.





NORWALK, Ohio --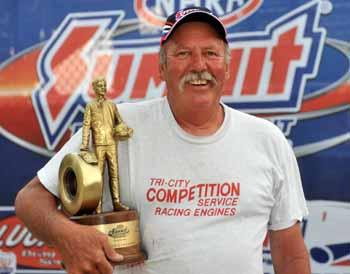 Ben Wenzel
The Summit Racing Equipment NHRA Nationals stuttered in the midst of the sportsman final rounds but finally drew to conclusion in dramatic fashion late Sunday afternoon between a pair of signature Midwestern downpours. Stock racer Ben Wenzel last won at the 1967 U.S. Nationals and finally made it back to the winner's circle but had to beat the best to make it happen, and Bill Reichert (Top Alcohol Dragster), Frank Manzo (Top Alcohol Funny Car), Al Ackerman (Comp), Mike Walter (Super Stock), Kyle Cultrera (Super Comp), Dan Northrop (Super Gas), and James Monroe (Top Dragster) also celebrated Norwalk triumphs.
Though the stands weren't packed to capacity due to the series of drenching storms, all eyes remaining on site were on Wenzel and final-round opponent David Rampy, a killer competitor with more collective victories than almost anyone else in the sport. His 73-47 multi-category win record entering the round did not prove to be a factor, though, as Wenzel tree'd him, .014 to .057, and then ran five-thousandths over his 10.63 dial to best Rampy's breakout 11.350 (11.38).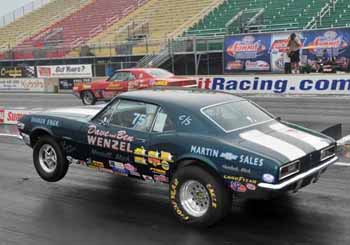 Wenzel vs. Rampy
Freeland, Mich., resident Wenzel, driving the same C/SA '67 Camaro Z28 that he scored the win over Ken Gunning with in Indy 43 years ago, put away Bo Kenney in the first round on a huge holeshot, was on the winning end of a double-breakout with James Perrone in round two, got the nod in the third round when Ed Fernandez fouled, defeated Jeff Strickland by just nine-thousandths in the quarterfinals, and then advanced to the final when sportsman ace Peter Biondo red-lighted by just .001. The Norwalk money round was Wenzel's first since falling to Biondo at Chicago in 2005.
Their were no surprises in the Alcohol finals as Reichert, in his 42nd final round, reeled in the dragster title and Manzo kept on the flopper win wagon with his 28th consecutive and 88th career national event victory.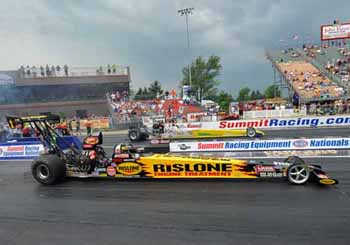 Bill Reichert
Reichert piloted his Bars Leak/Rislone A/Fueler to a 5.384 to 5.449 defeat of Mike Kosky in the closing match after leaving him on the starting line, .083 to .102. After qualifying No. 1 with a 5.358 that was better than second-quickest Darren Nicholson by a couple of hundredths, Reichert picked up a single in the opening act and blasted to a 5.355 for lane choice over Robin Samsel in round two, where Samsel was super late on the launch, could not recover, and had Reichert in clear view as he charged ahead for the win.
Fellow finalist Kosky, who also runner-upped in Englishtown, got a freebie when Nicholson was a no-show in the semifinals, and Reichert put on an excellent show in his semifinals competition with Ken Perry. Reichert was first off the starting line by a smidge, .076 to .099, but Perry took the lead in his blown rail early and held on until Reichert nudged past just after the 660-foot timer to win by .039-second.
Manzo vs. Ferro
Al-Anabi Racing's Manzo and Ryco Hydraulics Monte Carlo driver Mickey Ferro continued their series of final-round tangles with a fifth rendezvous of the year. No. 1 qualifier Manzo left first, .034 to .052, and crossed the finish line first, 5.602 to 5.623. Ferro, who qualified No. 2 in Norwalk, has tallied one round-win over Manzo in their previous 10 meetings but has yet to get the best of the reigning series champ in a title round.
John Hart was a bit too anxious and double-stepped in the first round before the tree was activated, allowing Manzo an easy win despite problems that led to an early shut-off. Round two was highlighted by Manzo's low of the round 5.588 to stop Clint Thompson, and in the semis, the freight train from the Northeast put a 5.595 on the scoreboard after Permatex/Follow A Dream driver Todd Veney, whose crew scored Best Appearing honors at the event, ran into trouble before he could even get his Impala staged.
Ferro got the W over Wayne Butler, Paul Gill, and Steve Harker before closing out eliminations with another chance to try to end rival Manzo's winning streak.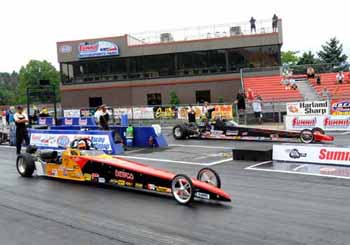 Ackerman vs. Browell
After a weather delay that halted sportsman finals with just four categories left to decide, Comp victor Al Ackerman, in his F/D entry, recorded an efficient .018 launch to three-time Atlanta winner Brian Browell's .035 and claimed the title with a (-.53) 8.56 to (-.53) 7.77.
Ackerman, runner-up to Vinny Barone in Atlanta earlier this season, remained CIC penalty-free until taking a bite in the semis to put Rampy on the trailer after logging round-wins over Jim Greenheck, Steve Ambrose, and Nick Panagiotaros. On the other side of the ladder, Browell advanced from round one after Larry Pritchett was a no-show and then stopped Glenn Butcher but accumulated a 0.01 CIC penalty. Round-three opponent Robert Bailey carried a 0.07 penalty into their match that worked against him when Browell cut a .013 light to his .089 and went (-.51) 7.78 to (-.49) 7.12 for the go-ahead. Browell was an awesome .004 at the tree in his semifinals round with Santo Volpe and was closer to the index at the top end for a ticket to the final.
Walter vs. Duncan
The 2007 Super Stock event winner Mike Walter scored again in Norwalk with a slim three-thousandths margin of victory over Jeremy Duncan. Walter, of Paris, Ohio, drove his GT/JA '92 Formula off the starting line a thousandth behind Duncan's .024 start but clocked a 10.783 (10.78 dial) to narrowly edge his opponent's respectable 9.857 (9.85) for his eighth national event win.
Walter was unfazed by Chuck Gallagher Jr.'s ultra quick .003 reaction in the eliminations opener and survived the double-breakout competition before advancing easily when Kenney broke before staging. In the third round, he ran dead-on his 10.65 dial to shut out Byron Worner and then was a clean .008 out of the gate with a 10.798 (10.75 dial) to end Jeff Dona's day. Walter put together a fine package in the semifinals, pairing a .014 reaction with a one-thousandth over 10.79 to send Brad Zaskowski back to the pits empty-handed.
Charlestown, Ind., racer Duncan picked off Ricky Decker, Bob Marshall, Andy Kronenbitter, and Larry Hodge before running two-thousandths over his 9.86 dial to end Biondo's quest for success.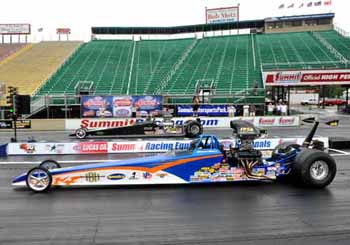 Cultrera vs. Taylor
First-time winner Cultrera, who hails from Eliot, Me., was absolutely on his game in Super Comp, recording a cool .002 reaction in round one to John DiBartolomeo's nearly as great .007 and then running closer to the 8.90 index for the win in their double-breakout contest. The keen display of skill continued with a .011 and .001-second over effort to stop Troy Coughlin Jr. and .017 and 8.937 to eliminate Joey Cambria. A supremely impressive .002 and dead-on 8.90 in the quarterfinals was too much for Scot Lamar, and in the semifinals, the hits kept on coming when Cultrera kicked Samantha Kenney out of contention for the title with an increasingly predictable remarkable reaction (.005) and a closer to the index breakout pass. In the final, John Taylor, fresh off of a semifinals bye run, had nothing for the kid at the tree with a .051 to Cultrera's worst of eliminations .025, and Taylor's 8.936 to 8.935 simply wasn't enough to compensate.
Northrop, the 2000 Super Gas world champ and Super Comp winner in Charlotte earlier this season, got to add another victory to his resume when Steve Furr, fourth in the standings following the event, broke out of the 9.90 index by five-thousandths in the last round of the weekend for the category. On his way to the finale, Northrop drove his '75 Vega to victories over a group of worthy competitors, including former division champion and IHRA standout Rusty Cook in the first round and previous Pro Stock heavy-hitter and multi-category winner Dave Connolly in the quarterfinals for the bye run into the title round.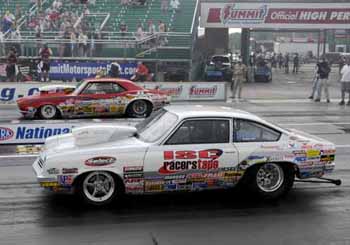 Northrop vs. Furr
The Top Dragster competition ended on a high note for Monroe, who claimed his very first national event title after Troy Stone red-lighted by .015-second. Monroe opened eliminations four-thousandths away from a perfect light to Alan O'Brien's .083 and advanced when his opponent broke out by a thousandth. Second-round challenger Jim Kreitzer joined the burgeoning breakout crew, sending Monroe ahead to the third round where he was quicker at the hit and closer to his dial to put Frank Carpinelli on the trailer, and in the semifinals, he was the winner of a double-breakout affair with Dennis Kline.
Lucas Oil competition on the Full Throttle Series tour takes a one week break before summer action heats up with the Western Swing, beginning with the NHRA Northwest Nationals at Pacific Raceways in Seattle, July 9-11.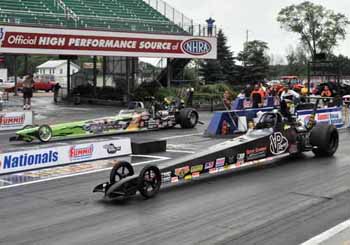 Monroe vs. Stone
Top Alcohol Dragster
-- Bill Reichert, 5.384, 262.44 def. Mike Kosky, 5.449, 257.78.
Top Alcohol Funny Car -- Frank Manzo, Chevy Monte Carlo, 5.602, 259.36 def. Mickey Ferro, Monte Carlo, 5.623, 255.39.
Competition Eliminator -- Al Ackerman, Dragster, 8.027, 166.21 def. Brian Browell, Dragster, 7.236, 181.76.
Super Stock -- Mike Walter, Formula, 10.783, 123.80 def. Jeremy Duncan, Camaro, 9.857, 129.62.
Stock Eliminator -- Ben Wenzel, Camaro, 10.635, 121.06 def. David Rampy, Camaro, 11.350, 113.51.
Super Comp -- Kyle Cultrera, Dragster, 8.935, 170.23 def. John Taylor, Dragster, 8.936, 162.04.
Super Gas -- Dan Northrop, Vega, 9.910, 141.62 def. Steve Furr, Camaro, 9.895, 151.20.
Top Dragster -- James Monroe, Dragster, 6.753, 197.54 def. Troy Stone, Dragster, 6.233, 211.20.




NHRA: 10 Most Recent Entries [ top ]

Aug 10- INDY 3 - Pro Mod Championship Points
Aug 10- INDY 3 - Top Fuel Harley Championship Points
Aug 10- NHRA Southern Nationals Canceled Due to Covid-19 Concerns
Aug 09- INDY 3 - Sunday Wrap Up
Aug 09- INDY 3 - Summary of Eliminations in Top Fuel
Aug 09- INDY 3 - Summary of Eliminations in Funny Car
Aug 09- INDY 3 - Summary of Eliminations in Pro Stock
Aug 09- INDY 3 - Summary of Eliminations in Pro Stock Motorcycle
Aug 09- INDY 3 - Summary of Eliminations in Top Fuel Harley
Aug 09- INDY 3 - Summary of Eliminations in Pro Modified