Wed, 7 Apr 2010, 08:30 PM



Accepting the Challenge



By Kelly Wade


Photo copyright 2010 Auto Imagery, Inc.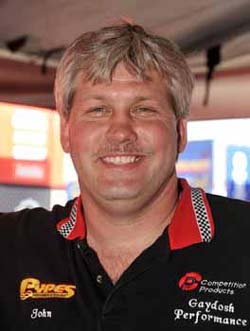 John Gaydosh
Former Top Sportsman racer John Gaydosh was aware that it would be no easy task to race in the ultra-competitive Pro Stock class, but he could not quell an intense desire to compete as a pro, and with an endless supply of support from his wife Tina and a crew of incredibly dedicated volunteers, the automotive technician is living his dream and getting ever closer to cracking the code for admission to play on raceday.
"I knew it would be tough, but I have an ambition, and I can make anything work that I want to," said Gaydosh, who will race a total of 14 events on the NHRA Full Throttle Series tour this season with help from Pypes Performance, Competition Products and Howard Cams.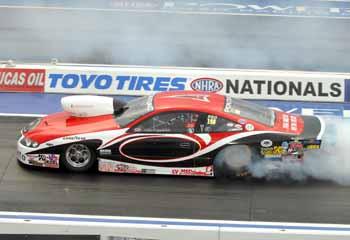 Gaydosh at Reading '08.
"I have to admit that it's a little tougher than I thought it would be. I bought a motor, and it was a mule motor. The second hit I ran a 7.03 at 197 mph and I thought, 'This is going to be easy; with a little more power I can go Pro Stock racing.' Little did I know that going from that much power to the next little bit is huge."
After licensing in Valdosta, Ga., in 2008, Gaydosh made his Pro Stock debut at the national event in Reading behind the wheel of a former Jim Yates GTO. The Jerry Haas-built car was purchased from Yates at the conclusion of the 2007 season, and the powerplants now beneath the hood are from Barry Grant with Gary Stropko and Dale Eicke working diligently on the engine program.
Gaydosh has acquired a range of experience on the track as a bracket racer and has competed in Super Gas and Super Comp. He won two championships out of three years in the Ram Racing series running Pro N/A, where he campaigned a Pontiac engine amidst all of the big block Chevy's and was able to use the weight break to his advantage. The successful stint got him noticed, and when someone offered to purchase his car at the conclusion of his final season, he knew it was the time to step up to the class he had long been aiming for. He used the cash from the sale of his sportsman racecar to buy Yates' GTO.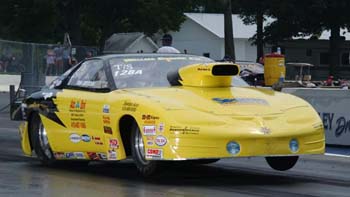 Gaydosh in his Top Sportsman at
Lebanon Valley Dragway 2005.
Photo by Jim Samuel
Gaydosh had a wrench in hand when he was 12 years old and says he "always had the ambition to race." His father owned a 4-speed '69 Pontiac Grand Prix with a 428-cid engine and as soon as he got his license, Gaydosh took the car out to his local track, Cecil County Dragway in Rising Sun, Md.
"I brought the car back with rubber all over the back of it," said Gaydosh. "I told my father I had just been out riding around with friends, but I got in trouble for that one. He knew just by looking at the car the next morning, because I wasn't smart enough to wipe the rubber off of it. I wised up quick, though."
As a Top Sportsman racer, Gaydosh qualified for a handful of races with his Pontiac motor and made lifelong friends who are part of a growing group of supporters who stop by at national events to root him on and encourage him to keep going.
In 2008, the man who calls Baltimore home made his Pro Stock debut at the Toyo Tires NHRA Nationals at Maple Grove and finished the year with continued efforts in Charlotte and Richmond. The following season, Gaydosh came out eight times, continuing to learn everything he could in an attempt to chip away at breaking into the tough field.
Last season, at the final national event held in Richmond, Gaydosh was infused with renewed vigor when he ran career best numbers, a 6.72 at 205.25, and then he almost tied that in Gainesville this year with a 6.75 at 204.
"We're figuring it out," he said. "There are a lot of people out here who are willing to help us and guide us in the right direction, and I'm being accepted because everyone can see how hard I'm working to do this. I wasn't expecting to meet so many good people out here. They know I'm not qualifying yet, but I'm still coming out and learning each week."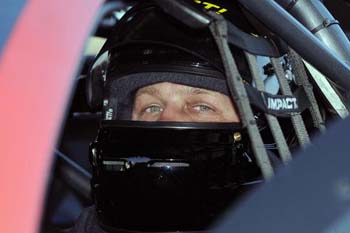 Gaydosh has put his bracket racing experience to work and cuts respectable lights even under pressure; at the Four-Wide Nationals in Charlotte he was .020 and .016 at the tree in his first two attempts while many others in the class were thrown by the unique blue-bulb staging system, and while he is working on sharpening his driving, Stropko and Eicke are refining the engine program. They had some work to do after Charlotte when Gaydosh dropped at valve at 10,200 rpm and destroyed a motor, a pretty huge hit for an independent racer with minimal funding, but, as he says, "We're professionals out here and we just have to handle it. There isn't any sense getting upset over stuff like that, and now we're super-sizing that motor to go with the other two we're having prepared so that we can come out and play with these guys and compete at their level."
If it weren't for his wife, Tina, and his hard-working crew, Wes Cator, Bobby Crouse, Brad Wallace and Bob Wood, Gaydosh believes he wouldn't be able to pursue his dream. His all-volunteer team pays their own airfare and won't let their driver shoulder the cost of meals - they all pitch in when the bill comes to the table. Truck driver Crouse owns the rig and supplied it to Gaydosh on one condition: that he would teach him how to do the clutch. Wallace has done his machine work since Gaydosh was 16, and Wallace's father did the machine work for Gaydosh's dad before him. Wood is a mechanical wiz who came on board with Wallace and assists on the back of the car, and Cator, a best friend since high school who steered Gaydosh in the right direction when the racing bug bit, helped his friend build his first car, a '67 Firebird, and is still keeping him out of trouble.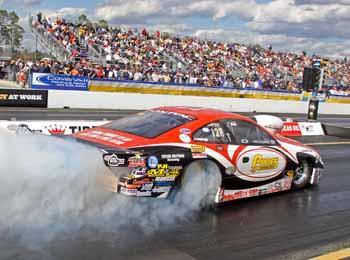 "I have to thank my wife, Tina, for this, because she supports me more than anyone," said Gaydosh. "I love her to death, and she is the best thing that ever happened to me. When I told her I wanted to buy Jim Yates' car, she said, 'Where do I sign.' She didn't bat an eye or question it, she just said, 'Let's do this.' "
"We have 12 races left this year, and I would really like to qualify for one of those. We have a lot of good things ready to happen, and we have something to look forward to. This is really tough, and there have been moments I wished I could just go back to bracket racing. But when you strap into this car and let out the clutch, you forget about everything else. I know that Pro Stock is the only place I want to be, and a lot of people have said that this is the hardest thing I'll ever do and I shouldn't think I'm going to make it because a lot of people don't. Well, I don't believe in failure. I will try my hardest and make this work."
In addition to his engine gurus, Stropko and Eicke, his devoted crew and supportive wife, Gaydosh thanked his boss, Greg, at Rosedale Auto and Chris from Pypes Peformance.




NHRA: 10 Most Recent Entries [ top ]

Mar 18- GAINESVILLE - Pro Mod Sunday Wrap Up
Mar 18- GAINESVILLE - Sunday Wrap Up
Mar 18- GAINESVILLE - Pro Mod Championship Points
Mar 18- GAINESVILLE - Bonus Points
Mar 18- GAINESVILLE - Championship Points
Mar 18- GAINESVILLE - Mickey Thompson Top Fuel Harley Series Championship Points
Mar 18- GAINESVILLE - Bonus Points
Mar 18- GAINESVILLE - Summary of Eliminations in Top Fuel
Mar 18- GAINESVILLE - Summary of Eliminations in Funny Car
Mar 18- GAINESVILLE - Summary of Eliminations in Pro Stock