Sat, 3 Apr 2010, 03:10 PM



Boy Wonder



By Kelly Wade


Photo copyright 2010 Auto Imagery, Inc.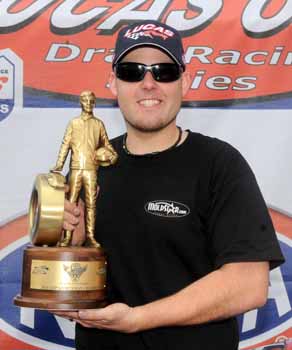 Ryan Ondrejko
Charlotte Top Sportsman winner Ryan Ondrejko didn't even know he would be racing at the NHRA Four-Wide Nationals until two weeks before the event, but that minor detail did nothing to hinder an impressive performance that was par for the course for the young drag racer.
"I thought I would be sitting out the whole season, because it takes a lot of money to race and my father and I just don't have it," said Ondrejko, of Roslindale, Mass. "I was down in Gainesville at the national event, and my dad and I spoke on the phone. I was really bummed and told him that being a spectator really stinks, and he said, 'Well, if we can scrounge up enough money, would you like to go to Charlotte?' I thought it would be great, but I also knew that we hadn't touched the car at all during the off-season.
"We went right to the shop and worked on it for a week, put some new Mickey Thompson tires on, went down to Charlotte, and straight out of the box I was just so comfortable in the car. It was running consistent, and right after the second time trial I said to myself, 'This is my race to lose; somebody is going to have to take this from me.' "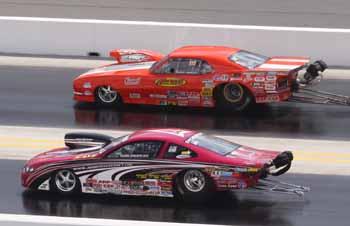 Ondrejko vs. Marco Abruzzi
Ondrejko got the job done in his Jerry Bickel-built '08 GTO, utilizing the monster 762-cid Steve Schmidt racing engine to beat Ronnie Davis in the first round at zMax Dragway and then cutting a cool .001-second light and putting a 6.830 (6.80 dial) on the scoreboard to beat Chris Nyerges in round two. A .008 reaction and 6.849 on his 6.80 dial put third-round opponent Joe Roubicek on the trailer, and in the semi's, John Glenn's red-light was a free pass to the final round for the NHRA Northeast Division 2009 Top Sportsman runner-up.
In the final, Ondrejko met up with former IHRA world champion Marco Abruzzi and posted his least-stellar reaction of eliminations, an uncharacteristic .040 to Abruzzi's .016, but the win light came on in Ondrejko's lane and he scored his first national event win with a .007 margin of victory thanks to his refined ability to command the finish line.
"I pulled up beside Abruzzi, and I knew I was set up a little bit fast so I was on and off the gas eight or nine times to keep a nose on him," said Ondrejko, who added the prestigious win to an already plentiful collection of bracket racing successes and divisional victories that now includes 11 Top Sportsman trophies (five of which were claimed consecutively last season), and Super Gas, Super Street and Super Rod event titles.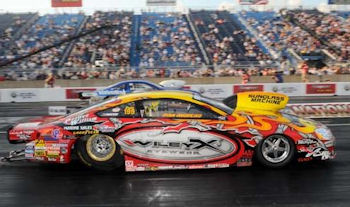 Ondrejko at Chicago
Ondrejko runner-upped in Top Dragster at the 2008 JEGS Northern SPORTSnationals in Columbus, finished second overall in Division 1 Top Sportsman competition and claimed the Top Sportsman track championship at New England Dragway last season. He is also a two-time Super Gas national open champion in the Northeast. Topping his list of accomplishments, though, is his nine-race stint behind the wheel of Jim Yates' Wiley X GXP Pro Stock entry last season. When Yates, a two-time world champ, made the decision to step out of the car, he tabbed Ondrejko to slide into the driver's seat and was immediately aware that the decision was right.
"The first time we took the car out testing, before I got in Jim said, 'Now listen, there is a steep learning curve for Pro Stock and you'll never learn this in one test session,'" said Ondrejko. "But by the end of the first day, I had already made it to the end of the track and everyone was all smiles. Right off the bat, it was pretty great."
Ondrejko turned heads when he qualified 14th in Chicago in his Pro Stock debut, and just four events later, at the revered Mac Tools U.S. Nationals at Indianapolis, he picked up his first round-win when he shut down former Comp ace Vinnie Deceglie.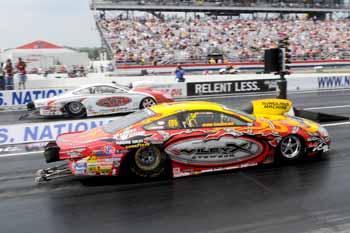 Ondrejko vs. Mike Edwards at Indy
Even more impressive, though, was his second round match with class-dominator Mike Edwards. All season long Edwards had been squashing his competitors, but Ondrejko was able to shut out the pressure of competing at the historic event in front of swelling crowds and quell the anxiety of pulling into the water box with a heavy hitter in the other lane. The class newcomer was better by .037-second at the starting line and gave the veteran racer a serious challenge as they raced down the track, missing the round-win by a tiny .0012.
"That was the highlight of my career," said Ondrejko, a mechanical engineer who earned his degree at Wentworth Institute of Technology. "I'm sure nobody thought we even had a shot, but we qualified well (No. 8) and we had a lot of momentum leading up to the event. The crew chief (Jon Yates) was making the right decisions, I was driving really well, and everything was coming full circle. It took us a few races to really hit our stride, but we got there.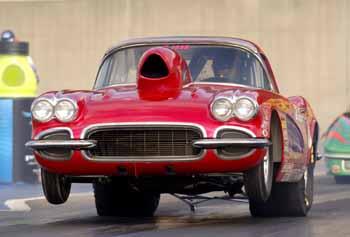 Ondrejko in his Super Gas car.
"I've had so many good, positive mentors in my life. My dad - he's my crew chief - he's a pretty well respected chassis builder in the Northeast. He started his business, John's Racecraft, in my backyard, and so I've been around it since I was a little kid. It goes a long way to know how everything works in the vehicle that you're driving, and it makes you a lot more confident to know that if this or that happens, you understand it and know what to do."
Ondrejko also receives emotional support from his mom, Karen, and financial assistance from Chris Cherry. His team in Charlotte consisted of Paul Lorenti, Mark Wiktorowski and Lee Roby.
His first season as a Pro racer was a learning experience, and although Ondrejko did, indeed, note the pressure of the situation, he handled it with a level of maturity far beyond his 24 years.
"As a sportsman racer competing at divisional events, you look out in the stands and there aren't very many people there, " said Ondrejko. "But at the national event level, you have ESPN2 coverage, the media, the fans, and the crew is working so hard. The pressure is ridiculous, because you know that even if they don't say it, if you mess up the crew is thinking that they're wasting their time. I wanted to do well for everybody, not just for myself. Every time I was on the track it was a personal challenge to hit every single gear change perfectly and go as fast as I could, and there is no rush like that. I love it.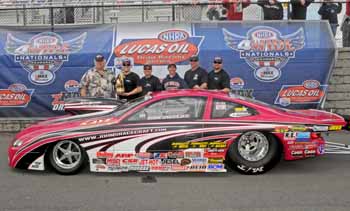 Ondrejko and crew celebrate win.
"I learned so much last year just about being a better person and how to present myself, how to dress, how to talk to people. Before Pro Stock, I was just a normal kid showing up in shorts and basketball shoes to have some fun. Now I'm wearing dress slacks with my shirt tucked in, looking like a normal human being and talking to people. I grew up a lot through the whole process."
After packing the 2009 season with amazing displays of adeptness on the racetrack in multiple categories, funding simply dried up. Sitting out completely for 2010 on the heels of such a successful year would have been a tough pill to swallow, and Ondrejko's father felt that it was important to his son's future to race in Charlotte.
"He knew we really needed to take all the momentum from last year and apply it to this year," said Ondrejko. "My dad thought that if we could go to Charlotte and win the first Top Sportsman national event right off the bat, that would open a lot of people's eyes. I'm searching to stay in a Pro Stock car, and hopefully, this win will make a difference."




NHRA: 10 Most Recent Entries [ top ]

Nov 17- 2019 NHRA and Fox Sports Announce 2019 Broadcast Schedule
Nov 16- Mountain View Racing Announces 2019 Plans
Nov 13- Sonoma Chapter of Speedway Children's Charities Distributes $448,000 to Sonoma County Youth Groups
Nov 13- NFL Hall of Fame Great on Board for Jordan Vandergriff's Rookie Season
Nov 13- POMONA 2 - Special Awards
Nov 13- Torrence, Todd, Gray and M. Smith Honored as 2018 NHRA Mello Yello Drag Racing Series World Champions in Hollywood
Nov 13- POMONA 2 - Lucas Oil Drag Racing Series Wrap Up
Nov 12- POMONA 2 - Sunday Video
Nov 11- POMONA 2 - Sunday Wrap Up
Nov 11- POMONA 2 - Countdown to the Championship Points