Tue, 9 Mar 2010, 11:50 AM



Historic, Bittersweet March Meet Finale



Courtesy of Rob Gibson


Photo copyright 2010 Rob Gibson





Pruett-LeDuc Becomes the First Woman to Win Funny Car Title in 52-year-old Race



BAKERSFIELD, Calif. --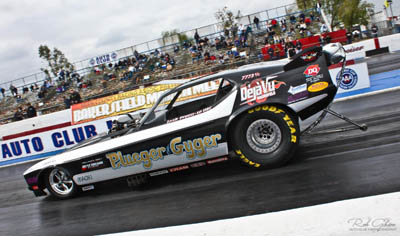 Leah Pruett-LeDuc
No one's going to forget the 52nd edition of the March Meet. It had everything: record runs, the largest funny car field since 1980, John Force presiding as Grand Marshal and even an extra day of nostalgia drag racing at Auto Club Famoso Raceway near Bakersfield. But memories that last forever were the winners of Nostalgia Funny Car and Top Fuel, Leah Pruett-LeDuc and Adam Sorokin.
A day after Kathryn Bigelow became the first woman to win the Academy Award for directing, Pruett-LeDuc made history herself. She whipped the boys, becoming the first female Funny Car winner in the illustrious annals of the March Meet. Driving the Plueger & Geiger Mustang, she defeated NHRA veteran Gary Densham in the "Teacher's Pet" Camaro for the crown. Pruett-LeDuc ran a 5.811 at 242.65 mph to Densham's 5.986 at 236.34
"(Ron) Capps took my e.t. record, (Paul) Romaine took my mph record, but I'll give all that up for a win here at the March Meet," Pruett-LeDuc said. "Lane choice was key for the victory. I want to thank Deja Vu for sponsoring the car because I wouldn't be here without their help."
For Top Fueler Adam Sorokin, winning the March Meet for the first time was an emotional rollercoaster ride. His dad Mike won the prestigious event in 1966 in the Surfer's hemi-powered AA/Fuel dragster but tragically died racing in 1967. Adam was one year old when his dad passed away.
After defeating Howard Haight for the win, Adam Sorokin could not hold back the tears. "My mom told me I was conceived at this race track, and to come back after all these years and win it is to big a dream to be true. We only had six laps on the brand new car and for it to run a 5.70 is amazing."
Amazing it was. Campaigning in the Champion Speed Shop/Van Dyke Motorsports hemi-powered dragster, Sorokin ran a 5.764 at 241.61 to beat Haight's 5.935 at 246.23.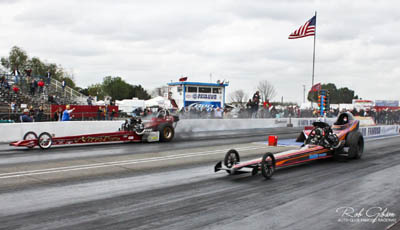 Adam Sorokin vs. Howard Haight
The racing on Monday - the first in the race's long history -- capped an exciting event at Auto Club Famoso. "We had a few weather-related issues during the weekend, but what a great ending," said Blake Bowser, vice president and general manager of the Kern County Racing Association, operators of Auto Club Famoso Raceway and producers of the March Meet. "This is one for the record books."
Or as John Force, the 14-time NHRA Funny Car champion and March Meet Grand Marshal said, "This event brings me back to my roots. Hell, it's a big now as it was 25 years ago."
Force should know: after struggling for years, he won the event in 1984, propelling him into the big time. "It's pretty amazing to come back here and see this."
Talking to the crowd at the track on Saturday, Force summed up the feeling of fans and racers that have been coming to Auto Club Famoso for 52 years: "Let's drag race!"
Leah Pruett-LeDuc and Adam Sorokin certainly agree.
Full results on-line at 2010 March Meet Final Results
Now celebrating 52 years of racing, the March Meet is a three-day speedfest that enthusiasts call 'the jewel of Nostalgia Racing.' It attracts drag racers and spectators from around the world and also includes a hot rod car show, swap meet and a vendors' midway.
The 2010 March Meet is also the first race of the Hot Rod Heritage Series, the NHRA's 9-race nostalgia racing series.




Drag News: 10 Most Recent Entries [ top ]

Mar 21- Gateway Motorsports Park Introduces VP Racing Lubricants Mid-America SuperCar Showdown
Mar 21- New Sharks of the Strip Outlaw Heads-up Racing Program Debuts Friday the 13th at Gateway Motorsports Park
Mar 21- 16th Annual NMCA Muscle Car Mayhem Race Wrap Up
Mar 21- Jones Scores at San Antonio Nitro Jam
Mar 21- Rai to Field Three Cars at Santo's Super Thunder Meet
Mar 21- Rapisarda Autosport International to Race in Adelaide
Mar 10- Dodge//SRT and Mopar Brands to Offer Complimentary Drag Race Experience for NMCA Competitors in 2018
Mar 10- Cottrell, Wittenberg, Hix, and Bates Come Out Swinging at the 2018 March Meet
Mar 09- Universal Technical Institute Named Official Sponsor of Sonoma Raceway's Drags and Drift Program
Mar 09- Revitalized Street Fights Series Roars into Action with a New Look and Feel