Fri, 26 Feb 2010, 10:50 AM



Don't Sell The Race Car!!



By Bob Frey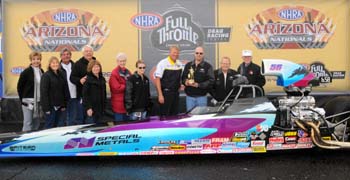 Unruh won Best Engineered Car award.
Photo by: Auto Imagery, Inc.
Over the years NHRA and other drag racing organizations have tried to keep pace with the changing times. By that I mean that they have added classes, eliminated others and expanded the lineup of cars that can run at the races, whether they be local, national or divisional. I remember the old Top Gas cars and I even remember when there were no Pro Stock Cars out there. They began life as Super Stockers and then morphed into the sophisticated cars that we see today. A few years ago several of the NHRA divisions were running a class called Top Comp. It featured a lot of really fast cars in a qualified field and the enthusiasm from the racers was obvious. As the number of cars in that class grew it became apparent that there was a real need to give these cars a class or eliminator of their own. With the growth of Top Comp, a class that included full-bodied cars and dragsters, it was decided that the two should be kept apart, and so Top Sportsman and Top Dragster classes were started, and this year the Top Dragsters will get to run at selected NHRA national events, not as an exhibition class, but as a real life, full fledged member of the racing community.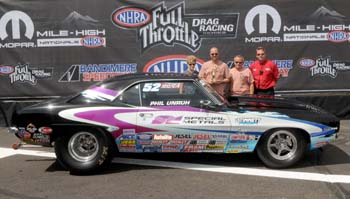 Unruh won Best Appearing Car award
at the Mile High Nationals in '09
Photo by Auto Imagery, Inc.
At the Arizona Nationals this past weekend, the Top Dragsters made their official entry into the world of NHRA drag racing, and while Denny Hills was the number one qualifier with a 6.03, one of the cars that got everyone's attention was the one driven by Phil Unruh. Phil, from McPherson, Kansas, checked in with a 6.597 at 207.75 miles per hour, and that was good enough for the fourth spot in the field. "I used to run a car very similar to this and it seemed like a natural to step up when NHRA announced the class." Phil's car, which is painted just like the Super Stock Camaro that he has raced for years, not only looks good and runs well but it is obviously very well constructed. "We won the Best Engineered Car award in Arizona and that was quite a surprise," Phil said. "With all of the Division 7 cars there it was quite an honor." Winning special awards is nothing new for Phil since his Camaro won the Best Appearing Car award at the Mile High Nationals in Denver last year. "We take a lot of pride in our cars, the way they look and they way they run," he said. "Scott Brown painted the cars and he does a wonderful job." In addition to looking good, Phil's dragster runs well and it's a little different than most of the cars in this new class. "This car is unique in that it has a supercharger and carburetors, and if I had to I could run it as a one man operation. It's a very nice car to drive."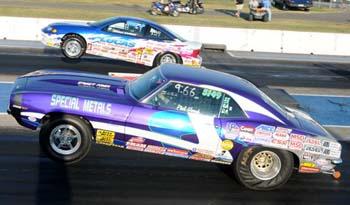 Phil Unruh vs. Jerry Emmons
in '08 Division 4 Red River final.
Photo by Robert Grice
Phil is an electrical contractor and he operates the business that his father started back in 1978. As you can imagine, running a business and racing can take up a lot of your time, and that's why Phil headed back to Kansas after the rain-out in Phoenix. "I had things that had to be taken care of," he said. "Even now it doesn't look good for this weekend, but we'll go back and see what happens." While he is home, Phil has a baby-sitter for his cars, truck and trailer in Arizona. "I bought a Stock eliminator car and have a young man by the name of Tyler Wudarczyk driving it for me. Gary Stinnett recommended him and that's pretty high praise, don't you think." Gary has been very instrumental in Phil's career, but more on that in a moment. The Top Dragster that he is running is a beautiful, rear-engine dragster that was built by Mike Spitzer ands it's just the latest in a long line of race cars for Phil. "When I started racing back in 1993 I had a little Chevy Nova with a 377 cubic-inch engine. Then I got an Art Morrison Grand Prix that I raced in Super Gas and I followed that with a truck that I bought from Todd Patterson." With that collection of cars Phil did most of his racing in and around his home, and that included trips to tracks in Great Bend and Wichita, Kansas. After a few years of competition he admits to getting a little "burned out" on racing, so he decided to take a break.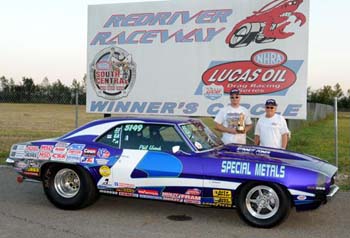 Unruh in 2008 Division 4
Red River winner circle.
Photo by Robert Grice
"I started to go fishing, which is completely different than being at the track, and then I had a guy who came and made me a real good offer for all of my cars." The offer was so good that Phil mentioned it to his wife, Carla. "I told her that we can either keep the cars or get a house, and she just looked at me and said, 'Don't sell the cars.' I didn't and that may be the best advice I ever got." Carla obviously loves racing and her brother is on the Division 5 tech team. And Phil, the romantic that he is, took Carla to a drag race for their honeymoon. "We went to Phoenix in 1997," he said. Today, not only does Carla like racing, but her father goes with Phil to almost every race. "I don't think he's missed a race since 1994," he said. Now that could be the perfect father-in-law!!
Now back to Gary Stinnett, who, next to Carla, he may have had the biggest influence on Phil's return to racing. "I mentioned to him that I was thinking about racing an NHRA class and he suggested Super Stock, so I guess I have to blame all of this on him." Like so many racers today, Phil realizes that it's better to go to the track with more than one car because it saves time and money and keeps you busy while you're at the races. "I told Gary that I had bought a
Unruh vs. Brent Camerlinck in
'07 Division 5 Great Bend TD final.
Photo by Barry Bergeron
Stocker and was looking for someone to drive it when I was racing the Super Stock car and the dragster, and he told me he had just the person, a young man who had been working with him since he was twelve years old." That's Tyler and he has done very well behind the wheel of the Camaro stocker. "He's got a chance to make the All Star team this year," Phil said. "It all depends on what happens at the last point's race in Great Bend, but if he does make the team, then we'll go to Chicago."
With a Super Stock car and a Top Dragster to drive Phil stays very busy at the races. Fortunately, he says, he doesn't have any trouble making the switch between the two. "They're different enough that I don't have any chance of confusing them and I like it that way." He must, since he has done very well with both cars. In fact, in 2007, he made it to the final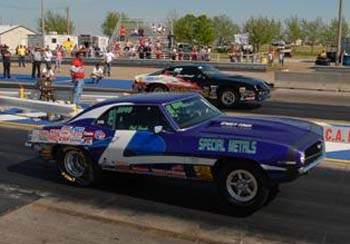 Unruh vs. Gary Stinnett in
'07 Division 5 Great Bend SS final.
Photo by Barry Bergeron
round with both cars at the D-5 race in Great Bend. "I wasn't nervous before those finals, I just thought it was like being in the finals in Super Pro and Pro at my local track. It would have been nice if I could have won one of them, though." With a trio of cars, a good young driver, a friend like Gary, a wife like Carla and support from his family and the in-laws, life is pretty good right now for Phil Unruh. Now all he has to do is pray for some good weather when he makes the return trip to Arizona this weekend, and if it rains, he can always go fishing.
Special thanks to sponsor "Special Metals" out of Oklahoma City.




NHRA: 10 Most Recent Entries [ top ]

Apr 18- Gateway Motorsports Park and World Wide Technology Announce Long-Term Venue Naming Rights
Apr 18- Universal Technical Institute Named Official Technical School of NHRA
Apr 18- ATLANTA - Event Preview
Apr 18- Fifty Years Ago - Part 4
Apr 16- HOUSTON - Special Award
Apr 16- HOUSTON - Mountain Motor Pro Stock Wrap Up
Apr 16- HOUSTON - Lucas Oil Drag Racing Series Wrap Up
Apr 15- HOUSTON - Mickey Thompson Top Fuel Harley Series Wrap Up
Apr 15- HOUSTON - Pro Mod Wrap Up
Apr 14- HOUSTON - Sunday Wrap Up