Sat, 13 Feb 2010, 01:08 PM



Sportsman Drivers Applaud Format Changes



Courtesy of IHRA Communications


Photo copyright 2010 BME Photography





'This format is the best I have ever seen' raves sportsman competitors



NORWALK, Ohio --
As it turns out fans weren't the only ones raving about the new-look Nitro Jam series at last month's Palm Beach Nitro Jam at Palm Beach International Raceway.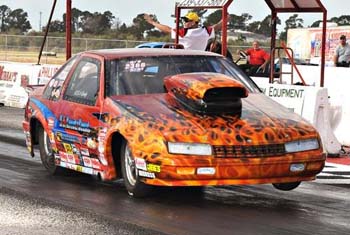 R.L. Koontz
With the first national event of 2010 in the books IHRA sportsman competitors have been talking nonstop about the format changes to the Nitro Jam series, going as far as calling it the best format they have ever been a part of.
"I have traveled the circuit for 20-plus years. There are very few folks that have put on the miles we have. It was such a good feeling to win a race like this. We got treated better than the pros," said Hot Rod competitor R.L. Koontz. "We felt like we were high class this weekend. This wasn't like other events I have attended. The event was run so well that I was out of the track on Saturday night and on my way home.
"This format was the best I have ever seen. I really, really like it."
Koontz is one of the many sportsman drivers who gave the new format a try last month and in turn walked away with an Ironman and one of the first seven spots in the 2010 Tournament of Champions at Virginia Motorsports Park in October.
Koontz joined Mark Brown (Top Dragster), Keith Russell (Top Sportsman), Scott Richardson (Super Stock), Michael Beard (Stock), David Bledsoe (Quick Rod) and Steve Furr (Super Rod) as the first seven sportsman national event winners of 2010.
"I thought this event was neat. I could not believe the crowd that they drew. It was just unbelievable on Friday and Saturday night," said Koontz. "The sportsman program was superb. The facility was good, our parking was good and the track was good. All in all it was a great set-up."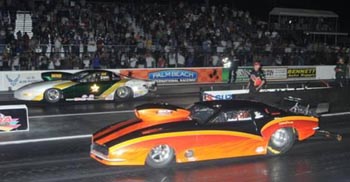 John Benoit vs. Matthew Buck
in Harland Sharp Elite 8 final.
Highlighting the new-look format is a refocused emphasis on sportsman competition. Sportsman racing has always been the centerpiece of IHRA competition, but in 2010 those drivers will be thrust even further into the spotlight with a new format aimed at giving sportsman competitors more time on the track with no interruption by professional rounds.
"I thought it was a great race. The track was smooth, the traction was great and the race was smooth," said multi-time IHRA World Champion Steve Furr. "I don't know how anybody could complain. Personally, I thought it was a breath of fresh air. IHRA has a pretty cool deal going.
"They ran us until 4 p.m. The Pros didn't bother us. We ran unimpeded and we didn't impede on the Pros."
Along with a full day of uninterrupted racing, sportsman competitors also enjoyed one less day at the track. Drivers were able to get in their qualifying runs on day one followed by eliminations on the second day of competition.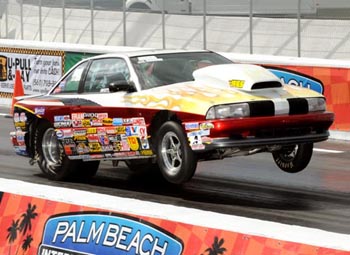 Scotty Richardson
"I love the new Nitro Jam format. I hope it does great the rest of the year. Anybody that didn't go missed out on a good race," said six-time NHRA and IHRA World Champion Scotty Richardson. "The time schedule was geared towards everybody."
While many veterans enjoyed the new look, for new drivers such as David Bledsoe it was above and beyond anything they had ever seen in the past - especially at the Palm Beach facility.
"This is the first time I have ever attended an IHRA Nitro Jam event. It was absolutely fantastic. I am a local boy. I grew up here and have never seen anything like it at West Palm. It was the biggest crowd in history," said Bledsoe. "The new race format is very racer friendly. There is such a difference between the treatment we received at this event versus the other sanctioning body.
"Every single IHRA official thanked us for racing here. I can't explain how great this felt."
Sportsman competitors at Palm Beach also enjoyed one of the largest final round crowds for the sportsman portion of the event in years due to the redesigned schedule. With sportsman final rounds coming just before Fan Fest and the start of Nitro Jam professional rounds spectators filled the stands to watch the best sportsman in the world compete for IHRA gold.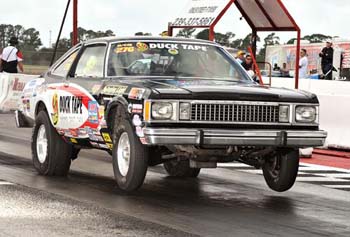 Michael Beard
"Thumbs-up to IHRA on a dedicated sportsman show that was run at a fun, quick pace. It was great to be finished for the day and be able to go out for dinner with friends and family," said Stock competitor Michael Beard. "It was also great to know that all sportsman finals are slated for TV coverage on SPEED Channel."
Following sportsman final rounds fans were invited to tour the pits and meet the drivers - both sportsman and pro - before taking their seats for the professional portion of the event later in the evening. Even the drivers had an opportunity to call it a day and enjoy the action-packed Nitro Jam event.
"My wife and I were discussing the new format and we came to the conclusion that the show portion is quite alright. Is it a traditional IHRA national event? Absolutely not. But that is exactly the point," said Beard. "Right now the market is crowded with NHRA, ADRL and Super Chevy style events. IHRA really did do a lot of neat things for the fans. No, it's not NHRA's little brother anymore and that is exactly the point."
And even during the professional rounds sportsman competition still played a key role. Recognizing the star power of IHRA's quickest and fastest sportsman categories, the newly created Harland Sharp Elite 8 series for Top Sportsman and Top Dragster competitors was a hit in its first time out as many of the top drivers in those categories competed for an additional trophy and prize money in front of a capacity crowd.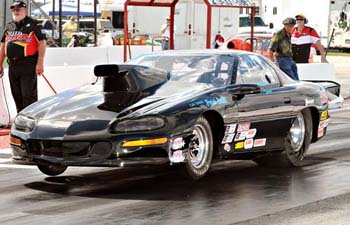 Keith Russell
"Overall, this was a great event. It was really cool to run the eliminations during the pro rounds. I know you are only supposed to be focusing on your run, but you can't deny that all of the fans are out there watching," said Top Sportsman competitor Keith Russell.
With Palm Beach Nitro Jam in the books, another set of sportsman competitors added their names to the list of 2010 Tournament of Champions qualifiers this past weekend at Immokalee Regional Raceway.
Those drivers were John Buening (Top Sportsman), Steve Furr (Top Dragster), Scott Richardson (Super Stock), Doug Humes (Super Rod), Jim Morrison (Quick Rod), Myron Piatek (Stock) and Kenny Underwood (Hot Rod).
With two tournament qualifiers already in the books drivers are already gearing up for the second Nitro Jam national event of the year March 6-7 at State Capitol Raceway in Baton Rouge.
Despite the perception of some, the reality is the new Nitro Jam format is a hit with sportsman competitors and promises to only get better as the season progresses. Don't miss your chance to be a part of this history making season at a Nitro Jam event near you.




IHRA: 10 Most Recent Entries [ top ]

May 15- IHRA Summit SuperSeries Championship is Underway at Member Tracks
May 15- Xtreme Raceway Park Ready to Host IHRA Summit Sportsman Spectacular
May 15- Cordova International Raceway Summit SuperSeries Champions Honored
May 15- Saskatchewan International Raceway Joins IHRA
May 15- IRG Sports + Entertainment Expands Leadership Team
Apr 24- Racers Receive Prizes at IHRA Summit Sportsman Spectacular Opener
Apr 24- Comeaux, Hughes Make History at IHRA Summit Sportsman Spectacular
Mar 21- 2018 IHRA Summit Sportsman Spectacular Series on April 20-22
Feb 26- Weather-Related Construction Delays Postpone IHRA Xtreme Raceway Park Opener
Feb 16- IHRA Summit Sportsman Spectacular Schedule Announced