Thu, 31 Dec 2009, 11:18 AM



A Look Back



By Bob Frey


Photo copyright 2009 Auto Imagery, Inc.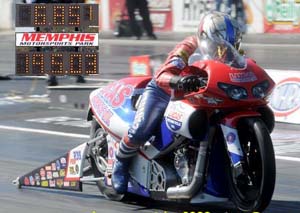 Hector Arana
OK, so it's not a new idea, but as the year winds down I thought I would take a look at some of the highlights of the 2009
Full Throttle Drag Racing
season. Not all of them, mind you, because at my age I can't remember all of them. And probably not the same moments that you may think of, because a lot of these things are subjective, but then it's my column so I thought I'd pick a few of my top moments from the 2009 season. Just a few...
There were several runs that I think could or should qualify as the "run of the year." As you might expect a couple of them were in the pro classes, but there were at least two in the sportsman ranks as well. The new Pro Stock Motorcycle champ, Hector Arana, set the national record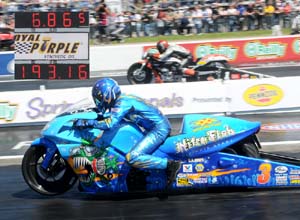 Matt Smith
in Memphis and that was stunning for a couple of reasons. First of all it was the first time that Hector had ever set a national record.
Did you know
that it was also the first time that a motorcycle record had been recorded at the
Memphis
track? Plus, the fact that it came in the "Countdown" was huge since it gave Hector an extra twenty points, and when you consider the fact that he won the championship by two points you can see how big it really was.
Did you know
that the Pro Stock Motorcycle record was set three times in 2009 and that it was done by three different brands of motorcycles?
Matt Smith
set it on a
Suzuki
in
Houston
,
Andrew Hines
lowered it on his
Harley-Davidson
in
St. Louis
and then Hector re-set it on a
Buell
in
Memphis
. I don't know if that qualifies for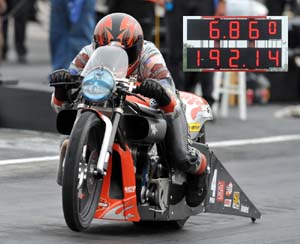 Andrew Hines
parity but it has to make the rules makers smile, at least a little bit..It would be hard to mention great runs of the year without talking about
Mike Edwards'
performance in Richmond, especially since the 150 points that he earned for winning the race and setting the record was a big reason that he won the championship. Mike had a great year but very few weekends in his career will ever rank as high as that weekend in
Virginia
.
Did you know
that one of the very first NHRA national records in Pro Stock was recorded in
Virginia
?
In 1970, at Suffolk Raceway in
Virginia
,
Ronnie Sox
went an amazing 138.03 miles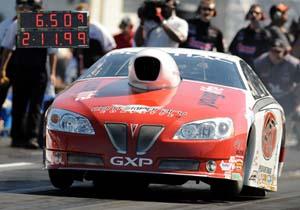 Mike Edwards
per hour to set the national record. Believe me, in 1970 that was flying. In the sportsman ranks there were lots of really good runs, including the SS/AH mark at
Maple Grove
by
Jim Daniels
. But as good as that was, and it was really good, I think that the 6.33 by
Brian Fitzpatrick
in his H/D at
Las Vegas
may have been the "run of the year" in the sportsman class, or any class for that matter. That is simply an amazing car and I look for more big things out of that little engine in the future.
Monroe Guest
went 5.155 in his Top Alcohol Dragster in Las Vegas and that was also one of the highlights of the year and one of the top runs of 2009.
In the Top Fuel class there were a couple of very special moments, some great and some that the drivers and teams would just as soon forget. Urs Erbacher had one of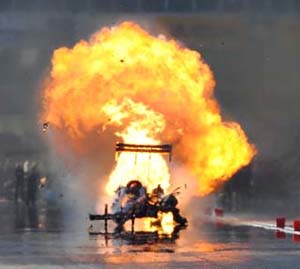 Urs Erbacher
those forgettable moments at
Houston
when he, as we say, "blowed it up." I'm sure there is a more detailed and technical explanation for what he did but, since this is my column, that's what you're getting. On the bright side of things, Urs got a lot of credit from the other Top Fuel drivers for the job he did in bringing the car to a safe stop after that spectacular explosion..Speaking of Urs, it was great to see so many of the European Top Fuel teams come over and compete in the Full Throttle series this year.
Thomas Nataas, Stig Neergaard, Andy Carter
and
Lex Joon
all joined Urs on the tour for at least a few races and they were a real nice addition to the TF shows. I know it's not easy, financially or logistically, but I hope we get to see them over here again in 2010..
Larry Dixon
had a very good year and, since he wasn't even sure if he would be racing at this time last year, I would have to think that a second place finish wasn't too bad for Larry.
Of course the way he started the year, with a DNQ at
Pomona
probably wasn't in his plans, but he recovered nicely from that and gave us some great moments in 2009 (as he has in the past). Larry has had some championship seasons but, from a performance point of view, he never drove a car quite as good as this one. Maybe he had more consistent cars, but never ones that could put up the big numbers like he did in 2009.
Did you know
that Larry was the top qualifier nine times this year and that's the most for any year in his career? Now that's saying something for a two-time series champion. Larry also went over the 500-rounds won barrier and that is something that he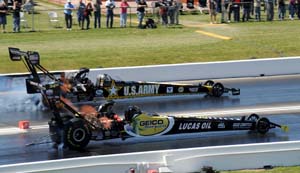 Lucas vs. Schumacher
can be very proud of....Speaking of proud, I'm sure
Tony Schumacher
and his
Army
team are and they should be. Tony had another great year and his championship run is the stuff that legends are made of. And yet, with all that he did, I'm sure the proudest moment of the year may have been when he went to
Fort Hood
and presented the championship trophy to the soldiers at that base, especially after what they had been through a few weeks earlier. Nice job, "Sarge," you made us all proud....Tony was also involved in one of the more bizarre runs of the year when he and
Morgan Lucas
posted the identical elapsed time and speed on the same run. That doesn't happen very often, in fact,
did you know
that was only the second time it had ever happened in eliminations in Top Fuel? The other time was way back in 1972 and involved
Jim Walther
and
Dan Rightsell
at the 1972 World Finals. Like I said, it's very rare.
Antron Brown
, who has had more car owners than even he can remember, had a great year and his sweep of the "Western Swing" also has to get some credit for one of the highlights of the 2009 season, at least in my mind (and remember, it's my column).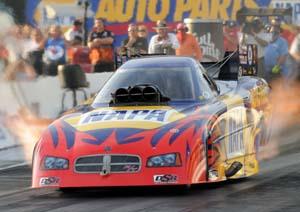 Ron Capps
The Funny Cars weren't without their moments this year and two of
Don Schumacher's
drivers made two of the best runs of the year.
Ron Capps
went 4.023 in
Phoenix
and, later, his teammate,
Matt Hagan
went 4.030 in
Las Vegas
. I don't know which was more impressive so I'm putting them in a tie at the top of "runs of the year" in a Funny Car. Of course any look back at the 2009 Funny Car season has to include a mention of the run between
Tony
and
Cruz Pedregon
in Brainerd. Tony, who lost his two co-crew chiefs right before the race, beat Cruz and went on to win the race. As good as the weekend turned out for Tony it was just the opposite for Cruz who missed the "Countdown" and a chance to defend his championship. Two brothers, two teams, two sponsors and one goal and they gave the fans a great run. Tony was also involved in a wild weekend in Memphis when he blew the body off the car and still came back to make the final round....As tough as the Memphis weekend was for Tony it was nothing compared to what
Daniel Wilkerson
went through.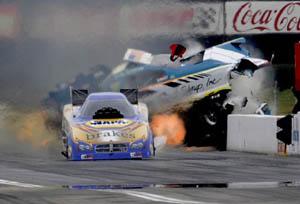 Daniel Wilkerson
In just his second start in the fuel class, Daniel had his two back tires come off the car and that threw him into the wall.hard. I was announcing that run and I have to admit that, in real time, I had no idea what had happened other than the fact that he hit the wall. Thanks to the construction of the cars Daniel was uninjured and he'll be back to race again in 2010..Now that I think of it there have been some wild Funny Car rides at the Memphis track and the one in 1994 by
Jerry Caminito
comes to mind when I think of what Daniel went through. And, as the old
Diamond P
tapes said, "they both walked away."...The other Funny Car stories of the year centered around three of the Team Force cars,
John
and
Ashley Force
and
Robert Hight.
John because he went winless and/or final-less (if that's a word) for the season, Ashley because she won Indy and had her best year and Robert because of what he did once he got into the "Countdown."..With a lot of sponsorships up in the air it will be interesting to see who runs what and with whom in 2010.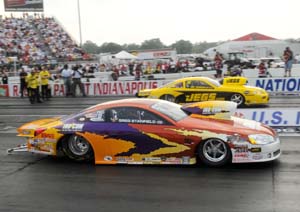 Stanfield vs. Coughlin
The race between
Jeg Coughlin
and
Greg Stanfield
at Indy, you know, the one that was decided by one-thousandth of a second, has to go down as the best Pro Stock run of the year, doesn't it? I mean, next to that
Jim Yates / Brad Jeter
run at
Denver
in 2001, the one that was a dead-heat, the Jeg-Greg race was one of the best and closest ever.
Did you know
that when we had the
Motel-6 "Who Got The Light"
award that Greg Stanfield was on the losing side of the closest run in 2002? He lost to
Larry Morgan
by two-thousandths of a second in Sonoma that year so he must be wondering, what's a guy got to do to win the close ones?...Greg also gets a tip of my hat (figuratively) for what he and his brother and
Mike Stryker
did this year. They had a very competitive car and, along with the support they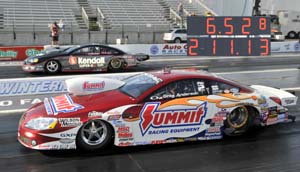 Greg Anderson
got from
Greg Hill,
they made life miserable for a lot of the higher financed teams out there. That's one team that I sure hopes gets some help so they can return in 2010....
Greg Anderson
set the record in
Pomona
and his 6.528 at that race has to be counted among the best of the year. Of course so does his 212.36 mph blast in
Richmond
.
Did you know
that the first time pro drivers could set records at national events was in 1973 and, at the very first race that year, the Winternationals,
Don Nicholson
set the record at 9.33 while
Bill Jenkins
set the speed mark at 148.76? In fact, the record was set at the Winternationals in each of the next two years and has been set a total of fourteen times (either elapsed time or speed) at the first race of the year.
Did you know
that, prior to this year, the last time the Pro Stock record was set at the Winternationals was in 2003 when
Warren Johnson
ran 204.91mph?
There were a lot of other great moments in 2009 and we'll take a look at some more of them next week. In the meantime, have a great holiday and a happy, safe, winning and a dry New Year.




NHRA: 10 Most Recent Entries [ top ]

May 21- Second JEGS SPORTSnationals Added, to be held in mid-August in New England
May 20- DENSO Sponsors NHRA Champs' Shelter-in-Place Dachshund Race
May 14- To Our Racing Community-From Racers for Christ
May 13- The Name Game Part I
May 12- Morgan Lucas, Son of Forrest and Charlotte Lucas, Appointed President of Lucas Oil Products, Inc.
May 05- Cancellation of the 14th Annual Summit Racing Equipment NHRA Nationals
May 04- NHRA Announces Revised Plan to Restart 2020 Mello Yello Drag Racing Series
Apr 29- DSR Drivers Join Global Superstars in Fight for COVID-19 Relief
Apr 02- NHRA National Dragster will Temporarily Shift to a Free-to-All Digital Magazine
Apr 02- NHRA Announces Revised E3 Spark Plugs Pro Mod Drag Racing Series Schedule