Wed, 30 Dec 2009, 08:16 PM



If The Shoe Fits, Let Him Drive



By Bob Frey


Photo copyright 2009 Auto Imagery, Inc.





This is a "From the Tower" feature Bob Frey wrote May 29, 2008 and it kind of captures Jim Harrington's spirit. So we are posting it again.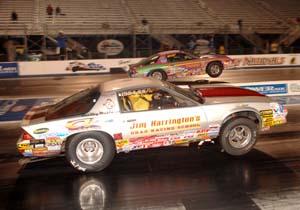 Harrington won SS the '08 Bristol.
It should come as no surprise to any of you that I am not a technical kind of guy. I never have been, never will be and never pretend to be. Even though I have been announcing drag races for over forty years I have never claimed to have any special mechanical knowledge. Or any knowledge at all for that matter. Whatever. Having said that I had to take Jim Harrington at his word when he said that he had to switch from the Super Stock Modified Stock class to the Super Stock Modified class at the recent Thunder Valley Nationals in Bristol, Tennessee. And as much as I would like to explain the differences between the two classes I think I'll leave that to the more technical folks out there. Or I could simply direct you to the 2008 NHRA rulebook, pages 160 and 167. And if, after reading that you still have questions, check page 4 of the rulebook, the one with the phone numbers for the division tech directors. I'm sure they can answer your questions.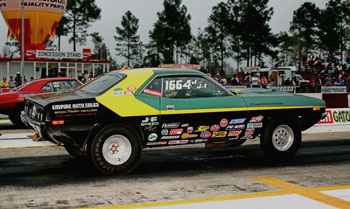 Harrington won Stock in '85.
Jim Harrington did, in fact, win the Super Stock eliminator in Bristol making it three national event wins for the "Shoe" in three different classes. Those wins have also come in three different decades and at three different tracks. "I won for the first time back in 1985," said Jim. "That was in Stock Eliminator and then I won in Super Comp in Arizona in 1994." That was the last time that the likeable driver from Chapel Hill, North Carolina had won a national event before his Tennessee victory. "The feeling never changes," Jim said. "Winning today is just as much fun and exciting as it was in 1985. It just never gets old. It's very gratifying." While it had been a long time between national event wins, Jim was no stranger to the winner's circle. His impressive resume includes fifteen final rounds at divisional races, eight wins and a pair of divisional championships. He won the Division 1 Super Street title in 1984 and the D-2 crown in Super Stock in 2006. "I've really enjoyed racing and I like everything about it. Even the waiting today wasn't that bad." That reference was to the very long day of racing at Bristol, a day that was punctuated with several rain delays and a day that didn't end until about 11 P.M. "I never thought NHRA would get the track dry and finish the race today," Jim said from the winner's circle. "They did a great job and it ended well for me so I'm happy."

Harrington won in Super Comp in '94.
In addition to the rain, Jim faced another and even more serious problem in Bristol. "I couldn't even run the index," he said. "I usually run in the Modified Stock class but there were a lot of fast guys here in my class so I switched to the SS/CM class. Even then, on my first two runs, I couldn't run the number." Jim, who has dropped about fifty pounds but who still tips the scales at more than twice what I weigh (no comments, please), said that he did everything he could to lighten the car up so he could be competitive. "I even vacuumed the dirt out of the trunk," he said with that ever-present smile on his face. When the dirt removal wasn't enough, Jim turned to a performance trick, he switched tires and put on some drag racing radials. "I put the Mickey Thompson tires on and they really helped. I picked up about a tenth and, all of a sudden, things were looking up." The radials were on the back of Jim's 1987 Chevrolet Camaro that sports a 334 cubic inch engine that is prepared by Mark Osterbye. "This was Anthony's (Bertozzi) GT car (see page 155 of the aforementioned rule book) and I've been running it for a while. It used to have one of Anthony's GT engines in it but we changed that to a modified motor a while back. I really have to dance around to get the right spot on the ladder. There are so many good guys racing in this class, like Anthony, Peter (Biondo), Fletch (Dan Fletcher) and others that it's tough to win. That's what makes this so special."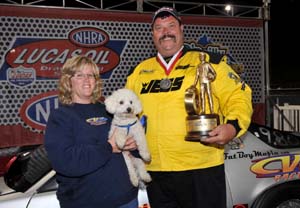 Tracy, Harrington and "Shoe".
When Jim isn't racing, which isn't often, he spends most of his time running his drag racing school, and between the two ventures, he is on the road a lot. "In 2006 I was in my motor home 273 nights and last year it was 255 nights." While that may make it seem like Jim is cutting back, nothing could be further from the truth. "I'll race almost every weekend between February and October and when I'm not racing I'm running the school." The school, which conducts a lot of its courses at Atco Raceway in New Jersey, specializes in things that most sportsman racers can use. "We attract a lot of Stock and Super Stock guys and other 'bottom bulb' racers," he said. "And we do a lot for the other sportsman, too. I work on things like reaction times, throttle stops and a lot of hands-on things that every racer uses but a lot of them don't understand." Jim goes on to say that a lot of racers can use some help at some time during their career. "We emphasize a lot of normal, common sense stuff that often gets over looked. Things like how to set your car up right, how to hit the bottom bulb and things like that." Jim has been running the school since 1998 and he began that after spending some time working with Roy Hill at his school. "I saw a need and decided to see if I could help some of my fellow racers. It's been very rewarding and I love everything about it." That includes the travel, which will take him from Bristol, to New York, to Michigan and back to Atco over the next few weeks. In between, he'll try to add to his points total for 2008, a total that already includes win in both Stock and Super Stock on the divisional level as well as his national event win. "It's a good start and I'll just see where it goes," Jim said. "But right now I'm really enjoying it."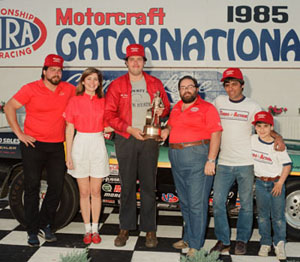 Harrington in '85 winner circle.
Jim enjoys just about everything he does as he travels around from race to race in his motor home with his wife, Tracy and their dog, "Shoe." The dog, ironically, carries the same name that Jim's fellow racers have bestowed upon him. "Back when I first started racing the guys called me 'The Foot.' That changed a few years ago to 'The Shoe' and that's what most of the guys call me now." Whether it's the name or the school, something was working for Jim in Bristol. After setting his car up so he could run the index, he beat his first couple of opponents off the line before having the next four drivers foul out against him. That included a final round red light by his opponent, the reigning Stock Eliminator World Champion, Michael Iacono. "I guess it was just my day." Maybe it was his reputation that preceded him, after all, not many guys have four opponents foul out against them. "I don't know what it was, but it was sweet. I'm going to enjoy this and I hope it's not so long until I win the next one." If he puts into practice what he preaches at his school that next national event win will come very soon. "It's tough out there. These guys (in Super Stock) are really good and that's what makes winning so sweet."




NHRA: 10 Most Recent Entries [ top ]

May 21- Second JEGS SPORTSnationals Added, to be held in mid-August in New England
May 20- DENSO Sponsors NHRA Champs' Shelter-in-Place Dachshund Race
May 14- To Our Racing Community-From Racers for Christ
May 13- The Name Game Part I
May 12- Morgan Lucas, Son of Forrest and Charlotte Lucas, Appointed President of Lucas Oil Products, Inc.
May 05- Cancellation of the 14th Annual Summit Racing Equipment NHRA Nationals
May 04- NHRA Announces Revised Plan to Restart 2020 Mello Yello Drag Racing Series
Apr 29- DSR Drivers Join Global Superstars in Fight for COVID-19 Relief
Apr 02- NHRA National Dragster will Temporarily Shift to a Free-to-All Digital Magazine
Apr 02- NHRA Announces Revised E3 Spark Plugs Pro Mod Drag Racing Series Schedule