Mon, 28 Dec 2009, 12:22 PM



A Career Year for The "Hammer"



By Bob Frey


Photo copyright 2009 Auto Imagery, Inc.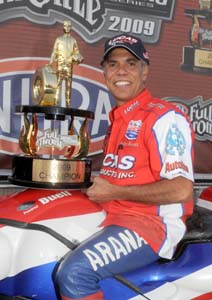 Hector Arana
When the 2009
Full Throttle
Drag Racing
season began I don't think there were a lot of people who picked
Hector Arana
to win the championship. Of course the same could be said for three of the four pro champions this year with
Robert Hight
being the lone exception. Based on his past performances it was not a long shot to think that Robert and his
Auto Club Ford
could go the distance. Of course it was looking a little shaky there for a while for Robert, but in the end he did prevail. But you probably could have received some pretty good odds if you picked
Tony Schumacher, Mike Edwards
and Hector to win the championship in 2009. Like I always say, I guess that's why they make them go out and race on Sunday, because you really never know who is going to win.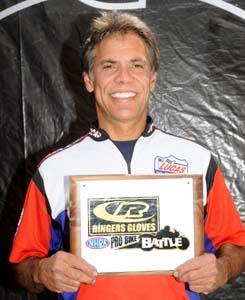 Arana with one of
his No. 1 awards.
Of the four champs I would think that Hector has to be the most surprising. Not since
Geno Scali
won the championship in 2003 has there been a more stunning winner in the motorcycle class, or any pro class for that matter. The fact that it was surprising, though, shouldn't take away from what Hector accomplished this year. Like Mike Edwards in Pro Stock, Hector arguably had the best bike in the class this year. I say arguably because there were times when he was only average, but there were other times when he was absolutely crushing the competition. "I started out the year well but then had a slump in the middle of the year," he said. He came out of that slump in time to win the title by the slimmest of margins.
Did you know
that Hector qualified in the top half of the field at every race this year and that he only qualified lower than fourth on two occasions? He also qualified in the top two spots at thirteen of the seventeen bike races this year and that's a dominating performance in anybody's book.
And when it counted the most, in the "Countdown," he really turned it on.
Did you know
that Hector was the top qualifier at eight races this year and that six of them happened in the last eight races of the year? Among that group were four number one spots in the five races in the "Countdown" for the motorcycles. Like I said, he was dominating the bikes, especially on Friday and Saturday. Those bonus points in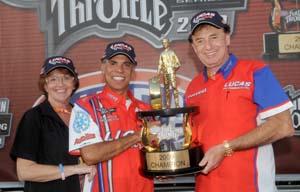 Charlotte Lucas, Arana & Forrest Lucas
qualifying, plus the twenty points he got for setting the national record in
Memphis
, really paid off when he won the championship by a scant two points. "It really was a dream come true," he said after the season was over. "I never gave up, the Lucas family never gave up on me, and together we won the championship. I couldn't have done this without the help of
Forrest
and
Charlotte Lucas."
As long as most people can remember, Hector has carried the
Lucas Oil
name on his bike
. "
He never asked for anything," Forrest told me. "He just kept working hard and he set a good example for anyone who wants to race. Heck, it's a good example for anyone in any endeavor. Stick to it, give it your best and, in the end, you'll come out a winner." It sure worked for Hector.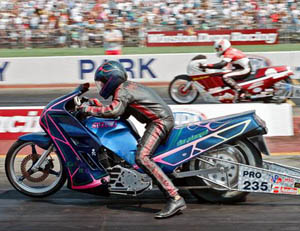 Arana at '90 Indy.
Hector has been racing since the 1990
season,
or at least racing on a part-time basis since then. His first event was Indy in 1990 an event that he failed to qualify for. That would be followed by a five race schedule in 1991 and four more in 1992. Then he got a little more aggressive by going to six races in 1993 and that included a trip to the semi-finals at Indy, a race he lost to
Dave Schultz
when he left before the tree was activated. He shouldn't feel too badly about that red light because it was one of three that Dave got on the way to the win that Monday in 1993.After that it was pretty much full speed ahead for the auto mechanic from
Florida
and he made the top ten in each of the next four years. Still, without a major win and only two final rounds to his credit, Hector retreated and went back to being a part-time racer. In fact, as recently as 2006 he only ran at nine races and he didn't qualify for any of them.
Did you know
that, from the end of the 2005 season through the beginning of 2007 Hector went fifteen consecutive races without making the starting lineup? That's why his championship was so special this year, because for a racer to struggle that badly and still not give up is a real testimony to his desire to win. "I never gave up on myself or my dream," he said. "And it paid off." It sure did.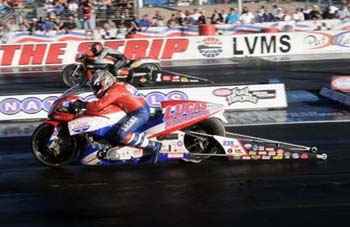 Arana vs. Eddie Krawiec
Most people will say that the big difference in Hector's career can be traced to two things, the switch to the
S & S
-powered Buell and the help he received from
Larry Morgan
. Having run a Suzuki for his entire professional career, Hector saw that the new
Buell's
provided a better chance for him to be competitive, and he was right. "The folks at S&S have been great to me," he said.
"Even this year when I was having problems and hurting some parts they took real good care of me."
All you have to do to see what a difference the Buell made is look at what Hector has done the past few years. Prior to the 2008 season he had qualified number one exactly once, at the Gatornationals in 1994. Last year, he qualified in the top half of the field at eight races and this year, well, you know what he did this year. Before he went on his performance rampage in 2009 he had set low elapsed time once (at that same
Gainesville
race) and recorded top speed three times. In 2009 alone he had the quickest bike on the property six times and he had the fastest bike at four races, and, like the runner-up,
Eddie Krawiec
, he won five races.
Did you know
that the motorcycles became a part of the NHRA professional series in 1987, even though they had been a part of the races since the early '70's? From 1987 through 2008 there had been nine different champions in the motorcycle class and five of them won multiple titles. Of those who won once, Eddie Krawiec and
Matt Smith
raced in 2009 and still have a shot at another championship, and now Hector Arana is in the group, too. And, like the other pro classes, the names of the Pro Stock Motorcycle champions recall some of the glory moments of the sport with riders like
John Myers
, Dave Schultz,
Matt Hines
and
Angelle Sampey
in the group. There were some great rivalries among those riders, and with Hector challenging the
Harley-Davidsons
for the championship this year, we may have that same kind of interest brewing in the bike class now. "I knew coming into
Pomona
that it was between me and Eddie and the Harleys," Hector said. "They have a great program and to beat them made this even more special."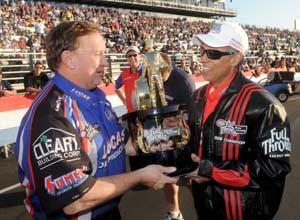 Larry Morgan and Arana
As for his relationship with Larry Morgan, it's simple. "We got talking on Sunday at one of the races and he said that if there was anything he could do to help just ask. He told me to ship him my heads and he would take a look at them." Well, rather than waste time shipping them, Hector packed them up and
was
at Larry's shop the next day. "I really think he was surprised to see me there so soon," he said. "But he has made a huge difference in my performance." He went on to tell me about his first association with Forrest Lucas. "A friend of mine called and told me he had a contact with someone who may be interested in helping me out," he said. "So he called Forrest, put me on the phone and we struck a deal. The next day money came in the mail, the very next day. No contract, just a conversation on the phone. Like I said, this championship is as much theirs as it is mine because I wouldn't be here without them."
That was back in 1994 and Hector has carried the red, white and blue Lucas colors ever since. But more than just helping financially, Hector said that, after struggling for a few years, Forrest told him that he needed to get his own engine program going if he wanted to be competitive. "He set me up with a shop and now I was able to do my own work and build my own engines. It made all the difference in the world." And so did the Lucas Oil products, "Bob," he said, "believe me when I tell you that Forrest came up with
a new
oil this year and it worked miracles.
No breakage, better performance and the engine doesn't hurt anything.
He's just amazing." I guess it's like their ads say, "it works."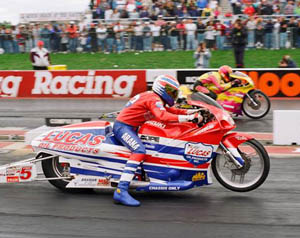 Arana vs. Matt Hines
in the '97 Richmond final.
For a man who has been doing this for so long and who struggled simply to make the field for so many years, the obvious question is why did he keep going? "I love racing, I love the competition and I always knew that I could race with the best in the class." An example of the determination that he has was the final round at
Richmond
back in 1997. After qualifying sixth in the field with a 7.44, Hector beat
Joe DeSantis, John Smith
and
Joey Bartone
to get to the final round where Matt Hines was waiting for him. "I had lane choice going into the final round and thought I had the better bike. When I came off the line and got down track my chain broke. I knew I could have beaten him. Anyway, I saw that he was getting a bit out of shape out there and I said that if I have to I'll get off the bike and push it down the track to get the win. That's how bad I wanted it." After the race Hector admits to asking the questions, "Why me. What do I have to do to win one of these things?"
Undaunted he moved forward, stayed with it and now he is the champ. Oh, by the way, when I asked him why he races bikes instead of cars he told me that it was the cheapest way to race when he got started back in the late 1980's. "I raced in the bracket classes in
Florida
. I wanted to go fast and a bike was the easiest way for me to do it back then." For the record, that early bike was a
Kawasaki
that ran in the mid nine-second range.
As he prepares for the 2010 season Hector is already finding out what it's like to be the champion. "I just came back from
Puerto Rico
where I did some television interviews and met with a bunch of friends, racers and fans. We even took some time off to go horseback riding." After four hours of that he admitted to being "very sore." But now he's back in the shop and he said that the first race of the new year seems too close. "There is so much to be done and I hope I have time to get ready for next year. I'm really looking forward to trying to defend my championship. I won five races this year, set the national record and won the title, so that's going to be tough to follow. But I'm looking forward to the challenge."




NHRA: 10 Most Recent Entries [ top ]

May 21- Second JEGS SPORTSnationals Added, to be held in mid-August in New England
May 20- DENSO Sponsors NHRA Champs' Shelter-in-Place Dachshund Race
May 14- To Our Racing Community-From Racers for Christ
May 13- The Name Game Part I
May 12- Morgan Lucas, Son of Forrest and Charlotte Lucas, Appointed President of Lucas Oil Products, Inc.
May 05- Cancellation of the 14th Annual Summit Racing Equipment NHRA Nationals
May 04- NHRA Announces Revised Plan to Restart 2020 Mello Yello Drag Racing Series
Apr 29- DSR Drivers Join Global Superstars in Fight for COVID-19 Relief
Apr 02- NHRA National Dragster will Temporarily Shift to a Free-to-All Digital Magazine
Apr 02- NHRA Announces Revised E3 Spark Plugs Pro Mod Drag Racing Series Schedule