Tue, 22 Dec 2009, 08:20 AM



Bogacki Caps Strong 2009 Campaign with Florida Winter Series Victories






Photos courtesy of BME Photography





WOODVILLE, Ala. --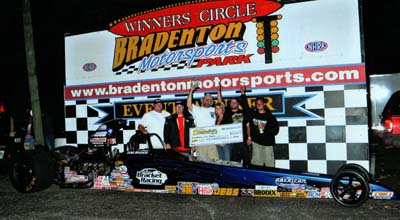 Bradenton winner circle.
Luke Bogacki's success in the sportsman ranks has been well chronicled. The 28-year-old Alabama resident has earned a reputation as one of the most successful ET bracket and sportsman class racers in the country over the last decade. But, like most anyone, a handful of accomplishments still elude the young veteran. This winter, Bogacki was able to knock one major triumph off his checklist, as he won his first winter series event at the Bradenton "Best of Both Worlds" Winter Series Championship, a $10,000 windfall on Friday November 13.
The annual "Winter Series" is a multi-week, multi-event marathon of big dollar bracket races throughout South Georgia and Florida. The events have predominantly been dominated by the greatest sportsman competitors in the country for over 25 years.
"Coming into this season, I felt like I still had four major goals in racing that I hadn't accomplished," said Bogacki. "I wanted to win an NHRA national event, a day of the winter series, a major (NHRA or IHRA) world championship, and a Winter Series Points title. I still have the dream of becoming a world champion or 5-day points champ, but it's been a great season; and I got to mark two of those accomplishments off my list!"
Bogacki earned his first NHRA national event victory back in April with a Super Comp win at the Southern Nationals in Atlanta. He backed that up with a second title at the Mid-South Nationals in Memphis in October. In similar fashion, he enjoyed multiple victories at this season's winter series.
After a less than impressive outing at the South Georgia Motorsports Park New World 5-day Championships to kick off his '09 winter series tour, Bogacki earned his $10,000 payday on day two at Bradenton. In doing so, Bogacki put on an absolute clinic at the starting line. Following a -.002 red light in round one, Bogacki bought back and posted five consecutive reactions between .000 and .006 to advance to the quarterfinals. There, he used a .011 reaction and dead-on 7.098 ET to best Todd Thompson (who was driving Bogacki's second ThisIsBracketRacing.com entry). He then used a .006 reaction time to oust up-and-coming competitor Mike Bloomfield, Jr. in the semi-finals, before posting his worst reaction of the event, an .017 in the final round opposite defending Bradenton Winter Series Gold Cup champion John Ciccarone. Ciccarone did not take advantage of Bogacki's subpar light, posting a .018 of his own, and Bogacki worked the finish line correctly, crossing first by a scant .008 to win with a .02-over 7.16.
PBIR winner circle.
Five short days later, Bogacki appeared in another final round, this time in an 1/8th mile event at Palm Beach International Raceway, behind the wheel of Jon Siegel's familiar "Wheelie Wagon" Malibu Station Wagon. Again, Bogacki posted phenomenal reaction times throughout the event. After a first round red light, and a second round .016 reaction, Bogacki's window for the remaining six rounds was from .003 to .008. He met with friend Brian Folk in a final round that featured a little bit of gamesmanship from both competitors.
"Brian and I are pretty good buddies. We talked about re-distributing the purse a little bit, and even agreed to race for $1,000. Then Brian said 'Why don't we just split it even; I wanna do a wheelie!' That settled it, we swapped cars for the final. Obviously I'm about .02 quicker than Brian; I was -.013 red in his dragster and he was .029 in the wagon. The tech guys at the end of the track were really confused when we got out of each others cars. It was a lot of fun."
With his strong showing down South, Bogacki wrapped up one of his most successful seasons to date. With a couple of bracket outings remaining in 2009, he has already appeared in 20 final rounds, coming out with 16 event victories. In addition to his two NHRA national event crowns, Bogacki also claimed a pair of IHRA national event wins and the IHRA Summit All-Stars title in Top Dragster. On the bracket racing scene, Bogacki picked up three $10,000 triumphs (two in top bulb competition, one at the World Footbrake Challenge), and a pair of $5,000 bottom bulb victories.
In addition to his own instructional website, ThisIsBracketRacing.com, Bogacki wished to thank a number of marketing partners who help make his continued success possible. Those partners include Huntsville Engine & Performance, JEGS, Bill Taylor Enterprises, American Race Cars, Auto Meter, K&R Performance Engineering, Dixie Products, Ohlins Shocks, Moser Engineering, Hedman Hedders, Mickey Thompson Tires and Wheels, Nitroplate, Goza Racing Products, Rockett Brand Racing Fuels, Milodon, CSR Performance Products, B&M, Figspeed.com, K&N filters, APD carburetors and fuel systems, J&J Engine Diapers, Sunset Racecraft, ISC Racers Tape, Nitrous Express, Sparco Safety, Todd's Extreme Paint, and DragRaceResults.com.
"I also want to thank Jon Siegel for letting me shoe the wagon; Todd Ewing, Jason Lynch, and Todd Thompson for all their help down South; and of course my girlfriend Jessica for all her help and support."
Bogacki will wrap up his 2009 campaign with a pair of big dollar bracket events at Holly Springs Motorsports this weekend and Carolina Dragway next week.




Drag News: 10 Most Recent Entries [ top ]

Apr 26- Nate Van Wagnen Named Drag Illustrated Editor-In-Chief
Apr 24- NHRA Heritage Series Heads To Wild Horse Pass
Apr 22- K&N Spring Fling Million Final Day Results
Apr 21- K&N Spring Fling Million Friday Results
Apr 20- K&N Spring Fling Million– Thursday Results
Apr 19- K&N Spring Fling Million- Wednesday Results
Apr 18- Buckeye S/SS @ National Trail April 28th
Apr 18- Don "the Snake" Prudhomme Returns To Baja Competition After 50 Years
Apr 18- K&N Spring Fling Million Tuesday Results
Apr 17- K&N Spring Fling Million Pre-Race