Thu, 17 Dec 2009, 11:58 AM



World Champ, Rookie of the Year & World Champ In That Order



By Bob Frey


Photo copyright 2009 Auto Imagery, Inc.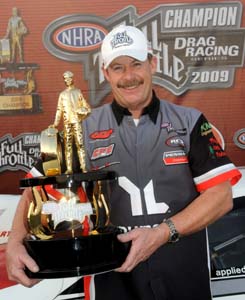 Mike Edwards
There aren't a lot of racers who can say that they have won an NHRA World Championship. There aren't many racers who can say that they have been a Rookie of the Year. And there aren't many racers who can say that they have won another world championship. And there aren't many racers who can say that they did all of those things and did it in that order. Well,
Mike Edwards
can. Mike won the Modified World Championship in 1981, and then, fifteen years later, he was named the Rookie of the Year for his performance in Pro Stock. In 2009, thirteen years later, he won the Full
Throttle World Championship
in Pro Stock. Now that's a pretty good resume any way you look at it, isn't it?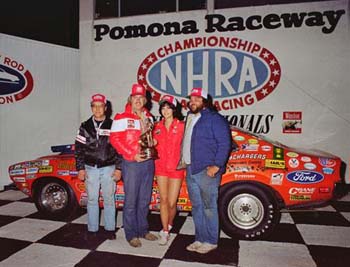 Edwards celebrates
Modified win in 1981.
Since Pro Stock began as a class on the NHRA national event stage in 1970 there have only been fifteen series champions. That list includes some of the greats in the sport, like
Ron
nie Sox, Bill Jenkins, Bob Glidden, Lee Shepherd, Warren Johnson
and ten more drivers who have all contributed to the great legacy of the class. The latest driver to add his name to that list is Mike Edwards, a man who has been at this a lot longer than most fans realize. Before we get to his Pro Stock career we should mention that Mike had a great career in the sportsman ranks, and that included two really good years in the Modified Eliminator class.
Did you know
that Mike won a total of nine divisional races in Modified Eliminator and that his first final round came in 1979? It took place at Thunder Valley Raceway in
Marion, South Dakota
, when he beat
Sie
Vandenberg's
C/SM Camaro in the final round. He followed that up with four more wins in 1980 and then added four more in his championship year of 1981. Following a good year in 1980 the folks at
National Dragster
named Mike the "Up and Coming Sportsman Driver of the Year," and he rewarded them by going out and winning the first race of 1981, the Winternationals in
Pomona
. Mike accomplished those goals while driving a Ford Maverick that was powered by a small-block Ford engine, and he did it with the help of his partner,
Bill Long
, and all along, everyone who watched him knew that he was something special, because just like he did this year, he had a dominant car that beat some of the best in the class at that time. A win at the Mile-High Nationals later in the 1981 season helped Mike win that national championship and it also earned him the coveted
Quaker State Sportsman Cup
as the top sportsman racer in the country. "I have to admit that I thought I was pretty hot stuff after winning that," Mike said. "And it paid $10,000 and that was a lot of money back then. It still is!" Mike will also have the distinction of going down in history as the last NHRA Modified champion ever, since after his title the class was merged into a combination of Super Stock and Competition Eliminator. With no place to race, Mike returned to the Winternationals in 1982 where he qualified in the Pro Stock class, but after that he basically returned to Oklahoma to work on the family farm and to help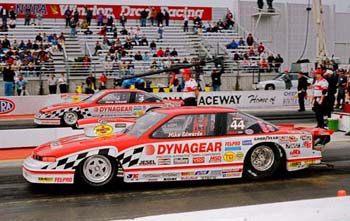 Edwards vs. Steve Schmidt
at Pomona in 1996
his father in his construction business. Later on, he went to work for
David
and
Robert Nickens
and he helped them both at the shop and at the track. But after that
Pomona
appearance we wouldn't hear from Mike again on the national scene until the 1995 season when he raced three times in the pro class before really getting serious in 1996. That year Mike competed at all nineteen races, made five final rounds, won three of them and finished third in the points behind only
Jim Yates
and
Warren Johnson
and he was named Co-Rookie of the Year along with
Matt Hines
.
Did you know
that his third place finish that year was Mike's best finish in the points until he won the championship this season? His three wins were also a season-best until he won five this year in ten final round appearances. He also won fifty-three rounds this year and that is a career high for Mike.
Did you know
that Mike's fifty-three round wins were more than double the amount of rounds he won in any previous year in his career? His final totals after this year show a record of 274-226, for an even five hundred rounds of Pro Stock racing for his career. Not bad for a man who once described himself as, "A farm boy who just got lucky."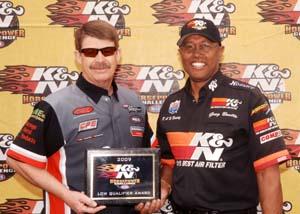 Edwards recieves one of
his No. 1 qualifier award.
Mike's 2009 trip to the championship was highlighted by the fact that he had one of the best cars in the class, not only for this year but in any year.
Did you know
that for the entire year Mike never qualified lower than fifth, and that he was the top qualifier sixteen times? And, when it really counted, at the end of the season, he ran off nine consecutive top qualifying spots and that's one of the best streaks in the history of Pro Stock. But, as I always say, in the interest of fair reporting, it's a long way from the record.
Did you know
that Bob Glidden once qualified number one at twenty-three consecutive races? He did that between 1986 and 1988 and that followed up his performance in 1978 and 1979 when he was the top guy at fifteen consecutive races. More recently,
Greg Anderson
was number one at eleven straight races in 2004 so Mike has something to shoot for when he starts the new year. Mike's sixteen number one spots this year moved him past such greats as
Bruce Allen
and
Lee Shepherd on the all-time list where he now resides in the number seven spot.
He also had big power and that means a lot of top speeds for the year. Coming into 2009 Mike had only set top speed at four races, and this year he did it fourteen times for a total of eighteen which is sixth best in the Pro Stock ranks. Like I said, it was a very good year for Mike.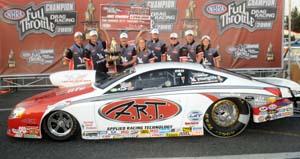 Edwards and team celebrate win.
Mike will be the first one to tell you that he and his team may have won even more races or put that championship away earlier if it weren't for one area, the driver. "I always said that I had the horse, now if I just have the rider I can win this thing," he said. "At times I was the weak link, but it all worked out well in the end. We had such a good car and I think I got a little defensive with my driving. I didn't want to give a race away and you just can't do that in this class. You have to be aggressive." And while he may not have always been first off the line, by the time the cars went by the sixty-foot clocks, more often than not Mike was out in front. "We had a very good car and we didn't make a lot of bad runs this year. I mean, this car was fast." That is something that caught the attention of the other races in the class. "Mike has a great car, he's making big power and the car just doesn't make many bad runs," Greg Anderson told me during the year. And then he added, "That's a tough combination to beat." That consistency showed in the fact that, for the entire year, Mike only lost in the opening round of eliminations twice, in
St. Louis
and
Sonoma
, and that's the way to put a lot of points on the board. After the
St. Louis
loss he got back on track, literally and figuratively, and went to the final round at the next five races. Along the way he was getting help from veteran crew man,
Terry Adams
along with
Josh Robinson, Allen Lindsey
and
Jon Phillips
at the track, while
Nick Ferri
and
Paul Hoskins
did most of the work back at the shop. It's that "at the shop" thing that may have
Mike and Lisa Edwards
played the biggest part in Mike's championship season. "Two years ago we were ready to quit," he said. "We hadn't been running well, at least not well enough to contend for the championship, and we didn't see any way to step things up without starting out own engine program." Enter longtime friend and supporter,
Roger Stull
, who stepped up and gave Mike the resources he needed to start his own engine program. Roger, who went to school with
Joe Gibbs
, is also involved in the
Young Life
program that Mike has supported for years. Along with his wife, Ann, Roger has been a
great fan of Mike and
Lisa Edwards
for several years now. "With Roger's help we made a commitment to try it for two years, and I guess it's worked out pretty well." The engine program has paid big dividends for Mike, who went from merely competing at the races to dominating them. Speaking of which, his performance in
Richmond
this year was the stuff that legends are made of. He qualified number one, got all the bonus points in each round of qualifying, won the race and set the national record. That, by the way, means he took 150 points away with him and that's the first and only time, with the new qualifying format, that anyone has done that in any class. "That was really a big weekend for us," he said in a major understatement. From a mechanical standpoint, that race was huge, and from a psychological standpoint it may have been even bigger.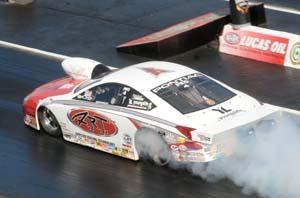 Mike Edwards
Winning a championship is nice, but to earn the respect and admiration of your peers is even better, and that's exactly what Mike did this year. All of the Pro Stock racers that I spoke with had nothing but nice things to say about him and they certainly admired what he did on the track this year. "Let's face it, he made us all look bad this year," Greg Anderson said. "It will make us all go back and work harder during the off-season." Of course, Mike will be working hard, too, and, despite what you may have heard, he will return as a driver in 2010. "A couple of times this year I thought that maybe we could do better with someone else behind the wheel, but I never really entertained the idea of having someone else drive," he said. "I like driving, but I also like making the car run fast. To me, that's what it's all about. Sometimes, when you're wearing two hats, tuning and driving, something has to suffer, and this year it was my driving." Mike added that he will begin testing after the first of the year and is prepared to open the season with the same
Jerry Haas
-built car that took him to the championship. "We also have another car, one out of
V. Gaines'
shop and we may test that one, too. We were going to use it in 2009 but we started the year so well that we just didn't want to change." Good call, Mike. He added that
Ron
Krisher
drove one of the cars from V's shop this year and said that it looks like a very good chassis. "It's nice to have options, but we like what we had in 2009." I guess he did!
With a good car, a solid team, his own engine program and a wife that supports the entire operation, Mike said that 2009 was a dream come true. "You never really set out, at least I didn't, saying that you are going to win the championship. You like to improve, and that was our goal at the start of the year. Now we'll have to see what we can do to back it up." Based on what we saw in '09, the rest of the Pro Stock teams better get busy, because it appears they have a lot of work to do if they want to stop Mike from repeating as champ in 2010.




NHRA: 10 Most Recent Entries [ top ]

May 21- Second JEGS SPORTSnationals Added, to be held in mid-August in New England
May 20- DENSO Sponsors NHRA Champs' Shelter-in-Place Dachshund Race
May 14- To Our Racing Community-From Racers for Christ
May 13- The Name Game Part I
May 12- Morgan Lucas, Son of Forrest and Charlotte Lucas, Appointed President of Lucas Oil Products, Inc.
May 05- Cancellation of the 14th Annual Summit Racing Equipment NHRA Nationals
May 04- NHRA Announces Revised Plan to Restart 2020 Mello Yello Drag Racing Series
Apr 29- DSR Drivers Join Global Superstars in Fight for COVID-19 Relief
Apr 02- NHRA National Dragster will Temporarily Shift to a Free-to-All Digital Magazine
Apr 02- NHRA Announces Revised E3 Spark Plugs Pro Mod Drag Racing Series Schedule