Wed, 16 Dec 2009, 10:48 AM



National Guard ADRL Celebrates 2009 World Champions



Courtesy of ADRL Communications



ORLANDO, Fla. --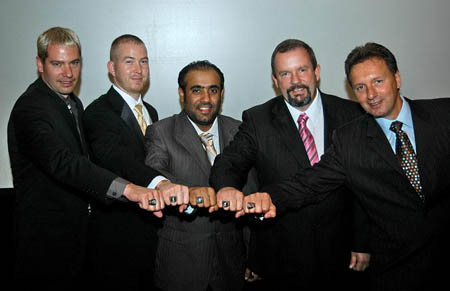 Matt Hartford (XPS), Scott Gray (PXM), Khalid Al-Balooshi (PN),
Todd Tutterow (PX) and Spiro Pappas (XTF)
Racers and officials of the National Guard American Drag Racing League (ADRL) gathered for one last time in 2009 for the ADRL Racers Appreciation and Awards Gala II at the Wyndham Orlando (FL) Resort Dec. 12, to honor the series' five world champions and bestow several special awards on participants.
Master of Ceremonies Bret Kepner provided the first "highlight" of the evening when he tripped on stage and suffered a scary pratfall immediately after being introduced by National Guard ADRL President and CEO Kenny Nowling.
"I think I broke my hip," Kepner deadpanned when he returned to the microphone, but fortunately, the popular TV personality and drag racing historian injured no more than pride in the fall and was able to laugh it off along with about 350 relieved banquet goers.
Nowling accepted the first award of the night on behalf of Seth Angel and his crew at Houston Raceway Park, which received Track of the Year accolades.
Next up was Matt Hartford, winner of the inaugural Extreme Pro Stock world championship after nipping Brian Gahm in the final round of the Speedtech Battle for the Belts in October at the Texas Motorplex. It was the only final round Hartford reached all season, compared to the four that Gahm won in visits to seven of nine event finals, but it came at the right time, he reminded the crowd.
"I told my guys when the year started that there was only one race that I really wanted to win and that was the Battle for the Belts, and then we get there and managed to pull it off," the Phoenix, Arizona-based driver said. "I can't thank my car owner, Billy Dingman, and my crew enough for everything they did to put me up here. I owe it all to them."
After posting a perfect record of two wins in two finals this year, Pro Extreme driver Jason Hamstra of Demotte, Indiana, was a popular choice for 2009 Rookie of the Year honors. Hamstra's second win at Rockingham, NC, also vaulted him into last-minute contention for the eight-car Speedtech Battle for the Belts field.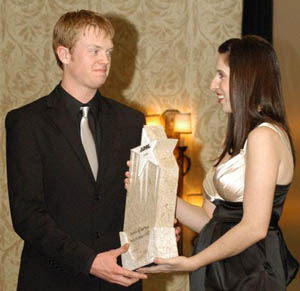 Jason Hamstra and Jessica Alcoke
"There were a lot of good drivers in the running (for Rookie of the Year) and I had no idea I'd gotten it until they called my name, so I was quite surprised," Hamstra said. "I just want to thank everyone at the ADRL for giving us a good place to race and for giving me this award. It really means a lot to me."
Scott Gray was next to take the stage as the National Guard ADRL's new Pro Extreme Motorcycle world champion after scoring two wins during his 2009 campaign and leading the points race for most of the season. In addition to thanking his wife, Amber, and other family members for their unwavering support, the Ocala, Florida rider singled out Mickey Thompson Racing Tires for providing him with race-winning rubber.
"They came to me with a brand-new tire right before the final race and I know conventional wisdom says you don't change things in drag racing if you want to stay consistent, but I went ahead and took a chance. Well, needless to say, if Mickey Thompson wants me to try something, from now on I'm going to listen," Gray said, showing off his new championship ring.
Extreme Pro Stock's Gahm next received the prestigious National Guard ADRL Driver of the Year award, but was quick to deflect any praise and emphasized it really should be recognized as a team award.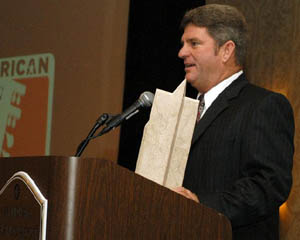 Brian Gahm
"This represents many years of racing and learning and preparation to get the job done," Gahm said. "This isn't just about me or even just about this season; it all about my team and all the hard work it's taken to get here. That said, this is an honor that I'll always cherish and remember."
In introducing new Flowmaster Extreme 10.5 World Champion Spiro Pappas, Kepner briefly outlined a story of survival and resiliency in racing that brought tears to the eyes of many in the audience. When his wife passed away several years back, Pappas quit racing to concentrate on raising his two young daughters, but returned to the track just two years ago and joined the National Guard ADRL full-time in 2009, when he won one event and eventually beat out Chuck Ulsch for the title in the Speedtech Battle for the Belts final.
In an emotional acceptance speech, a remarkably composed Pappas focused on his family, then asked each member of his crew to stand and individually receive a round of applause for their accomplishments.
"These guys have seen me on fire, put the car back together again and done everything I've ever asked of them," Pappas said. "I can't say enough about them."
Next, Jim Oddy, crew chief on Joshua Hernandez's National Guard-backed Pro Extreme entry, stepped on stage with Kepner to help present an award given in his name to the ADRL racer who best demonstrated sportsmanship in conjunction with competitive drive throughout the 2009 season. This year's winner of the Jim Oddy Award was Flowmaster Extreme 10.5 driver Kenny Doak; however, after Doak missed his flight to Orlando, Pro Extreme driver Ellis Vial accepted in his honor.
New Pro Nitrous World Champion Khalid Al-Balooshi of Qatar then gave a brief speech in English, in which he thanked team owner Sheikh Khalid bin Hamad Al-Thani, along with Al-Anabi teammates Shannon Jenkins, Mike Castellana, Burton Auxier and all his crewmembers.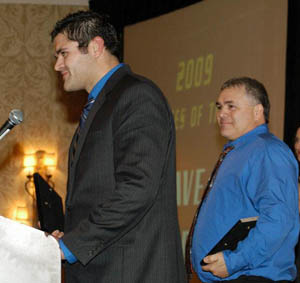 Dave "Boo" Koch Jr. and
Dave "Bones" Koch
Father-and-son National Guard ADRL employees Dave "Bones" Koch and Dave "Boo" Koch Jr. were next honored as co-Employees of the Year and received a standing ovation from racers and their peers within the organization.
"Thank you all very much for this award," Koch Jr. said "I know my dad is very proud of this, too."
The last world champ to be called upon was Pro Extreme's Todd Tutterow, who earned one event win in '09 on his way to defeating Hernandez in the Speedtech Battle for the Belts final. Like others, Tutterow emphasized the role his wife, Denise, played in his success.
"Sunday we have been married 23 years and she's been right beside me every step of the way," Tutterow announced to a hearty round of applause.
"This is a really special championship to win just because of the level of competition we have here in the ADRL," the North Carolina native continued later. "This is the very best doorslammer racing in the world and it was really neat to hear people all day calling me, 'Champ' and just offering their congratulations. I'm thrilled."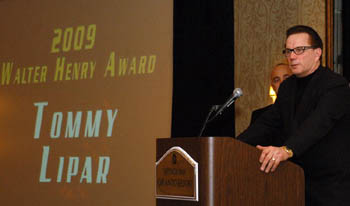 Tommy Lipar
The last award of the evening went to National Guard ADRL cofounder Tommy Lipar, who received the 8th annual Walter W. Henry Memorial Award. The most prestigious award in doorslammer drag racing, it is presented to the person or group of individuals who has made an important and significant impact on the sport over an extended period of time.
"I had no idea this was coming," Lipar said. "I never would have imagined it would lead to this when I bought my first Pro Mod team, but it's a great honor."
The 2010 National Guard ADRL Tour begins Mar. 12-13, 2010, at Houston Raceway Park in Baytown, Texas.