Mon, 14 Dec 2009, 03:42 PM



Johnson Records First-Ever Run in Pro Stock Mopar® Dodge Avenger at PBIR



Courtesy of Mopar Speed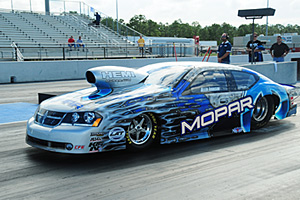 Allen Johnson
NHRA Full Throttle Drag Racing Series racer Allen Johnson made history this morning at Florida's Palm Beach International Raceway (PBIR), as the Team Mopar® driver launched on his first-ever run in his new 2010 NHRA Pro Stock Mopar Dodge Avenger.
"It was very smooth on that first run," said Johnson. "We wanted to make sure the parachute and brakes worked, so I let up about half-track. We were very conservative. It was at .995 seconds around the 60-foot mark. It was real smooth."
Johnson and his J&J Racing crew plan to test the HEMI®-powered Mopar Dodge Avenger through Wednesday, Dec. 16, at PBIR in preparation for the car's race debut at the 50th Annual Kragen O'Reilly NHRA Winternationals in Pomona, Calif., Feb. 11-14, 2010.
"We're going to get after it during the test runs in the afternoon," Johnson said. "We'll run it as much as we can, maybe about five or six passes. I'm encouraged by the first run and excited to see what we can do with it when we go all out."
Visit www.moparspeed.com on Monday, Dec. 21, for complete coverage of Johnson's first test sessions in the Mopar Dodge Avenger.




NHRA: 10 Most Recent Entries [ top ]

Nov 16- Torrence Wins Camping World Title
Nov 11- NHRA Announces Complete 2021 Class Schedule
Nov 10- Don Prudhomme Shares Life Story On and Off the Track
Nov 10- Justin Ashley Wins 2020 NHRA Rookie of the Year
Nov 10- Matt Hagan Crowned 2020 NHRA Funny Car World Champion
Nov 09- LAS VEGAS - Enders Claims Her Fourth Pro Stock World Championship
Nov 05- LAS VEGAS SN - Super Stock Final, Round 7 Eliminations
Nov 05- LAS VEGAS SN - Stock Eliminator Final, Round 7 Eliminations
Nov 05- LAS VEGAS SN - Super Street Final, Round 7 Eliminations
Nov 05- LAS VEGAS SN - Super Comp Final, Round 7 Eliminations