Mon, 14 Dec 2009, 10:26 AM



I Sat at the Lucky Table



By Bob Frey


Photo copyright 2009 Auto Imagery, Inc. & Robert Grice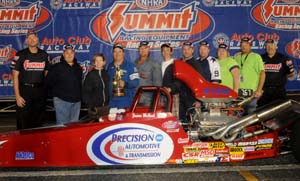 James McNeal and crew celebrate win.
The old expression in drag racing goes something like this, "If you want to win a race you need some luck along the way." That may not be the exact expression, but you get the idea. Sometime during the course of eliminations most drivers will get what they consider a lucky round. Their opponent breaks, or they break-out but the other guy breaks out more, or they leave a little too early but the other guy left even earlier, or they foul while the opponent crosses the center line. Yes, most racers will agree that luck plays a part, sometimes a big part in the outcome of a round or a race. James McNeal, the Summit Racing Series Super Pro national champion, admits that he got lucky in Pomona when he won the title. "We went to the banquet that Summit put on for us on Thursday night and I sat at the same table as Tibor Kadar who also won a championship. What are the odds that two guys who never met each other, from two different divisions, would sit at the same table and then go on to win the race? I guess it was just my weekend and it all started when I sat at the lucky table."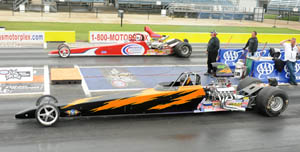 Division 4 Super Pro final,
Austin Williams vs. James McNeal.
Now I believe in luck as much as the next guy but I really think James is down-playing his role in the championship. After all, to even get to Pomona he had to earn the right to represent Paris Drag Strip, his home track, in order to go to Dallas for the division championship. Then he had to win the Division 4 Super Pro title, and that took eight rounds, and then he had to beat the Pro champion in a special run-off, and that was another round, and then he had to win three rounds in Pomona. Doesn't sound lucky to me, it just sounds good. "I've been racing for a while now," James said, "and I've had a little bit of success, but nothing like this." What James also has besides success is the support of his wife and family as he races and wins on a local and now a national level. "I've been married to Johnna for twenty years and she has always known that I love drag racing and she is very supportive of it." I guess the fact that James took her to the U.S. Nationals in Indy for their honeymoon should have been an indication to her of what was to come. "I was lucky to have her and my one son, J.D., with me in Pomona to share the experience. It was a very special weekend."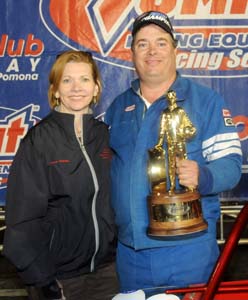 James and Johnna McNeal
Like so many racers who compete at their local tracks, the opportunity to win and then go to Pomona is the proverbial carrot that's dangling out there. "I've come close before and I won the division Race of Champions a few years back but I've never earned the right to go to Pomona, so you can imagine how excited I was this year." And if you think he was excited before he got to California, you should hear what he says about the week that he spent there. "It was just a wonderful experience. I can't say enough about what the Summit people did for us and how they treated us. >From the minute we got there we were treated like stars. They parked us all together, had the nice banquet for us (the one where he sat at the lucky table), had someone come over to us and let us know when it was our turn to run and things like that." Another thing that made the week special for James was the fact that the fans were so nice to all of the Summit racers. "They didn't know we were just regular racers, most of who were there for the first time. They came over, asked about our cars and were really interested in what we were doing." James took advantage of that to let some youngsters sit in his dragster and that made a lot of new friends for him and the Summit teams. "You could have thrown a baseball from my trailer and hit John Force's trailer, that's how close we were to all the stars. Like I said, it was special." Gee, I wonder if somewhere out there today John is saying that he could have thrown a ball and hit James McNeal's trailer?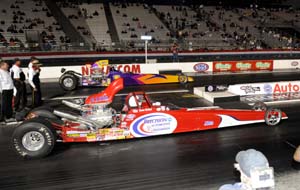 McNeal vs. Tom Williams
For James, the attraction of drag racing came at a very early age. "I went to my first drag race when I was sixteen and I'm forty-four now. I remember seeing that first pair of cars leave the starting line with the wheels in the air and I was hooked." Well, hooked for a while. James raced and did very well at his local track, but after a while he decided he wanted do something else so he sold all of his equipment. "After two weeks I knew that I had made a big mistake and I bought another car and I've been racing even more ever since then." The car he races now is a beautiful 2002 dragster built by Denny Nelson and it features a 582 cubic inch engine, a Powerglide transmission and a B & M converter and James says that it makes about 1,000 horsepower. He also said that he thought he might be at a little bit of a disadvantage when he came to Pomona. "Most of the racing that I do is on the eighth-mile, so I had a few adjustments to make when I got to the track." One thing that he noticed was that the car wasn't running at the top end of the track the way he wanted, but he knew he could compensate for that. "My goal for the weekend was to not beat myself. I can make the car work the way I want so all I had to do was focus and not make mistakes." During the first few time runs James admits to watching the other racers put some good reaction times on the board, but says that he wasn't worried about it. "I was a little slower than they were but I knew when it came time for eliminations and the adrenaline kicked in that some of those double-zero lights I was seeing would turn into red lights." And that's exactly what happened. In the first round, in the four classes, five racers fouled out, including James' opponent, the Division 2 champ, Alan Ackles. In round two against D-7 winner Carl Cannavo, James won on a double-breakout (lucky?) and that set up his final round encounter with Tom Williams. When James won that race with a better reaction time and a pass that was closer to the dial-in he was the national champion. Now that's not lucky, that's good.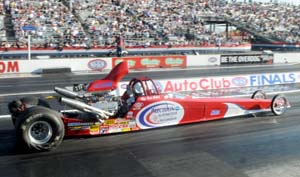 With trophy in hand, James headed home where he was greeted with a ticker-tape parade. OK, so maybe there wasn't a lot of ticker tape but there was a parade and a big celebration. "Everyone in town knew we were going out to California and the local paper did a big story when we left and a nice follow-up when we came home. The civic groups and everyone were very supportive and we were in the Christmas parade and the television station did a nice story on us. Like I said, it was a great experience, a once in a lifetime experience." After saying that, James thought for a moment and then added, "Actually, I'd like to do it again, so I hope it's not a once in a lifetime experience." The way he ran this year, and with a little luck, there's a good chance that James will make a return visit to Pomona. Now if only they'll have that same seat reserved for him at the lucky table!
Following the race James said, "I would like to thank Shawn Bishop for all of his help and I'd like to thank the Lord for the opportunity to race and for all the safety that I have enjoyed."




NHRA: 10 Most Recent Entries [ top ]

May 21- Second JEGS SPORTSnationals Added, to be held in mid-August in New England
May 20- DENSO Sponsors NHRA Champs' Shelter-in-Place Dachshund Race
May 14- To Our Racing Community-From Racers for Christ
May 13- The Name Game Part I
May 12- Morgan Lucas, Son of Forrest and Charlotte Lucas, Appointed President of Lucas Oil Products, Inc.
May 05- Cancellation of the 14th Annual Summit Racing Equipment NHRA Nationals
May 04- NHRA Announces Revised Plan to Restart 2020 Mello Yello Drag Racing Series
Apr 29- DSR Drivers Join Global Superstars in Fight for COVID-19 Relief
Apr 02- NHRA National Dragster will Temporarily Shift to a Free-to-All Digital Magazine
Apr 02- NHRA Announces Revised E3 Spark Plugs Pro Mod Drag Racing Series Schedule