Sun, 13 Dec 2009, 11:32 AM



National Guard ADRL Adds Hedman Husler Hedders to 'Official' List



Courtesy of ADRL Communications



O'FALLON, Mo. --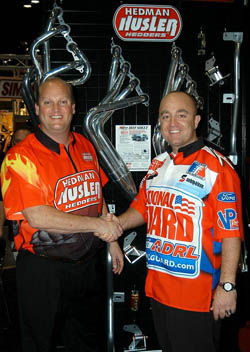 Chris Vandergriff and Kenny Nowling
The National Guard American Drag Racing League (ADRL) has named Hedman Husler Hedders as the series' official header.
"Hedman Husler Hedders is the oldest, most-respected header company in racing," National Guard ADRL President and CEO Kenny Nowling stated. "And Hedman's willingness and ability to work one-on-one with chassis and engine builders is unparalleled in the marketplace, making it an ideal partner for the National Guard ADRL."
Chris Vandergriff, general manager and director of racing for Hedman Husler Hedders, said the Georgia-based company has been impressed by the National Guard ADRL's recent success.
"We've been watching the progress of the ADRL the last couple of years and feel there is tremendous potential for growth in our own company by being partnered with the ADRL," Vandergriff said. "The doorslammer racing market has just exploded due to the ADRL and we want our line to be at the forefront of choices when door-car racers make their header-buying decisions."
Toward that end, Vandergriff said Hedman Husler Hedders will be working closely with chassis builder Andy McCoy and Pro Nitrous racer Thomas "Tom Slick" Myers as Andy McCoy Race Cars continues to build a new, state-of-the-art '70 Cuda for Myers to drive on the 2010 National Guard ADRL Tour.
"Working with Andy and Thomas is our first step toward creating an entirely new product line for the doorslammer market," Vandergriff explained. "Andy will tell us what he needs and Hedman Husler will develop a product that other doorslammer racers will be able to buy pre-made and ready to race."