Sat, 12 Dec 2009, 04:16 PM



National Guard ADRL Getting Dressed with Champion System



Courtesy of ADRL Communications



O'FALLON, Mo. --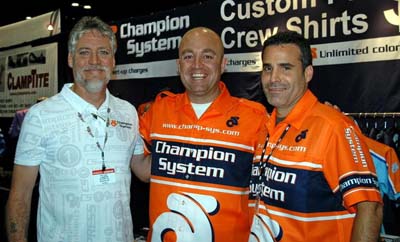 Eric Cody, Kenny Nowling & Morry Edelstein
National Guard American Drag Racing League (ADRL) officials will be sporting a new look in 2010 after President and CEO Kenny Nowling signed a multi-year agreement making Brooklyn, New York-based Champion System the official uniform provider for the growing eighth-mile drag racing series.
"Just like our professional race team members, it's important for National Guard ADRL staff and officials to always look their best at our national events," Nowling declared. "After carefully weighing our options, it was clear Champion System could best create and deliver the look we were after for next year's National Guard ADRL Tour."
Champion System co-owner and COO Morry Edelstein said he is looking forward to showcasing his company's products to National Guard ADRL teams through dressing the sanctioning body's staff.
"We welcome the opportunity to show that every race team can look like the top professionals at an affordable level," Edelstein said. "And we offer a complete service that can take someone from design to delivery in very short order."
In addition to motorsports uniforms, Champion System creates custom technical apparel for several other high-action sports such as running, cycling, Nordic skiing, rugby and soccer.
With only a 10-piece minimum, unlimited colors and combinations and quick turnaround, "we make it easy to order a custom look," Edelstein said.