Sat, 12 Dec 2009, 04:16 PM



National Guard ADRL Sets Sail with Racensur.com Cruise for the Qualifiers



Courtesy of ADRL Communications



O'FALLON, Mo. --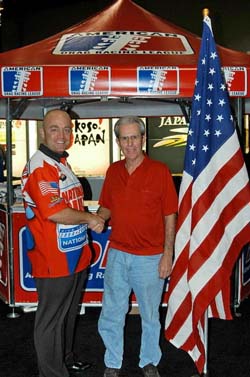 Kenny Nowling and Mel Eaves
Simply qualifying for at least one National Guard American Drag Racing League (ADRL) event in 2010 will send one lucky racer on a trans-Atlantic cruise for two to the Mediterranean with potential ports of call in Bermuda, Portugal, Italy, Greece or Spain, among others.
The Racensur.com Cruise for the Qualifiers will be open to every qualifier in all five National Guard ADRL professional classes-Pro Extreme, Pro Nitrous, Flowmaster Extreme 10.5, Pro extreme Motorcycle and Extreme Pro Stock-at each of 10 events scheduled on the 2010 National Guard ADRL Tour.
So, if each event features a full field of 16 qualifiers in each class, 800 names will be entered in a random drawing for the cruise, giving someone who qualifies for all 10 events a one in 80 chance of winning the prize, while someone who qualifies only once will have a one in 800 chance of winning. Only official qualifiers will earn a Racensur.com Cruise for the Qualifiers ballot; alternates will not be considered eligible for the drawing.
"Racensur.com has been a partner with the National Guard ADRL from the very beginning at Dragstock I back in 2004," National Guard ADRL President and CEO Kenny Nowling said. "As a racer himself, Mel understands what it takes to service his customers and the Racensur.com Cruise for the Qualifiers is just one more example of what's made him so successful in business."
All National Guard ADRL event qualifiers next year will be required to carry Racensur.com Cruise for the Qualifiers decals on their cars or motorcycles, plus, if the winner also is insured by Racensur.com for the entire 2010 National Guard ADRL season, he or she will receive a $1,000 cash bonus.
"This should be a fun program for ADRL drivers," said Mel Eaves of Racensur.com. "It will provide someone with a nice, relaxing end to their season."
National Guard ADRL racers interested in insuring their race vehicles and/or tow rigs should contact Eaves through visiting www.Racensur.com or by calling toll-free to (800) 940-5010.