Thu, 10 Dec 2009, 12:02 AM



Another New Champion



By Bob Frey


Photo copyright 2009 Auto Imagery, Inc.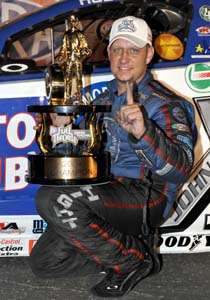 Robert Hight
Over the years there have been some surprising ends to the season and some surprising national champions. There have also been a lot of drivers who won one championship only to never be seen or heard from again. And there have been drivers who seemingly came from nowhere to win a championship and then went on to have great careers. The question is
,
in which group does
Robert Hight
, the 2009
Full Throttle Funny Car Champion
, belong?
A look back finds that the first real surprise Funny Car winner was probably Shirl Greer in 1974. Shirl, who came into the final race of the year 174 points behind the leader, Paul Smith, eventually won the championship but not without a lot of drama. A fire, a really big fire on Saturday during qualifying seemed to end Shirl's hopes of racing again, let alone winning the championship. Well, as history shows, he not only came back to race but he did, indeed, win the title. With some help from Steve Montrelli, Al Hanna and even Paul Smith (who, along with another contender, Frank Hall, failed to qualify for the race), Shirl returned from the hospital,
Raymond Beadle
hands all bandaged up from the fire, beat
Leroy Chadderton
in round one and, when
Don Prudhomme
, who still had a shot at the title, lost in round two to
Dale Pulde
, Shirl was the champ..Other drivers who won when it didn't look like they were going to include
Raymond Beadle
in 1979 and
Cruz Pedregon
in 1992.
Or Cruz Pedregon last year.
Raymond came back to win the championship again in 1980 and 1981 but there have been other champs who won and didn't do so well the next year.
Mark Oswald
, the 1984 Funny Car champ, had a
dreadful
year in '85, a year when he didn't make it to a single final round. Of course, Mark has done very well since then including eight top ten finishes and three second place finishes as a driver to go along with everything he has done as a crew chief. Still, he would like to forget 1985.
And Cruz, who won in
2008
did not make the "Countdown" this year. So the question again is, where will Robert be on the list of champions and how will he do in 2010?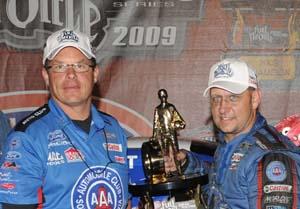 Jimmy Prock and Hight
Of course nobody knows the future, but a quick look back at Robert's brief history as a driver would seem to indicate that he will be around for a long time and that he'll be competitive as long as he remains a driver.
Did you know
that in his brief, five year career as a driver, Robert has finished no lower than fifth in the standings? That fifth place finish was in his rookie year, and since then, he has finished second, second and fourth before winning the championship this year and that's a very good way to begin your driving career. Of course, as I always say, driving for
John Force
is a big plus and so is having a crew chief like
Jimmy Prock
. Still, you have to look at what his other teammates did, and when you consider the fact that they had all the same basic resources, winning the championship is quite an accomplishment. Hey, just being the best of the Team Force cars would be quite an accomplishment, wouldn't it?...It's no secret that Robert made the "Countdown" at the last possible moment and it's also no secret that, from a performance standpoint, 2009 might not have been his best year. But, in the end, he did make the "Countdown," and in those six races, it's hard to argue with the fact that he had the best car. Beginning in
Charlotte
he won two races and nine consecutive rounds to start the "Countdown" and he didn't lose until
Ron Capps
beat him in
Memphis
. With that great start he went from tenth place to second place in a hurry, and when he beat John Force in Richmond in round one, he took over the points lead and never gave it back..Speaking of performances,
did you know
that in 2009 Robert set top speed five times and that four of them came in the "Countdown?" And he was the number one qualifier four times and a pair of them happened during the "Countdown." I guess whatever it was that they did during that last test session really paid off, because from Indy on Robert looked like the Robert Hight of old.
Did you know
that in both 2006 and 2007 Robert led the class in the number of times he qualified number one?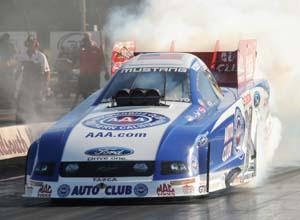 Robert Hight
He did it nine times in 2006 and eight times in 2007 and he followed that up with five more in 2008. Throw in the ones he had this year and, for a driver who has been at this for only 116 races, he has been the top qualifier an amazing thirty-two times.
Did you know
that that places him sixth on the all-time Funny Car list? Only John,
Don Prudhomme, Kenny Bernstein
and the two
Pedregon
brothers, Cruz and
Tony
, have qualified number one more times than Robert and they've all had a lot more races than he has. Of the top six in the class,
did you know
that, percentage wise, Robert is second in the class behind only the "Snake" who qualified number one at an amazing thirty percent of the Funny Car races he entered, while Robert has done it at twenty-eight percent of his
races.
Nice company to be in, isn't it?
To be a part of the John Force organization has to be a dream come true for most drivers or crew chiefs (or crew members, for that matter). When you look at the success they have had over the years you have to figure that you will at least have a shot at winning a championship if you're on one of those Ford teams. No guarantees, of course, but a shot and that's all you can ask for. For Robert, his chance to drive came after almost a dozen years working with the team. He began his career with Team Force in 1995 and, as they say, worked his way up through the ranks until he finally got a chance to drive. When he finally got his license in 2004, it was only a matter of time before he got the call to drive, and when that call came, he certainly made the most of it. While most folks know that Robert started with John's team in 1995,
what they may not know is that he didn't begin the 1995 season with John. "I was working for
Tommy Johnson
at the start of the year," he told me. "I was working on the clutch and driving the truck and really enjoying it." A friend of Robert's had introduced him to
Bernie Fedderly
earlier in the year and, as the season went on, Bernie made an offer to Robert. "I liked working with Tommy but Bernie made an offer that was really good and I eventually took it." That came after working with
Roger Primm
on his dragster team, a team that featured a young driver by the name of
Del Worsham
. "I hadn't done anything in drag racing before that," he said. "I learned a lot about cars from working with my dad, but I never really thought I would end up working on a team."
Or winning a driving championship.
Winning in the most unlikely fashion this year, Robert now knows what if feels like to be on both sides of the "Countdown" format. He came close to winning in each of the last three years and only a parts breakage in Las Vegas kept him from possibly winning the championship in 2006, while he needed to set the record at Pomona in 2007 and he came up short even though he won the race. And then, in 2008, Robert had a shot, a long shot but still a shot to win the title when he came to Pomona, but when he lost to Tony Pedregon in round one he was eliminated from title contention. Ironically, in each of those three years, he seemed to have a better car and a better chance to win it all coming down the stretch than he did this year. Go figure!!...You really can't mention the championship this year without mentioning everything that went on at Indy. The run between John and Robert caused so much talk and is something that everyone talked about for weeks after the race. For my part, I saw it as an opportunity for John to help Robert, and after all, isn't that what teammates are for? It's happened before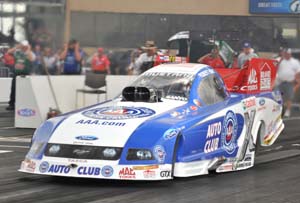 and it will happen again, and we will probably be debating it for years to come. And if you think it's a new thing, I suggest you look at the final round in
Gainesville
, not this year, but in 1970. That's the year the
Candies and Hughes
team had two cars, two very good cars in the field and they made it to the final round to face each other for the title.
Larry Reyes
was driving one car and he had already set low elapsed time in the class when he beat
Larry Arnold
in round two with a strong 7.102.
Leonard Hughes
, who was driving the other C & H car, had won his first two rounds with a best of 7.724, but when they met in the final round it was Leonard who got the win, his 7.297 beating Larry's 7.120.
Team orders?
I don't know? Did it look that way?
Yes,
and the list goes on as I'm sure you all know by now. So let's put that behind us and move on. Or at least let me say that if I had been in the same situation as John I would have done the same thing. Enough said.
While Robert struggled early this year he said, looking back, that the "Countdown" format may have had something to do with it. "With the format the way it is it really wasn't imperative that we get the car running well in the middle of the season," he said. "We were trying a lot of different things and we thought that we would be able to make the playoffs. If we were running in the old points system we might have changed the way we raced in the middle of the year, but we thought that if you get in the 'Countdown' you can win." And that proved to be the case. He went on to say that, working for John also took a lot of pressure off the team. "John is so loyal and we didn't have to worry about getting replaced or fired or things that some other drivers or crew chiefs may have to worry about." With that peace of mind, Robert and his crew chief went about their business of trying to improve the performance of the car with an eye towards the future. "We really thought, once the 'Countdown' began, that we were so far back that we really weren't looking at this year, rather we were trying to set the stage for 2010, but once we won that first race our approach changed."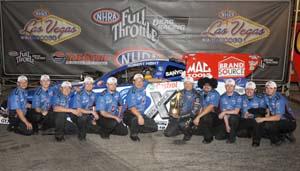 Hight and team.
Robert went on to say that 2009 was a real "crazy year, but we never gave up." He also said that he is really looking forward to next year. "One of the great things about our team is the fact that everyone is coming back for next year. That will be three years in a row with all the same people and that's a huge advantage for us or for any team. Everyone knows his job and we really keep mistakes to a minimum." That team consists of Robert and Jimmy along with
Chris Adams, Justin Covarrubias, Tim Dillon, Sam Fabiano, Ryan Heileson, David Karcanes, Eric Lane
and
Alex Liggett
. "I honestly feel that I have the best team out there," he said. "And I have to admit that when we were at the car show at John's shop this past weekend, it was pretty cool when people came up and called me 'Champ.' That was fun."
With the litany of champs before him, including his boss, John Force, and the legacy of that team, it will be interesting to see how Robert does in 2010. After all, he's had better years from a performance standpoint than he did this year, but none have ended the way 2009 did. It was just another surprising and bizarre end to the season and the Funny Car championship battle. It wasn't the first and surely won't be the last.




NHRA: 10 Most Recent Entries [ top ]

May 21- Second JEGS SPORTSnationals Added, to be held in mid-August in New England
May 20- DENSO Sponsors NHRA Champs' Shelter-in-Place Dachshund Race
May 14- To Our Racing Community-From Racers for Christ
May 13- The Name Game Part I
May 12- Morgan Lucas, Son of Forrest and Charlotte Lucas, Appointed President of Lucas Oil Products, Inc.
May 05- Cancellation of the 14th Annual Summit Racing Equipment NHRA Nationals
May 04- NHRA Announces Revised Plan to Restart 2020 Mello Yello Drag Racing Series
Apr 29- DSR Drivers Join Global Superstars in Fight for COVID-19 Relief
Apr 02- NHRA National Dragster will Temporarily Shift to a Free-to-All Digital Magazine
Apr 02- NHRA Announces Revised E3 Spark Plugs Pro Mod Drag Racing Series Schedule