Tue, 8 Dec 2009, 11:30 AM



National Guard ADRL Executives Attending PRI Show



Courtesy of ADRL Communications



O'FALLON, Mo. --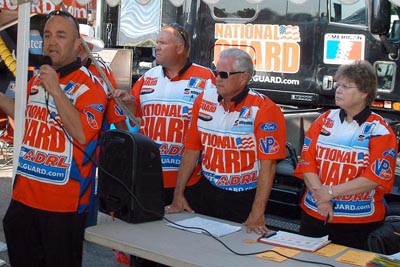 (l-r) CEO and President Kenny Nowling,
Director of Race Operations Quick Vandiver,
Executive Vice President of Competition Bert "Bubba" Corzine and
Director of Timing and Scoring Letha Corzine
When the National Guard American Drag Racing League (ADRL) arrives at the Orange County Convention Center in Orlando, Florida, Dec. 10-12, it will be with a full contingent of its top executives and key staff members available for consultation at Booth 609 of the 22nd annual Performance Racing Industry (PRI) Trade Show.
Of course, National Guard ADRL President and CEO Kenny Nowling will lead the effort, along with Executive Vice President of Operations Jessica Alcoke and Executive VP Jeff Fortune, with several high-level meetings already lined up over the three-day event for the league-guiding trio.
Current and potential National Guard ADRL team owners, drivers and crew chiefs are invited to seek counsel or rules clarification from Executive VP of Competition Bert "Bubba" Corzine or Director of Race Operations Quick Vandiver, and VP of Sales and Marketing Brian Evans with help from Director of Contingency Services Tom Grooms will be ready to tackle all sponsorship or advertising needs and concerns.
Additionally, for advice with press-related concerns, National Guard ADRL race teams are encouraged to contact VP of Publications Ian Tocher or Director of Media and Communications Amanda LaPlante at the show.
The National Guard ADRL also is looking forward to its Racer's Appreciation and Awards Gala II, beginning at 7 p.m. Dec. 12, at the luxurious Wyndham Orlando Resort, not far from the convention center.
A limited number of tickets remain available to the Gala for $50 each, payable by credit card, check or money order, and must be paid for in advance, as tickets will not be available at the door. All current National Guard ADRL drivers and riders are entitled to one free ticket and each official series sponsor is offered two complimentary passes, but they must RSVP in order to reserve their seats.
To RSVP and/or buy whatever tickets remain, send an email to Aimee Visney at aimee@adrl.us or call the National Guard ADRL office at (636) 272-2375.
The 10-event 2010 National Guard ADRL Tour will get underway Mar. 12-13, with the Safety-Kleen Dragpalooza VI at Houston Raceway Park and will visit tracks in eight more states before concluding Oct. 22-23, with the LenMar Motorsports ADRL World Finals V at the Texas Motorplex in Ennis, Texas.
PHOTO CUTLINE ADRL_Execs800.jpg National Guard ADRL Executives including (l-r) CEO and President Kenny Nowling, Director of Race Operations Quick Vandiver, Executive Vice President of Competition Bert "Bubba" Corzine and Director of Timing and Scoring Letha Corzine will be among the key staff members representing the O'Fallon, Missouri-based drag racing series this weekend at the 22nd annual Performance Racing Industry (PRI) Trade Show at Orlando, Florida. ABOUT THE NATIONAL GUARD The National Guard is the oldest component of the Armed Forces of the United States and one of the nation's longest enduring institutions. The National Guard operates in all 50 states, three territories (Puerto Rico, Guam and the Virgin Islands) and the District of Columbia. For more information on the National Guard, visit www.NationalGuard.com. ABOUT THE ADRL Based in O'Fallon, Missouri, the American Drag Racing League is the nation's premier sanctioning body for the sport of eighth-mile drag racing. The professional categories featured in the ADRL are Extreme Pro Stock, Pro Extreme Motorcycle, Extreme 10.5, Pro Nitrous, and Pro Extreme, the quickest doorslammer class in all of drag racing. The 2010 National Guard ADRL Tour consists of 10 national events run throughout the United States. For more information on the ADRL, visit www.ADRL.us. -- END -- -- Ian Tocher VP of Publications ADRL 2341 Hwy K Suite 202 O'Fallon, Mo. 63366 404-375-4895 Cell 636-272-2375 Office 636-272-2379 Fax ian@adrl.us www.adrl.us Please consider the environment before printing this email