Mon, 7 Dec 2009, 01:36 PM



This Time There Were No Tie-Breakers



By Bob Frey


Photo copyright 2009 Auto Imagery, Inc.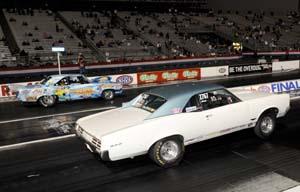 Tibor Kadar vs. Andy Anderson
It's not easy to win an NHRA national championship in any class, and if you don't believe me, just ask Larry Dixon or Eddie Krawiec, two guys who lost the national championship by a mere two points this year. Or you could ask Tibor Kadar. A few years ago Tibor, an Arizona native, had a very good season in his Stock Eliminator Pontiac. So good, in fact, that he finished with the most points in the country in the Stock class. Or should I say that he finished with the same amount of points that Randy Wilkes had, 622? "I lost the tie-breaker by one round," he said. "It's tough to lose the championship that way." It must be, but undaunted, Tibor has continued racing and winning and this year he finally achieved his goal of winning a national championship. He did that when he beat Andy Anderson in a double-break out affair in the finals of the Summit Racing E/T Series Pro finals in Pomona. "I've always wanted to win a national championship and to do it in any class is a real challenge."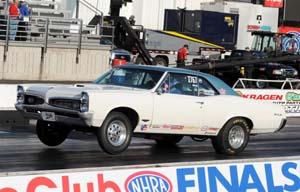 Tibor Kadar
The route that Tibor took to the championship is a little different than most of the Summit E/T Series racers, and that's because he also runs a lot of "class" racing during the year. On the other hand, the route that he took to the championship is a lot like most of the other Summit series racers, because he started out small and worked his way up. "I began racing with a combination street/strip car," he said. "It's the same Pontiac GTO that I drove at Pomona but it was a lot slower when I started out." Today that GTO runs in the 10-second range and is very consistent. "It has a 455 cubic inch engine, a Turbo 400 transmission, one four-barrel carburetor and a set of steel heads. It also has a lot of stock parts on it, so it's a pretty nice car." Since he works with engine builder Rick Watters, Tibor has done a lot of the work on the car himself. "I ported the heads and did some other work," he added. "It's a good car and very consistent." It's also the car that Tibor began racing in high school and the car that took him to the 1997 Division 7 High School Championship. He also has a Race of Champions title to his credit and a pair of national event wins in his other Pontiac, the one he runs in Stock Eliminator. "I guess you could say that we like Pontiacs in our family." I guess so, especially when you consider the fact that his father has a 1964 GTO that he runs in the Super Street class and Tibor has a really cool 1972 Pontiac Lemans station wagon that he drives on the street. "It's not your typical street car," he said. "It has a 455 engine, weighs about 4,300 pounds and runs in the mid-thirteen second bracket."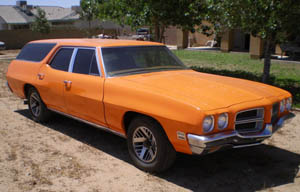 For a guy who has raced at a lot of NHRA national and divisional events, the opportunity to represent his home division at the Summit E/T Series finals was a real treat. "I initially wanted to run my Stock car, too," he said. "But the rules only allow you to run one car if you're in the Summit program. I guess in the long run that worked out well." I guess it did. He also said that the entire weekend experience was very special. "I've raced at Pomona before, in fact, I went to the finals at the Winternationals in 2007, but this was different. Everyone treated you really well, the people at Summit couldn't have been nicer, the other racers were great and it was just a wonderful experience." Would he have said that even if he hadn't won? "Yeah, they just do a good job with the whole program and I was glad to be a part of it." Of course he did win and it was a combination of a little luck and a lot of experience. "I got two red lights against me in the first two rounds, so that was nice. In the final, I knew I had to be good off the line, and since it was getting darker I knew the reaction times would be quicker." After a couple of "20" lights in the first two rounds, Tibor went .008 in the final and that was enough to get him off the line first against Anderson, and when both drivers broke out, Tibor got the win and his first national championship.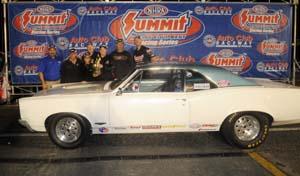 Besides being a very good driver, as two national event wins and a couple of divisional championships will attest, Tibor is also very good on the mechanical side of things. "I've been working with engines since I started grinding valves when I was sixteen. Now I build racing engines for a living so I know what makes them run." Over the winter he will be re-building or freshening up a lot of engines for the guys out in the Division 7 area. "We're pretty busy here at the shop, and that's good since we don't have a lot of racing to do right now." Like most parts of the country the racing in D-7 slows down in December and Tibor said that his next trip to the track will be over the New Year's holiday when he goes bracket racing at Speed World in Arizona. "We're lucky because we have Speed World, Firebird and Tucson all within a short drive," he said. "That's let's us do a lot of racing during the year." With three tracks so close by, and a couple of cars to choose from, Tibor splits his racing between the bracket cars and the Stock Eliminator racing. "I enjoy it all and, like most other racers, I'd like to step up some day." He said that maybe a ride in Competition Eliminator would be next, and hopefully down the line, a ride in a pro car." I guess that's every racer's dream, isn't it?" Yes it is, just like it's every racer's dream to win a national championship.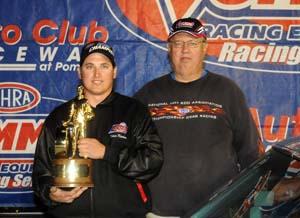 With a father who races, a job around engines, and a national championship in hand, Tibor will begin the 2010 season with renewed enthusiasm and a new goal in sight, a goal to add a Lucas Oil World Championship to his Summit E/T Series crown. "I came so close before and it would be nice to win a stock championship. But right now I'm just enjoying this, because a national championship in any class is a good thing."
"I couldn't do this without the help of a lot of people so I would like to say a special thanks to my dad Alex, my mom Brigitte, Grandma, Rick Watters Racing Engines, Gary Hettler, Bernie Polvadore, Mark Yacavone and Goodyear Tires."




NHRA: 10 Most Recent Entries [ top ]

May 21- Second JEGS SPORTSnationals Added, to be held in mid-August in New England
May 20- DENSO Sponsors NHRA Champs' Shelter-in-Place Dachshund Race
May 14- To Our Racing Community-From Racers for Christ
May 13- The Name Game Part I
May 12- Morgan Lucas, Son of Forrest and Charlotte Lucas, Appointed President of Lucas Oil Products, Inc.
May 05- Cancellation of the 14th Annual Summit Racing Equipment NHRA Nationals
May 04- NHRA Announces Revised Plan to Restart 2020 Mello Yello Drag Racing Series
Apr 29- DSR Drivers Join Global Superstars in Fight for COVID-19 Relief
Apr 02- NHRA National Dragster will Temporarily Shift to a Free-to-All Digital Magazine
Apr 02- NHRA Announces Revised E3 Spark Plugs Pro Mod Drag Racing Series Schedule