Fri, 4 Dec 2009, 09:18 AM



He Loves A Challenge



By Bob Frey


Photo copyright 2009 Auto Imagery, Inc.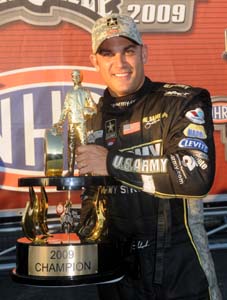 Tony Schumacher
He comes from a drag racing family. Well, at least his dad was a drag racer and a very good one. He loves to play hockey and ride his
Harley-Davidson
when he's not at the track racing. At almost every race he mentions his wife,
Cara
, and his three children and he is not afraid to talk about how lucky he is to have such a great family. He also is never reluctant to talk about faith and how he understands that God has a plan for him...and everyone. But most of all, he relishes a good challenge, like the one that faced him this year.
Tony Schumacher
is the Top Fuel Champion in 2009, the latest in a string of seven championships including the last six in a row. Oh yeah, did I mention that his birthday is coming up? Tony Schumacher was born on Christmas day in 1969.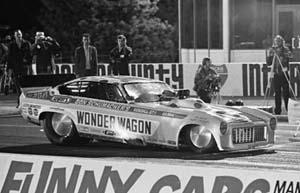 Don Schumacher
I guess when your father is
Don Schumacher
you have two choices in life. You're either going to go into the family business or you're going into the family business. One business is
Schumacher Electric
, a company that makes battery chargers and sells them all over the world. The other family business is racing, and over the course of the last forty years, very few people have made more of an impact on the sport than Don Schumacher. Don was one of the very early pioneers in the new "Funny Car" class and he raced cars on the match-race circuit as early as 1966. One of his very first cars, the "Stardust" Dodge Charger that featured a fuel-injected engine, got a lot of attention from
the automotive press. One magazine even summed up the car and driver by saying, "Donald Schumacher continues to astonish race fans every time he and the car make an appearance. The early success of the car and driver is only a promise of greater things to come." Yes it was!!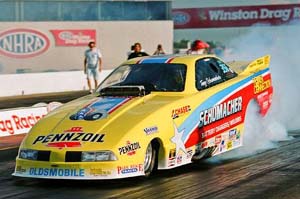 Tony in his Alky Funny Car.
After several years of match racing Don stepped up to the big time when the Funny Cars became a regular part of the NHRA national tour, but as successful as he was, he really didn't participate in that many races.
Did you know
that Don, who started racing at the national event level in 1970, only competed at twenty-four NHRA national events?
In that short period of time though, from 1970 thru 1974, he was as good as any driver in the sport, and despite the fact that he only raced at two dozen events, he went to the final round at seven of them and won five times. His five wins gave him a wining percentage of twenty-one percent.
Did you know
that his son, Tony, has won sixty-one races in his 292 NHRA national events, and if you do the math that's a winning percentage of twenty-one percent. Like father, like son. Don also raced on the IHRA circuit where he won another five national events and he was an AHRA National Champion. As most of you know, he also put together the first really successful multi-car team, and by "multi-car" I mean he had a whole fleet of cars. After quitting in the mid 1970's, it wasn't until almost a quarter of a century later that Don reappeared on the scene, but then he wasn't racing, he was just watching. He was watching his son who was driving a variety of cars, and that includes everything from Super Comp cars to jet cars and alky funny cars.
Did you know
that Tony made his Top Alcohol Funny Car national event debut at
Columbus
in 1995? He also won a divisional race in
Kansas City
in 1995 when he beat
Dennis Rotter.
Like his father who only ran those two dozen national events, Tony didn't participate in a lot of races in the alky classes (11), but like Don, he sure would make an impact when he stepped up to the big cars.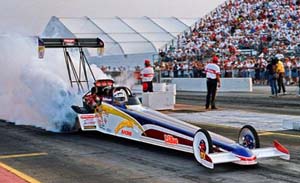 Schumacher made
Top Fuel debut in '96.
Tony's first national championship came back in 1999, and for all of those who don't like the "Countdown" format because they don't think the best car always wins, consider this.
Did you know
that in 1999 Tony only won one race and still won the championship? Of course you did. But
did you know
that there were six drivers that year who won more races than he did and yet he still won the title? Six!! And the driver with the most wins that year,
Mike Dunn
, didn't even finish in second place. But moving on. Like another star in the sport, maybe the biggest,
John Force
, Tony struggled to win a race early in his career and it wasn't until his ninth final round appearance that he was able to close the deal. John, as most fans know, won in his tenth final round appearance. Both have done rather well since then, don't you think? With
Dan Olson
as his crew chief in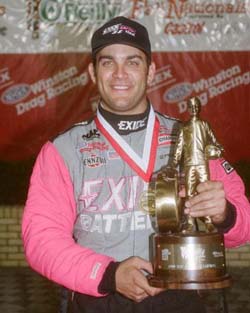 Tony in '99.
'99, Tony did what he has done throughout his career, he kept winning rounds and not giving anything up to his opponents.
Did you know
that in that '99 season he only lost three times in round one? And this year he only lost once in the opening round, and regardless of format, that's the stuff that champions are made of. "I had people coming up to me all year and asking me if we were going to win it, and I guarantee you that most of the people in the pits thought we were going to crack." As much as that sounds like something he may have said after the 2009 season, it's actually a quote from after he won the title in 1999. Some things never change.
As much as he had been through in his career coming into 2009, Tony never really faced a year like this one. He had a new crew chief, a lot of new crew members, and a chip on his shoulder. "I said all along that I appreciated everything that Alan Johnson brought to this team, and I wished him well. But this never has been about one person, it's always been about a team and we have a great team." Talk is one thing, backing it up is something else, and Tony went out and backed up everything he was saying. After three so-so races to begin the year, the Army team really jelled in Houston when they won the race and jumped up to second place in the points. Of course, the semi-final win over Larry Dixon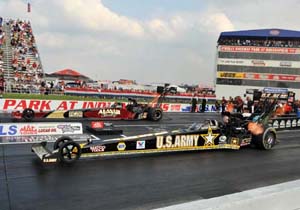 Schumacher vs. Dixon at Indy.
had to be especially satisfying. Everyone was talking about a rivalry between the two, but as both drivers said before the race, "If we don't race each other, there's no rivalry." Well, they met for the first time in
Houston
and Tony got the win, and when he won again at the next race in Las Vegas Tony was back in familiar territory at the top of the points. That win, however, would be his last for the next nine races until the tour stopped in
Indianapolis
for the
MAC Tools U.S. Nationals
, a race that Tony absolutely loves. "It's the biggest stage and the biggest race and we always seem to do well here," he said after winning Indy for an amazing eighth time. "To win Indy and tie '
Big Daddy' Don Garlits
for the most Top Fuel wins there was one of the best moments of my life," he said after the race. Now that's saying a lot for a man who has been through what Tony has been through over the past few years.
Tony is, among all the drivers I know, certainly one of the most competitive. "I look forward to the challenge," he said several times during the year. "To wake up and know that you are in a position to do something special, to win a race or a championship, is what this is all about. It's what I love about the sport." And he put himself in position to do that again this year with a solid performance in the "Countdown" including a semi-final finish in
North Carolina
and a win in
Dallas
, a win that put him back into first place. And while that would be the last race that he won in 2009, it was enough to put him in the lead, a lead that he never gave up. When the team pulled into
Pomona
for the last race of the year Tony was one point ahead of Larry Dixon, and when the teams went back and forth during qualifying and finally qualified on opposite sides of the ladder, it looked like we would have the dream match, a Schumacher-Dixon match in the final round. Now, as we all know, that never happened, and when Larry lot to
Spencer Massey
in the semis Tony was the champion...again.
When I spoke with him today Tony told me that that this was, probably, his most rewarding year. "Like I said several times, nobody gave us a chance to win it. We put together a good team, kept our mistakes to a minimum and did what we had to do, what we were put together to do." He said that the 2006 title was special, too, because of how far back they were in the points. "But 2009, because we knew how good Alan was and because we knew that he put a driver in the car who is one of the best, to beat them really was special. To win over a team that you know is so darn good makes it even better."
He went on to say that the 2009 season featured a lot of very good teams, teams that will be together again next year. "There really wasn't much of a silly season this year," he said. "A lot of people have found their place, are happy where they are and that makes for good racing. We're looking forward to the challenge again next year."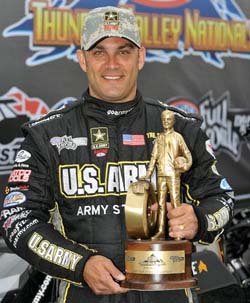 During the off-season Tony has a few things planned. Like today, when we spoke, he was taking his kids to school and was getting ready to participate in gym class with one and read to the other. "My son likes to see me run around like a nut in gym class," he said. "And when I read, well, it's a young class so it's more like showing them a lot of pictures, but I enjoy it." He will also spend some time at the family business, Schumacher Electric, as well as tending to his own pet project, a home beer brewing store that he has in Libertyville, Illinois. "It's something I got involved with a few years ago and it's a lot of fun," he said. But the most important thing he will do is live up to the promise he made at the award's ceremony, a promise to deliver the Top Fuel Championship trophy to the soldiers at
Fort Hood
,
Texas
. "The whole team is going down there on December 11, and we're really looking forward to it. This is going to be special." I'm sure it will, and it will mean as much or more to the soldiers and the families at
Fort
Hood
as it will to the team.
Speaking of the team, let's congratulate the members of Tony's team including crew chief,
Mike Green, Tyler Clouser, Ron Freedman, Ryan McGilvry, Lanny Miglizzi, Brad Morrison, Neal Strausbaugh, Tom Turkal, Mike Vendely
and
Joe Veyette.
That's a very talented group of individuals, and if you check back to the 1999 season you will find that Tom Turkal was on Tony's team back then, too. And so was Don Schumacher, who probably never thought when he was driving his fuel-injected Charger at the age of twenty-one, that he would, years later, be the father of the most successful Top Fuel driver in history. Or knowing Don, maybe he did.




NHRA: 10 Most Recent Entries [ top ]

May 21- Second JEGS SPORTSnationals Added, to be held in mid-August in New England
May 20- DENSO Sponsors NHRA Champs' Shelter-in-Place Dachshund Race
May 14- To Our Racing Community-From Racers for Christ
May 13- The Name Game Part I
May 12- Morgan Lucas, Son of Forrest and Charlotte Lucas, Appointed President of Lucas Oil Products, Inc.
May 05- Cancellation of the 14th Annual Summit Racing Equipment NHRA Nationals
May 04- NHRA Announces Revised Plan to Restart 2020 Mello Yello Drag Racing Series
Apr 29- DSR Drivers Join Global Superstars in Fight for COVID-19 Relief
Apr 02- NHRA National Dragster will Temporarily Shift to a Free-to-All Digital Magazine
Apr 02- NHRA Announces Revised E3 Spark Plugs Pro Mod Drag Racing Series Schedule